In the shipyard, progress continues on HMS Agincourt. Sanding has prepared the main hull. Once sanded, I soaked all parts in dishwashing detergent (Dawn) to remove any release agent that might be on the resin. I applied a water-thin coat of Polyscale Deck Tan Special and Polyscale British Ocean Grey. The purpose is both to seal the resin and also to point out any imperfections.
I then consulted my 700th scale ships plans of Agincourt and marked out where the port holes will go. I then drilled out the port holes according to where they were. The hole pattern as-built is different from her first combat at Jutland, so I altered the hole pattern to fit Jutland (1916). Once drilled, I filled the holes with black paint, both to seal them and also to do my "windows."
After drilling the port holes, I drilled out the hawsepipes for the anchors and was greeted immediately by a stream of trapped liquid. Release agent? Hard to say. It was greasy and wouldn't go away so back to the soaking bucket. An overnight soak with more dishwashing liquid appears to have taken care of it. But now the paint I've laid down already will need re-application/touch-up.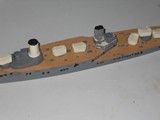 The two main superstructure chunks are now finished and just need to have their port holes and gun shutters drilled out. The smoke stacks are finished as well. For the gun shutters, I am going to drill all of them out and put brass barrels in. The weapons will be the long-ass Royal Navy six inch guns so I'm thinking/hoping that I can get away with brass 350th scale five inch gun barrels that I already have a lot of.
Here's some of the ship's boats. The coloring will vary depending on what type of boat it is. The larger boats are the Captain's/Admiral's "Pinaces" (or "gigs" in other navies) and will be quite colorful (white upper hull, navy blue lower hull, brass smoke stacks, etc). Altogether, I think there's twenty boats of varying types which will get brass rudders, oars, etc.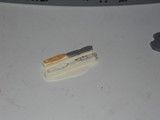 P-3 Block C Orion sub hunter in gloss white/gloss gull grey USN Cold War coloring. The kit is in 1/144th scale and is from a Japanese company called L & S. Markings include Dutch, Japanese and three American birds. I'll be doing a USN Orion from up the road at Jacksonville, Florida.
For a small kit (1/144th scale) I was surprised that they gave me a bomb bay. The sono-buoy area is equally detailed and rivals the detail present in the larger Hasegawa 1/72nd scale kit. It's a tail sitter so a ton of screws got thrown in to the nose area.
Next up the food chain is an Airfix 1/48th scale Tornado GR.1B that I will be back-dating to a GR.1 in the anti-shipping role. The kit builds really simply and quickly and will be one of the RAF birds tasked with anti-shipping in the GIUK Gap. For this role, she'll have two British Sea Eagle anti-ship missiles.
Last but not least we have a 1/350th scale Yankee Modelworks SSBN which is being built as USS Casimir Pulaski. This kit is being built for my dad and will portray the submarine in the late 80's when she won her Battle E and first Meritorious Unit Citation. The overall scheme is semi-gloss black and the top anti-skid surfaces are flat black to give a contrast.
The kit builds really quickly and has no options other than screws (five bladed or "J" prop) and masts. Five masts come with the kit including three generic shapes which could be periscopes or radar, one snorkel and a generic short mast. Any others are easily scratchbuilt. Markings are easy: none except draught markings fore and aft.
I'll add the Battle "E" and MUC to the sail. This will be built for my dad's display case. The resin kit builds easily and has a lot of detail built in to the hull. Though having said that, no open hatches are included.
Cheers,
Don