Huh?! Been building aaaaaaaaaaaaaaaaaaaaaaaaaaay too many airplanes lately. I needed to build a ship to retain my mojo and reputation as sole ship guy at my local model club. So imagine my shok when I saw this craftsman kit. Craftsman?" Ummm...yeah...that's ship-speak for a box thats missing some parts. "Some." Normally "major" parts. But WTF if it's a cool ship, right? Here it is...HMS Agincourt by Russian kit makers Combrig.
This is one of Combrig's early kits, evidenced by the fact that it comes with no photo etch parts. The previous owner possibly used some of the parts on other kits so I'm left with just the main superstructure chunks.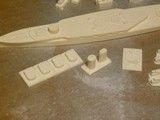 As most ship photo etch companies give you tons of extra stuff, it won't be a problem coming up with ladders, stairs, rails and other stuff. I'll have to build my own masts but I normally do that anyway with brass rod, right?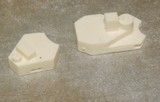 I also wanted to stick to knocking out my 1/700th scale kits first and this one is 1/700th scale too. "Gin?" Oh yeah...her nickname was the "Gin Palace" as in "Gin" (Agin) and "Palace" (Court). Agincourt was the b###hin-est ship to ever sail. She had a gun turret for each day of the week and at the time of her launch she was the ship every navy wanted and feared at the same time. Here's what she looked like...
Yeah that's seven turrets with two guns each. Pretty evil-ass awesome. Repeat after me..."Britania rules the waves..." Easy to see why the Royal Navy was official British policy. She fought at Jutland and kicked ass with German and British observers alike witnessing her fourteen gun salvo and remarking that it looked like the ship had blown up! A price of $25 kicked ass on my wallet. Xl-ent value for money for a resin kit.
Cheers,
Don