I have several modelling projects and the last one I assigned myself looks like it will be the first one completed. I am doing a 1/72nd scale airplane for every type flown by fighter squadron 11, the "Red Rippers." The project stalled for awhile as there was a shortage of subject matter in my chosen scale. Then I happened upon some kits of long-lost subjects. This is a Boeing F4-B which is the second type of plane the Rippers flew. No kit exists of the F3-B so I am scratchbuilding/kit bashing one using a Stearman trainer. Details to follow later... This kit is by Monogram and was in crap moldy condition but I didn't need the decals or the instruction sheet, so a quick soak in bleach and I'm ready to build.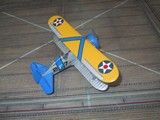 The build is pretty cheesy ass simple with no roadblocks, quirks or gripes. Hey...it's 72nd scale. Not much you can screw up. Less than 20 parts total. Hardest part is the tiny pre-war decals. Nevertheless an elusive sheet showed up with everything I needed.
Rigging is pretty simple and former guitar strings provide the neccessary gear and tackle. The F4-B was the first plane to carry squadron markings for the Red Rippers. She carries the blue markings for USS Langley.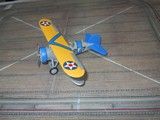 The display backdrop is one of those Squadron faux carrier deck sheets. 48th scale, but it doesn't look bad as the F4-B was a tiny bird. Colors are all Polyscale brush painted.
No cockpit or canopy glass. I think the real thing had a tiny windshield but I can't find a definitive photo or drawing. There is a Hasegawa kit in 48th scale but that is the Army version. Not sure if the Navy carried the same gear.
The next bird used by the squadron would be the Grumman F3F "Fifi." I have that one built, just need to do the Navy blue stripes on top of the wings. In total, my project will contain 11 birds: F3-B, F4-B, F3-F, Wildcat, Hellcat, Bearcat, Panther, Crusader, Phantom, Tomcat and Super Hornet.
Cheers,
Don