This is the box scale USS Pine Island by Revell. The kit dates from the late 1950's and portrays one of the USN's seaplane tenders from world war two. As the resident "ship guy", I was approached by our local IPMS club's president and asked if I would build the kit for a former member. I agreed.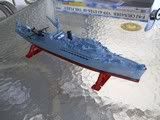 The fit is typical of the box scale kits with many gaps, horribly molded parts, etc. The nice touch though, is the large Martin (Mariner) sea plane which is not that bad for this scale.
The rails and ladders are molded on already and I decided to remove the obviously horrible ones and replace them with spares box photo etch pieces. I did some ladders and stairs and just a few bits to spruce the ship up a bit.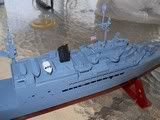 I decided to call the member to get some info and found that he was not on the Pine Island, but her sister. Not a problem. I explained that I had decals and parts to make it into his ship, the USS Currituck. He was over the moon.
The kit is pretty accurate as far as gear goes. Where Revell falls down is that they don't stick to a specific scale. So rather than build a kit one scale and then shrink that kit to fit a box, they have shrunk various parts. This means that the hull could be 425th scale, the guns 350th scale, the radar 700th scale, etc.
This is a help if you have tons of multi-scale parts in your spares box. The ships had a pretty basic fit throughout the war as they were not expected to see combat.
Dick joined the Navy in 1943 and was initially onboard USS Kearsage. Following hostilities, he joined USS Currituck for polar exploration missions. While onboard, a gale grabbed the sea plane and flung it in to the ocean, killing the entire crew.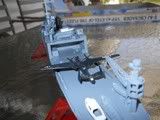 They carried a spare sea plane and continued on their mission. The ships found themselves out of work with the retirement of sea/float planes and they were soon pressed in to other technical jobs. USS Range Sentinel is a former sea plane tender. I presented Dick with the currituck and he was over the moon with her.
As "payment" he gave me an old Revell USS Midway kit. He mentioned that following the Navy, he worked on the Snark missile project. I noticed a shrink wrapped Snark kit on his shelf and offered to build it for him. He was excited. I called Saturday to ask him what scheme he would like me to build it in (prototype or active service) and I was upset to hear that Dick had suffered a massive cardiac arrest and went peacefully/quickly to meet his maker. I was glad I got the kit finished in time for him to enjoy it.
Cheers,
Don