Tons of stuff after a small hiatus. For those of you who don't know, I have several hobbies of which modelbuilding is only one. So I've been tangled in my other (main) hobby for awhile and have just recently came back. Here's where we stand on the Yankee Modelworks USS Des Moines.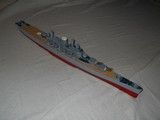 The turrets come with white metal guns but they are in weird condition (I don't want to say poor) and really unworkable. So I made my own guns out of brass tube. 8000% better than the kit guns. Yeah I know..."coulda bought aftermarket" but seeing as how I have tons of brass rod/tube...
All of the bridge parts are just sitting on the top of the hull. I have some photo etch on them to do plus I have to build the masts from the kit-provided rods and bits. Oh yeah, this kit is in shelf-filling 1/350th scale by the way.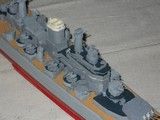 Some of the twin 3 inch mounts and the smoke stack. The smoke stack needs some photo etch platforms on it plus some whip antennas. The kit is resin and white metal. Plus a very nice (extensive) photo etch fret.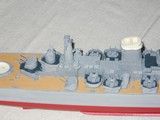 Here's the Dragon Spru-can being built as USS O'Bannon 1993. The kit is also in 1/350th scale and this will be my second O'Bannon Spru can. The gray you see is preliminary primer. The superstructure block is just sitting on the hull.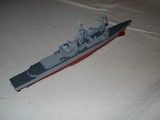 Here's a close up of the fantastic White Ensign photo etch radar. The White Ensign photo etch fret is for the Dragon kit and comes with both SPS-4x search radars, depending on what year your Spruance Class destroyer depicts.
Here's the Veteran's Models ASROC launcher. My base kit was the VLS equipped Spru so I've had to get old parts. Veteran's Models has great aftermarket parts including guns, ASROC launchers, choppers, etc.
Close up of the forward superstructure. I drilled out the flag bags to handle a few lines each and also put the mounting rings for the rigging on. There's some tiny pieces of photo etch to add still to go.
Some birds: a 1/48th scale Hasegawa scooter and...and...A B-52?! Relax ship afficianados - it's the test B-52 that launched the initial AGM-88 Harpoon anti-ship missile.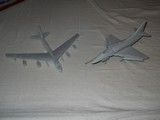 More views...
And yet more views...
And here's an IJN Zero, courtesy of Tamiya. In 1/48th scale.
That's it for now.
Cheers,
Don