"I hate resin and it stinks and the parts are warped and what is this ship anyway? Doesn't look like a battleship to me..." Ummm...no sir, it's not a battleship and I would be more than happy to take this kit off of you for say...ten dollars? And with that I walked away from a garage sale with JAG's USS Cimarron fleet oiler.
All in wonderful 1/700th scale, of course. This is modern Cold War gear folks. Photo etch plus white metal stuff. Enough gear to do her in any configuration.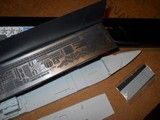 Her bow is warped, but nothing that a hair dryer and some patience can't fix. After all, it is resin. This kit normally retailed for around $150.00 or so. Give or take. Now my Cold War carrier battle group is complete. Just gotta get time to build her now...
work continues on USS Austin. Slooooooooooooooow painful scratchbuilding work. Ended up tearing out most of the forward superstructure and rebuilding. Luckily it's in tiny 1/700th scale so no one will really see my butchering. Got all the sensors done and the masts. Just have to add the guns and countermeasures. Once I'm done with the forward superstructure I do the forward railing.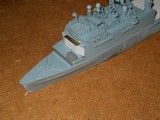 Cut out the flight deck and have it dry-fitted. As best I can tell, there are no tie-downs like on big carriers, so no worries there. Just have to mask out my own markings and then use a paint pen to do them. Also need to do the telescoping hanger.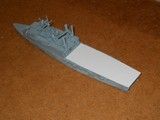 Here's the only landing craft and one of two mine-sweeping CH-53 Sea Stallions. I've added the tall gate to the landing craft and for the chopper, I've added the refueling probe, minesweeping antenna and the side sponson extensions with the reel and pulley for the float.

Here's the chopper on it's own. The LSD's and LPD's pretty much leave the ferrying to the huge helo carrying ships (LHA/LHD). They tend to carry the auxilliary birds that no one uses much, so as to free-up space on the huge chopper carriers. So Austin will have two minesweeper choppers, Navy SEAL Huey choppers (2) and some Sea Cobra gunship choppers.
Ran out of stuff to do while waiting for paint/primer/glue to dry so...I dug out my Yamato (who has now been changed to her sister Musashi) and I put photo etched girders on her Port side only. And this is only half of them!

Whoa! The last of my Christmas presents. This one has been on back order and here it is! A huge-ass 1/35th scale M-103 heavy tank from Commander Models. Commander are the "armor" branch of Iron Shipwrights Models. This is a box LOADED to the gills with resin pieces and photo etch.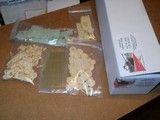 The detail is amazing! Beyond amazing. I am not going to start on this kit for a few years but I'm showing it to you because it is a limited run kit and well worth the $159 (includes shipping) that I paid for it.
YEAH BABY, THAT'S THE TURRET! Solid freakin' resin folks. Pound for pound, the M-103 was the biggest main battle tank to see accepted U.S. military service. Mine will be a Marine Corps "A3" from Korea with the satanic dark green/dark gray/black camo.

They were the last true heavy tanks and were built to counter the Soviet T-10/JS III tanks. Yes, that's a 120mm *rifled* anti-aircraft gun. Hence the crew of five (commander, gunner, driver and TWO loaders). The barrel's warped, but no worries as I'm gonna scratch build one in brass.
Dry-fitting the turret. The kit does not come with tracks; you'll need to get the AFV Club aftermarket ones. I have the set already so no problems there. And unlike Dragon, the AFV tracks go together so easily a toddler could do it. *AND* they actually work when you're done.
Parts are included to do prototype, US Army, US Marine and US Marine (Modified Extended Range) versions. The photo etch is extensive. Accurate Armour has been promising this kit for some time but I guess the economy and lack of pre-orders killed it (they wanted waaaaaaaaay more than the $159 Commander's asked). To be fair, the Accurate Armour kit would have had tracks and a brass/aluminum barrel, but hey... That's a detail. No plastic kit of this beast exists except the 1/87th scale Mini-Tanks railroad toy.
Cheers,
Don