As a young sailor I wanted my building to reflect ships that were in "my Navy" at the time. It was the height of the Cold War and the destroyers and cruisers were constantly at sea. But USS Trenton sat there at "Pier Mike" and I passed her daily on the way to work. Skywave had just started releasing modern USN/RN/Soviet ships and I had to have them all. But they were cruisers and destroyers. No modern amphib stuff (except for the small ww2 LST set).
I had an old Airfix HMS Fearless kit and although it was full hull and 1/600th scale, I reckoned it would be a suitable candidate for kit bashing. There was no internet or other references back then so I just made my best guess. The first thing I did was cut her down to waterline to match my other modern USN ships. I then filled in her bridge portholes and made square USN style windows for her. Skywave aftermarket weapon sets made it easy to put American weapons and radars onboard her and complete the illusion. I then added a hanger. I gave up model building for a few years and when I returned in 1997 there was this new stuff called photo etch and I grabbed some rails from True Details. It was stiff and thick and not that user-friendly but I put the rails on anyway. And that's where the ship has stayed for some time.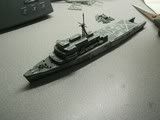 Fast forward about fifteen years and I now have a ton of reference material and some better gear. So it's time to give Trenton a makeover. First thing we'll do is rip all the old etch off of her and then cut off the Airfix-exclusive "Pyramid" stairs. I then sanded down all of the detail on the flight deck and cut off the drain scuttles on the side of the ship. I also removed the funnels as the arrangement on Fearless is actually backwards to Trenton. I used Quickscale to check my work and the length of the real Trenton shrunk down to 1/700th scale equals 9 and 11/16th inches. The Airfix kit is just under 10 inches so I'm in the "acceptable" area to continue. The green patch is putty from when I was too crazy with my cutting many years ago...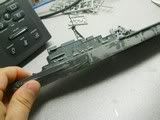 Here's the flight deck completely sanded down to remove the Royal Navy tie downs and also the round crane. I removed the scratchbuilt hanger and you can see the "door" on original Fearless. This door led to the well deck. So the hanger will have to be rebuilt on Trenton. And it has to be a telescoping hanger. The mast was scratchbuilt by the way.
Using 3X5 cards as templates, I cut out the proper hull/superstructure shape for Trenton. I then tweaked it till I had it right and made my walls out of Evergreen styrene. I used the corrugated type as it enables precise cutting/measuring.
Once the "walls" are in place, they need structural integrity. This is solved by cutting chunks of sprue and putting a few in on each side. This way, "pushing in" will not occur during model handling, moving, etc.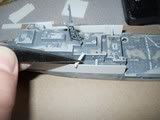 She's starting to look like Trenton now. I expanded the deck and added side loading platforms. The first of many "dome" sensors has been added. I've also started adding doors and life raft canisters.
The spares box has provided radars and railings plus towers for the sensor domes. The brass platform has had supports added plus photo etch stairs. I'll need to drill out bridge windows.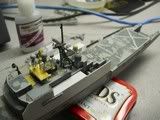 Here's the Starboard view. The round antenna is WSC-3 satelite gear and the ECM units (SLQ-32) are on "sticks" forward of the mast. In this view, the top superstructure is fully built. I just need to "wall in" the curved front part and add the forward 20mm gun position.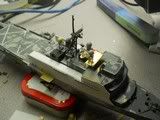 Here's my scratchbuilt loading bay and loading platform with supports. This was added to permit loading from small boats/piers when the main loading well was busy.
I'll need to finish the rear wall but I'll need to mount the funnels and scratch build a new crane. Oh and the hanger as well. Actually I need to scratchbuild funnels as well as Trenton's were round, not tapered like those on Fearless.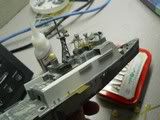 I also need to do her weapons and air group. Trenton carries either two Sea Stallion or two Sea Knight choppers for troop carrying duties. She can also embark Harriers and Sea Cobra gunship helo's. On Fearless, you can go to the edge of the flight deck and look down into the loading well. On Trenton, the flight deck covers the whole well. So I'll need to extend the flight deck as well.
Cheers,
Don