Not too much going on. Just tying up some loose ends. Finished a 1/700th scale Spruance Class ASW destroyer. Not sure who this one is going to be. The "building part" is done. Now I just need to add the photo etch railings and huge SPS-40 radar. PE of course. Oh yeah, by the way, all the builds in this post are going to be 1/700th scale. She is painted in Med scheme from 1989 so I'm thinking she'll be USS Deyo. You can see some photo etch stair cases on her already. She is one of the superlative Skywave kits from Japan.
And here's another 700th scale Spru-can but this time from ARII corporation. This one is getting some mods added to her and then she'll get photo etch railings and also a photo etch radar set. She's going to be a Desert Storm ship with extra Tomahawk and also some extra Harpoon tubes. I've done some partial railing forward. She will probably be USS Hayler.
And rounding out our modern Cold War fleet, we have a Dragon Arleigh Burke Class DDG (anti-aircraft missile destroyer). She is going to be USS O'Kane. She is completely built (construction wise) and I've added all the photo etch except for the flight deck safety netting. I prefer the Skywave kits to the Dragon ships.
Here's a look at some of her railing. O'Kane is named for Richard O'Kane, the highest scoring American submarine skipper (commander of the USS Tang). In this small of a scale, modern warship etch isn't that time consuming and I easily cranked this ship out in a day. Well...most of a day cuz I'm not doing any more P.E. today...
Here's all three destroyers lined up. In Cold War days, the Spruance's were tasked with anti-submarine defense of the carrier battle group. Two of them would travel with each carrier. Anti-aircraft defense would fall on the DDG's which were normally Adams or King Class ships. As those ships got old, the Burke Class replaced them and brought double the missile load to the party. Of course with the Spru-cans being retired with no replacement, helo decks were added to the Burke's to give them the old ASW role as well.

Back in 1942 however, things were different. Here's USS Washington preparing to do battle at Savo Island. Actually she is a Trumpeter late-war USS Washington. So what I've had to do is back date her by scraping some gun positions off and scratchbuilding other pieces here and there. Here you see two aft gun tubs (courtesy of my spares box) and the photo etch crane and cats. The photo etch set is the WEM set for USS North Carolina or USS Washington. I need to do three Kingfisher float planes as well.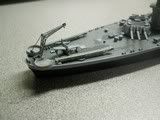 Here's some empty 20mm positions and also a good view of the photo etch quad 1.1" ("Chicago Piano") anti-aircraft gun mounts. All railings, ladders and stairs have been added except the main deck railings. I've backdated her to the pivotal third battle of Savo Island where she sank the battleship Kirishima.
And speaking of Kirishima, here she is. She is actually the Fujimi kit of battleship Kongo but I likewise, backdated the kit to be her sister from 1942. All photo etch is from the spares box. Contrary to legend, she did not have any float planes onboard at the time of the battle.
Right now she is fully constructed. For photo etch I have some railing sections here and there to add and I'm in the middle of doing the rigging. Once that's done, I'll touch up the paint.
She came with decals for windows, but I just sawed out the neccessary areas and put brass ladders in there instead. The ladders are bigger 1/350th scale ladders. I had to do a ton of work on her as she depicted Kongo in 1944 which means tons of AA.
Some assorted gear. We have a 72nd scale resin twin 20mm gun mount for a Revell Gato submarine and some quad 40mm guns for an Essex Class carrier. Then we have some American and British birds. The British birds are Gannet ASW and Seafire birds from HMS Victorious 1948. That is the Fujimi kit. The American birds are Dragon and Tamiya from the Independence and Bogue kits.
Here's Washington showing her Savo Island scheme and her scratchbuilt masts. The scheme is Sea Blue, Haze Grey and Weatherdeck Blue for the deck.
At this point I am unbelievably at 75% done. I have all the fire control radars, drilling out port holes, float planes, life boats and a ton of 20mm guns left to do. And then a paint touch up.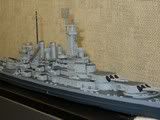 Not shown: Hasegawa A-4 Skyhawk (1/48th scale), Dragon USS San Diego (1/700th scale)(actually it's the USS Atlanta/USS Juneau kit but I'm forward-dating her to be late-war USS San Diego.
Cheers,
Don