Do you guys know about a free software program called "Quickscale?" It can give you tons of info about making a kit from scratch or modifying a kit. For example, I fell upon a Revhell Mission Capistrano tanker kit. "Box scale" they say... Um...yeah, but what size box? My goal was to put her next a box scale Chicago CG and box scale angle deck Yorktown. Fat chance.
The general modelling forum consensus is that she is 1/482nd scale (WTF?) or somewhere near there. Unsuitable for virtually any group/diorama use. And then, all of the "Mission" tankers were built/commissioned too late to see service in WW2 and most were immediately mothballed and then reactivated as...wait for it...research ships. This could be why the Revell box art shows no hoses, rigging, etc. They appear to be modified Cimarron Class AO's and a quick search shows that one of the last AO's before the Mission Class was USS Misspillion. Tons of photos exist of Misspillion.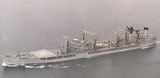 Her dimensions are also easy to find and according to Quickscale, in 1/350th scale, she wouldn't be too far off to use Mission Cap as a base. But wait - Misspillion was jumboized, where a 100 foot section was inserted in the middle. Sweeeeeeeet. Using Quickscale, it is now possible to use the entire Mission Cap kit. By cutting her and then inserting a five inch section, I can bring her to 1/350th scale quite easily. I want/need a Cold War tanker so that has been a boon.
Thinking to myself "hmmm...wonder what other ships I can do that with" I fired up Quickscale and made the following discovery: the Lindberg LSD (USS Tortuga) in 1/288th scale would be the exact size of a 1/350th scale USS Pearl Harbor (Navy's newest LSD).
"But wait Don; not so fast...you still have a ton of ship to build over the Mission Cap and Tortuga kits to get them to be a modern Misspillion/Pearl Harbor." You are kinda correct, but if you scratchbuild a lot, you'll know that making the hull and getting it "true" are the most time consuming/cost prohibitive pieces of scratchbuilding. So from the standpoint alone of having the hull already done, that will shave a year off the cost/time of making these two ships. Now schedule-wise, I am nowhere near to starting these two but I thought I'd throw it out there to get ya thinking... Here's what Pearl Harbor looks like:
Cheers,
Don