Well, I'm done with the LAV and now it's time to decide how it's going to be armed. Here's an experimental turret I'm considering. It has what appears to be TOW or Hellfire missiles on the left, a 7.62mm mini-gun in the center and it looks like some kind of radar.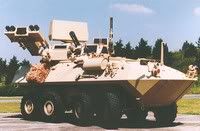 This configuration is actually IN service with the USMC at the moment. It's the same 7.62mm mini-gun in the center, but two quadruple Stinger SAM launchers.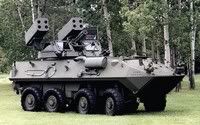 I believe this is the huge GAU 30mm gun similar to the kind carried by the A-10 tank buster aircraft. If so, this would be brutal to come up against.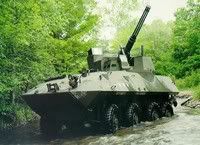 Scratchbuilding this version would be easy as it appears to use the standard turret. It looks like all they've done is remove the fifty caliber machine gun and 25mm gun and replace it with an automatic 82mm mortar.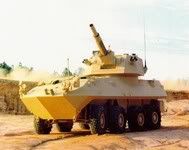 Ah...now we're talking! Here's a prototype rapid-fire 105mm gun with (I believe) a five round magazine. This protype is on a Army Stryker but is also being considered for Marine use.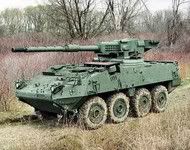 All Marine Corp LAV's now have the "hillbilly armor" add-on to defeat(?) RPG weapons. So no matter which option I choose, I'll have to do the armor.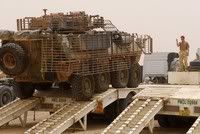 I'm actually leaning towards this variant for scratchbuilding: it appears to be a quad Stinger SAM launcher, simple 2.75in rocket launcher (bazooka caliber) and a 7.62mm mini-gun.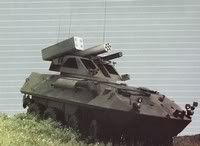 As I said, the LAV is constructed. It is painted on the outside and inside. Just need to decide on what turret and also gotta the hillbilly armor.
Cheers,
Don