Terry Sumner, Sr. writes:
"...My father in law...earned his dolphins on the USS Spinax in 1950 - 1960 after it had been refit to resemble the conning tower in (this) photo:


"...my father-in-law...told me that the boat was in the earlier configuration (as depicted in) in the Revell Gato 1/72 (kit)...when he was assigned to it. But he was with it when it went for the modification to the (style seen in the above) photo. And he said it had a cigarette deck also. It was in this configuration that he earned his Dolphins...I'd like to build my Revell...Gato 1/72...model into his Spinax. It won't have to be super accurate but at least look fairly close to the Spinax in the configuration as shown (above)...Does anyone know if there is a conversion set made to convert the early conning tower in the Revell Gato 1/72 sub to a later Tench class type tower...Alternately, is there a sub kit made of the Tench class that I could use as a reference to scratchbuild a new conning tower ?"
Matty here - and Welcome Aboard ModelFleet, Terry! I think I have (most, perhaps not all) the answers you need, but let me first head-off, as best I can, some potential confusion in the descriptions of these boats.
Although the "typical" WWII conning tower ("sail") - as in your Revell 1:72 kit - did indeed come earlier than the one on your '50s-era Spinax, the former was not the
earliest
design of the sail, which actually predated WWII, appearing only on Gatos (as the Balaos and Tench's had not yet been laid down), and often called the "As-Built Gato" type of sail:
Click on Image to Enlarge
For quick examples, I have borrowed these pics of models from Mario Grima's website (see below). At left is a depiction of the As-Built Gato sail. During WWII, as shown at right, these were cut down - in an almost bewildering number of variations - each almost unique to its boat and time frame, but broadly as a group, called "Cut Down" sails, and were fitted to
all three
of the Gato-, subsequent Balao- and finally the Tench class boats - as would the subsequent, post-WWII sails, as well. So, your sail cannot be described in terms of the Tench class, so much as in the evolution of the
sails themselves
, independent of class.
In the above trend to cut down the As-Built Gato sails, one of the
first
things to go was the cigarette deck - first its splinter (side) shielding, and then the deck footprint itself - replaced by a flared/rounded or completely circular deck for AA (machine- and/or heavier caliber) guns. However post-WWII, the sails were built back up again - even further than the original - with much greater streamlining. Your Spinax is the first such example I have ever seen in which the cigarette deck was
reinstated
after WWII, so of course I also don't know what name - if any - this particular fit may have been given. However it does strongly resemble
some
of the later sail types, and we can certainly determine its place in their evolutionary "tree":
Click on Image to Enlarge
Again, for quick examples, these are all pictures of models from
Mario's gallery
. At left, the earliest
named
of these modifications (that I know of, anyway), were the "Fleet Snorkel" conversions - and note the design variations (of I don't know how many, total), one of which, at bottom-right (foreground), sports a
front
end looking
very
much like that on your Spinax' sail. This particular variant of stepped sail (I won't even get into the specific naming/ID of these, because it gives me
agida
) was, along with the others, apparently continued through the initial (series I & -II) "Guppy" refits (center), though the final Guppy (-III) refit abandoned all of them for the "Atlantic High Sail", at right.
Note, however, that
none
of the above retain one key feature - just as your father-in-law implied: the
cigarette decks
have been completely faired-over, never again (AFAIK) to reappear. Thus, your Spinax sail
must
be either a
very early(iest)
variant of the Fleet Snorkel fit - or if not, then surely its
immediate predecessor
- so, (until corrected) let's call it the
"Proto-Fleet Snorkel"
sail.
Obviously, per the above I don't know of any kit- nor conversion specifically for your Proto-Fleet Snorkel sail. However, we
have
now seen some aftermarket sails matching (very nearly, if not exactly) your Spinax sail's front end, and others which closely if not exactly match the aft end (i.e., cigarette deck). Regarding the former - at 1:72 scale, per your new Revell Gato -
Mario Grima
does make a
stepped Fleet Snorkel/early Guppy sail
with the specific type of front end discussed above - which can be found
here
(scroll down), under "Electric Boat Step Sail Style 1 (Fleet Snorkel...". However, you'd have to chop off - or sculpt the entire cigarette deck out of - the entire after half of this (not cheap) accessory. Better to
use it as a reference
- just as you wisely anticipated, above - in a conversion using something which
already has
the cigarette deck - and considerably more: an
As-Built Gato sail
upgrade.
Although it may not look it, at first glance, the As-Built Gato sail has
all
the (at least) basic elements you are looking for - needing only to be chopped and padded a bit, here and there - for which you now have (at least)
two
aftermarket upgrade options, in 1:72 scale: again,
IBS/East Coast Armory's As-Built Gato sail
, which
Mario describes
as
"Style III: E(lectric) B(oat Division) 1941 'As Built' Gato"
, and likewise
James Corley
makes a 1:72
Nautilus Models As-Built Gato sail
, which
James describes
as:
"...designed to represent the early flight of Electric Boat GATOs as they were initially designed and constructed..."
.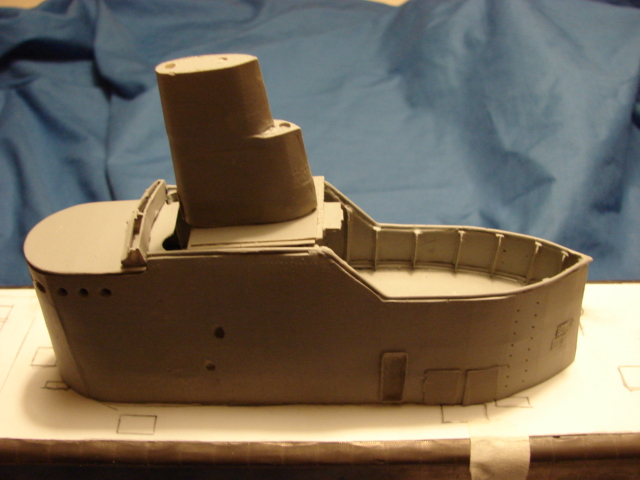 Starting from an As-Built Gato sail, as above, it looks to me like you would first want to cut off about 1/3 of the total height, from the base. (You'll lose the door detail, etc., but this is probably incorrect - as are the climbing rungs placement - for your fit, anyway.) Then chop (or leave-) off the wind deflector, and trim (or leave-) off the roof aft from there, flush with the forward roof. Re-"plate" this over, and add a large slab to the periscope/mast shears (or just replace them) to make for the proper height/shape. Round down the forward roof corners as much as the parts (thickness) will allow, fill in some portholes and cut an open cockpit into it, etc., per the stepped sail references, above. That should all be pretty easy to do - and my recommendation to get you well within the ballpark you're looking for.
I hope this helps, Terry (and All Y'all) - do keep us posted on how you make out with it!
Cheers,
-Matty