Great Dane History
Posted by olddog
on February 27, 2013, 9:25:34


Color: Brindle, fawn, blue, black and harlequin. The harlequin should have jet-black patches and spots on a pure white ground.

Height: 30 in. or more. Weight: 120 lbs. and over.

This dog is remarkable in size and very muscular. Strongly yet elegantly built, which latter feature is an absolute essential, as also is alertness of expresion and briskness of movement, and generally he should carry a look of dash and daring. The head is of great length, muzzle broad, and jaw powerful. The skull should be flat rather than domed, and have a slight indentation running up the center. The ears in Germany are cropped, set high, and carried erect, with the tips falling forward. The neck should be long and well arched, and quite free from loose skin. The body is very deep, back strong and hind quarters extremely muscular. His coat is short, dense and sleek.

The abolition of cropping by the English Kennel Club resulted in English breeders concentrating their attention to the production of a small ear, which would hang-neatly in lieu of his original large ear, which was desirable when cropping was permitted. In doing this, character was at first lost, to some extent, in head, color and soundness of limb, but these temporary disabilities have now been largely overcome.

History on the "Deutsche Dogge" (Great Dane)
Excerpt of the publication by W.Nouc.


Winfried Nouc - Die Dogge ISBN 3-481-2621-9

Our great dane – its whereabouts, where did it come from and how did it evolve.




The ancient canines
During the second half of last century science was keen to deplore the development of our housebroken canines. Remainders of waste indicated towards Kjökkenmöddiger ( shell eaters)and the skeletons of temporary types from wolfe to dogs were found. Discoveries of bones that were found at excavations and estimated to be about 8 000 to 10 000 years of age already indicated that a variability in appearances shaped up. Those ancient canines already received singificant names such as canines of the bronce age, canine of the ashes age, canines of the moor, Spitz of the pile house, dog of the camps, wolfhound "Qout canes tot colores" as many canines as colours. Or even better, as many colours as shapes that by natural breeding choice and human breeding influence arose from the ancient type during the various cultural eras. We in particular are interested in the canines that represent the type of the "Dogge". However we don't don't want to wrongly assume that our "Dogge's " roots are found with one of the ancient canine types only and that the pedigree of recently born whelps backdate to ancient eras.

Group of canines that resemble the type of our "Dogge"
Cynologists in general regard canines with stout and strong bones, broad scull, strong snout and accentuated lips with coat that tends to fold at the head as type of "Dogge". We can find those with the Tibetan Mastiff and the the Boxer, the Bordeaux Dogge and the Great Dane, the New Foundland, the Saint Bernard, the Hovawart and the Leonberger. However there are also such features with smaller breeds, such as the Pug, the French Bulldog telling us that type of "Dogge" doesn't necessarily relate to the sitze of a canine.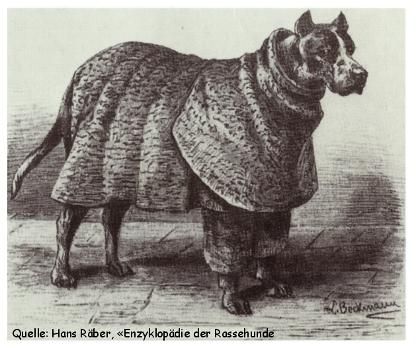 Assyrian Fighting and Hunting Dogs.
Reliefs in stone of the 12th. Century BC at a Babylon Temple, rebuilt by Nebukadnezar in 380 BC, appear to be the oldest portrait of Dogge-like canines on a lead. This sort of assysrian fighting dog resembles very much the Tibetan Mastiff of today and seems tob e very close despite a different length of coat. It appears that we find the roots our our Doggen-like breeds at the Highlands of Tibet. They are repeatedly mentioned by historic authors who refer to indian canines that were kept by the Assyrians and Persians, later the Greek and the Romans. We may assume that the reference is made to the indian canines, which is the canine from Tibet and lived in the Himalaya Region. Alexander 'The Great' had brought such canines back from his war travels to India as gifts. Those were then the start of the mollossoid breeds. Later such canines were handed over from Greece to Roman Culture and the came across the Alpes into the countries of West-and Middle Europe.
It appears obvious, that the Romans with their advanced culture did cynological breeding and bred also a lighter type of dogs for hunting purposes apart from the heavy stout fighting dogs. Apart from that they already imported the famous Britannic Canines that were to oppose the mollossoid type dogs from Greece in the arenas. .Such canine gladiators were selected by a "procurator cynogie", located in Winchester. Such canines seem to have been spread all over Europe and became famous. The progeny has roots to the celtic canines, that came from England and Ireland and it was cross bred with the Irsih Wolfshond.

Excavations of skulls of large breeds in Russia refer to Doggen-like breeds existing also there and in Poland and the Center of Germany. It is known that the German Tribes were accompanied by such lagre canines during their warfares and that those were to defend the wagons. "Aleman Laws" of the 7th.Century AC describe canines that that were held for hunting purposes. Killing such canines was heavily penalized: "Persons that kill a boardog, that catches boars, a beardog that catches bears or such canines that catches cow our bull are fined with 3 Solidis".




Medieval hunting dogs
Medieval history in linked to the customs of hunting of these days. Noble hunters on horseback accompanied by a pack of canines with teams of villiagepeople hunted in the vast forest regions of Middle Europe for boar,bear and wolfe. An era when painters like "van Dyk","Riedinger" portrayed those scenes in paintings. Early reports of such hunting dogs and the hunting practises are found of the Count Phillip of Hessen, a passionate hunter. The canines mentioned are of height, long legs but strong canines that were imported from England to the noble courts on the continent. They were a cross breed of the Mastiff and the Irish Wolfshound. Their kennel was called the "english stall" and the dogs themselves were known as packers, boarhunters or boarpacker. The writer Johann Täntzer delivers a precise description of those breeds in "Dianes art and secrets of hunting" (1699). To protect those valuable canines from injuries they wore harnesses. Täntzer describes them as made of "Parchent" or "silk" and they were massively stuffed, armed with fishbone to protect chest and abdomen. Täntzer also reports that the "Grand Lords" selected the most beautiful of their pack to become leader of the pack and wore silver and gold plated collars that were embroidered made of velvet and with rich ornaments. The enormous distances managed during the hunting parties of Count Philipp and William IV of Habichtswald, Reinhardswald and Kaufunger Wald demonstrated the power and fitness of those dogs. In 1559 Count Philipp wrote to the Duke of Württemberg "during this hunt we had ample fun with our self bred hunting dogs and caught 1120 boars. However those hunts were dangerous for the hunters and a letter written by Count Philipp IV where he mourns the death of one of his servants reconfirms this. Claus Rantzau, armed with picks, was attacked by a male boar and his left thighs veins were torn by its long teeth, had died. There was of course also large losses among the dogs. The saying goes "if you go for boars head you must exchange them for dogs heads" During the 18th. Century imports from England stopped by and by, preference was given to the locally bred canines. Another reason may be that due to lesser numbers of wild animals and the use of guns large packs of hunting dogs were no longer needed. Only at hunting lodges and at the courts of noblemen hunting dogs were kept. By the beginning oft he 19th. Century such canines were kept in private homes mainly.

Looking at the appearance of the medieval huntingdogs we recognize all colour variations of our today Deutsche Dogge. This is reported by many writers of hunting parties. The original phenotype that lasted the longest in Hessen was a fawn variety. The hunting master Otto, from Kassel, who belonged to the "Kurhessischen Jägerhof a hunting society in Hessen, from 1860 to 1870 was kind enough to relate some details of the last specimen of such breed. They had been dogs of fawn colour, reddish fawn, some with cloudy coat colour and black mask, tall and fast, of high activity to be used for retrieving, except boars. (Göschel)

19th. Century – a name becomes known
There is almost no other breed whose name created so much confusion: Saupacker,boarpacker, Hatzrüden,huntingdog, Fanghunde, catchdog Dänische Dogge, danish dog,Ulmer Dogge, Tigerdogge and Bismarckdogge – were names for the breed during the middle of the 19th.Century. Local names, transferred from the past into present, from Southern Germany- mainly Baden Württemberg, becoming known by breeding the black and white great dane, called Ulmer Dogge. Breeders in the northern regions favoured the blue and fawn variety, that still is named the "Danish Dogge" by some people.

The name "Tigerdogge" for the black and white cannot be traced exactly. Eventually because such dogs were kept together with tigers in circus or zoos. It is also possible that the name is constructed in relation to the Apaloosa Horses oder TigerHorse of the Red Indians. In the middle of the 19th. century a sport, a fashion coming from England settles in Germany. The first German Canine Show takes place in 1863 in Hamburg Altona. Deutsche Doggen also appear on the entry list, 8 as Danish Dogge and 7 as Ulmer Dogge.Hence at the shows in Hamburg (1869 and 1876) and Hannover (1879) those two categories had been judged separately, despite a group of judges explained it is impossible to maintain such a partition, since it is the same breed. The recommendation was to register all with one single breed name "Deutsche Dogge". The final decision then was made 1880 in Berlin where Dr.Bodenius, chairing the judges meeting, determined the name to be set as "Deutsche Dogge".
Reason to be proud of and this name has become a cynological trademark accepted by the FCI (Fédération Cynologique Internationale) and its member countries And Germany being the country of origin of the breed. But there is no rose without thorns. France and other anglosaxon countries still name it as "Grand Danois" or "Great Dane" – a tall Dane. It will remain a riddle why this naming had been used first by a french naturalist Buffon(1707-1788) in literature. There is no evidence that Denmark has in particular contributed to the creation of the breed. I assume there are resentiments of a political nature that form a reaction of our western neighbours onto the nationalistic behaviour of these days.

The war of 1870/1 ( France/Germany) ended with the proclamation of King Wilhelm I of Prussia as German Emperor at the Versailles Palace. . Founder of this First German Reich was Chancellor, Duke Otto von Bimarck, a man whose early passion was the Deutsche Dogge. Nothing appeared more sensible than to give this large and majestic breed the name "Deutsch" and declare the Deutsche Dogge as the " National Breed."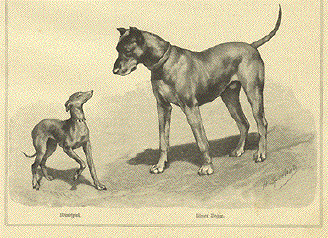 Anecdotes on Bismarck and his Doggen.
Duke Otto von Bismark was widely known for his adoration of this breed, he also owned several of them. One of them almost caused an international disturbance when it showed its disapproval to a Russian Diplomat. A lively discussion between the German Chancelor and the Russian Prime Minister Gortshcakof went on. The latter did gesticulate more enormously than usual which caused Tyras, the Deutsche Dogge resting on its blanket, to see this as an attack onto his master. Tyras aimed for the Russian, jumped at him and threw him down. Excuses were brought forward in multitude and they were accepted. Gortschakof had not been bitten, he was only scared and the peace of Europe remained unperturbed. In case Sultan, another of Bismarcks Doggen didn't like a particular person, this was considered at conclusions by Bismarck. When student for jurisdiction and as state clerk in Berlin, at travels to many countries during his diplomatic career to Frankfurt, St.Petersburg, Paris or elsewhere and also in Varzin(Poland) and Friedrichsruh (East Prussia) Bismarck always was accompanied by one or more of his favourite canines. It seems that Sultan who died 1877 in was his absolute favourite.
Among all Deutsche Doggen that have a place in history Tyras the famous "Ulmer Dogge" owned by the German Emperor was the one and only whose death had even such cosmopolitan importance that its death was an event mentioned at many places on the globe. Its fame didn't end by its death since the very first visitor at the dukes birthday was the crown prince who had another Deutsche Dogge for him, same phenotype as Tyras, as a gift.

Duke Bismarck owned Deutsche Doggen for almost 60 years and some of them were of exceptional size and substance. He had is first Dogge when living with his parents at the Kniephof and this was a canine scaring all the farmers in the neighbourhod by its sheer size. This Dogge accompanied his master even to the university in Göttingen and soon was well known there. One day Bismarck was summoned to the director of the university because he had thrown an empty bottle out of the window and he took the dog with him, but the honorable director was very scared, took safeguard behind his big chair until the dog was removed from his room. Bismarck had to pay a fine of 5 Taler, because he had taken this horrible beast to the .directors holy sanctuary plus the penalty for having thrown the bottle.


---