The USS JUNEAU CAMO "story" is a long one that took up several pages on Modelwarships.
So I won't go into ALL the pros and cons "discussed" there.
When you look at USS JUNEAU's War Diaries and service movements, you find few times that her camo scheme could have been changed after 1 June 1942 when she was about to leave on her first (and only) War Cruise. She was initially assigned to the Atlantic, from the looks of her camo scheme on 1 June 1942, Capt Swenson expected that German U-Boats and maybe German surface units would be the primary threats to the JUNEAU. He was concerned about reducing her vulnerability to that threat. Because of his involvement in the Spring-Summer 1941 camo experiments by the Pacific Fleet, he had seen the "rated" effectiveness of the various schemes and to a degree the different colors. During the ship's port stop at Argentia, he had the whole superstructure repainted by the crew with "off-white and Haze Gray 5-H", during a day and half. But, there is NO CLEAR images showing the change made to the pattern. During JUNEAU's deployment to Recife, Brazil, he saw USN units painted with Mountbatten Pink, apparently the formula he committed to paper and was impressed with its properties.
After getting orders to proceed to the Pacific, JUNEAU made an emergency stop at Balboa yard and dry-docked for a day and half (21-22 August 1942) to repair an oil leak. The ship's bottom was cleaned and repainted. No mention of any painting of the hull above the waterline. Also, this was when according to orders, her supply of paint was removed as a fire hazard.
JUNEAU was pretty active after arriving in the South Pacific War Zone. She was assigned as an escort to USS WASP, when that carrier was lost, she along with other units took survivors to Espiritu Santo. Where she was caught in a photo in the background of USS LAFFEY. The weather was terrible and the image isn't clear. But, it is obvious that almost continuous time at sea from 4 June until 16 September 1942, had taken its toll on her camo scheme. See the three images below, the lightest image is the unaltered scan of the original. The other two images were altered to pull out details. The Task Force with JUNEAU, went to Tongatabu for a lengthy layover from 26 September until 2 October 1942, a total of
SIX DAYS
. How then, Capt Swenson was a Naval Academy Grad ship CO and he would have looked on his ship's appearance as unacceptable. I believe it is almost an absolute certainty that he would have had his ship repainted or at least touched up. Six days was plenty of time to have that work done. The question is painted to what scheme or color(s)?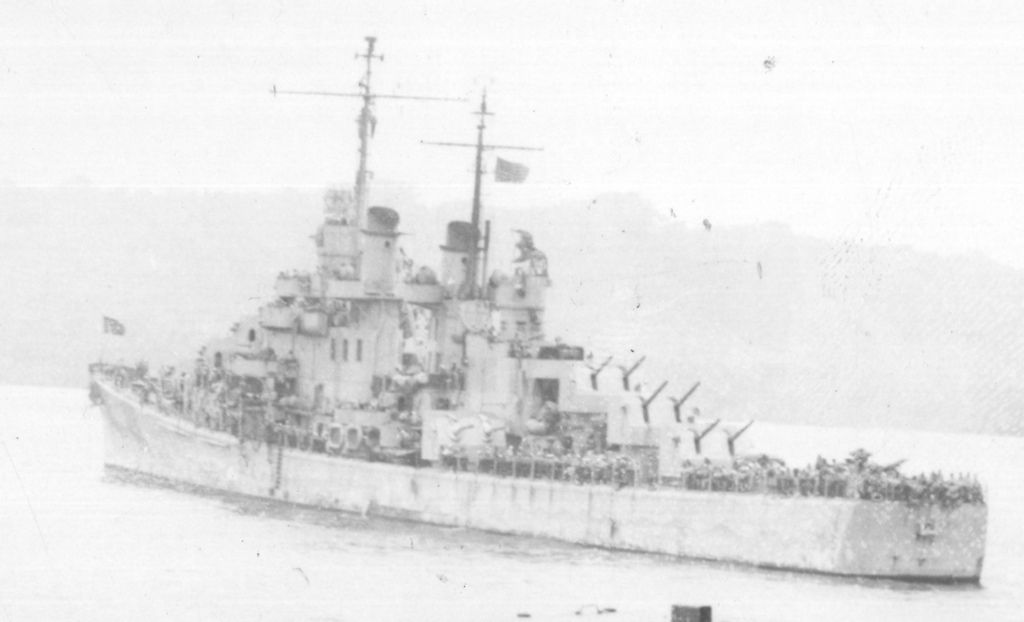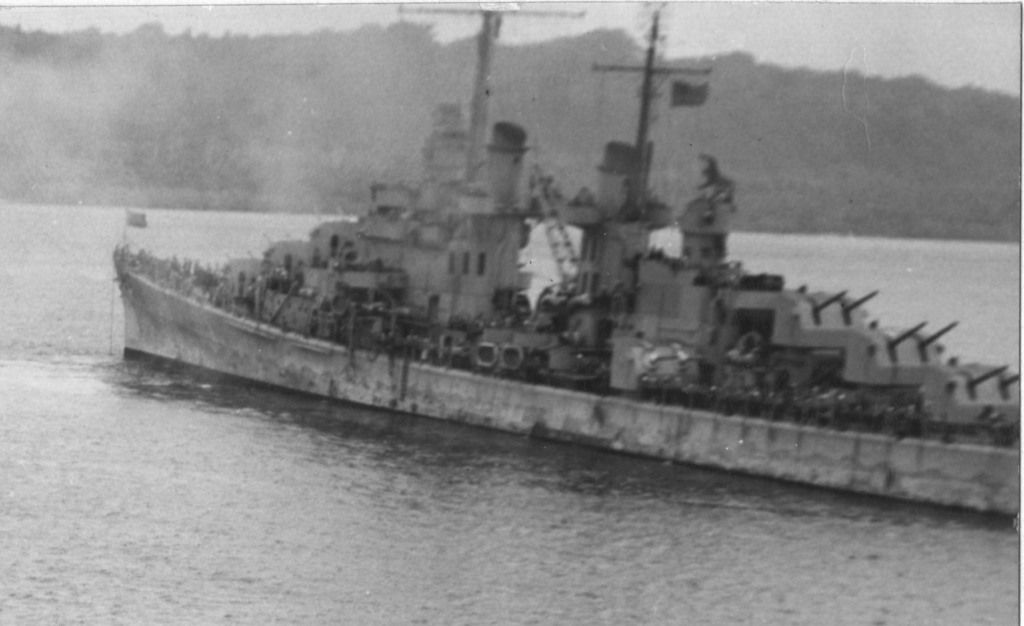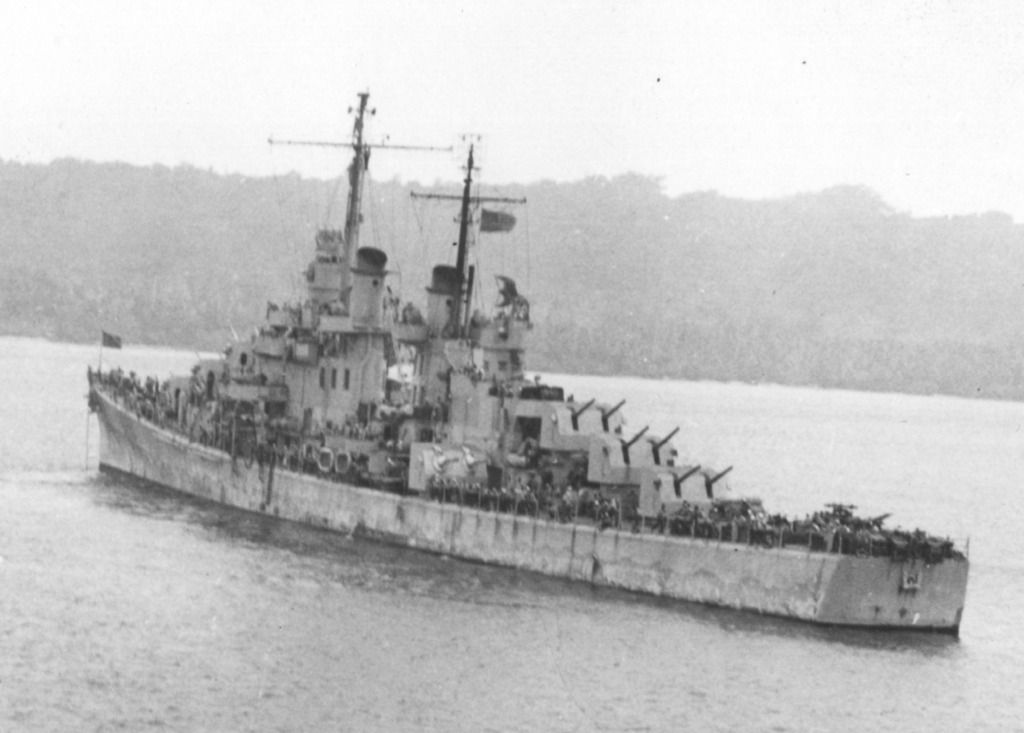 He had little paint onboard. He had a desire to paint his ship with the Mountbatten Pink he saw on USN ships in the South Atlantic. Most of the formula could likely have been available with the standard components for mixing White base and 5-TM tinting paste. But, could he get a Red tinting material at this advanced base? Or did he follow the PacFlt command directions that ALL USN ship would paint to Ms 21 (overall 5-N) as soon as operationally possible? He also with USS WASP loss, was exposed to IJN aerial attack capabilities and realized that the previous scheme with WHITE was not acceptable in this War Zone.
I don't have an answer to what he decided on and directed his crew to use to repaint the ship. But, I'm positive he had USS JUNEAU repainted to a solid scheme. The TBM photos during their circling of USS HORNET as she lay disabled on 26 October 1942, prove that she had an overall solid scheme. What color of paint, I don't know.
...
http://www.navsource.org/archives/04/052/0405227.jpg
...
...
http://www.navsource.org/archives/04/052/0405228.jpg
...
...
http://www.navsource.org/archives/04/052/0405229.jpg
...
...
http://www.navsource.org/archives/04/052/0405230.jpg
...
The JUNEAU wreck photos does show evidence of her previous camo paint on the portside, but on the aft superstructure and starboard side evidence of her overall solid paint scheme exist. I think that the extreme heat from the massive magazine explosion that literally torn the front half of the ship into pieces and killing hundreds within seconds and bent back the armor belt on the surviving aft part of the ship explains the varied appearance. The heat burned off some or all of the paint layers down to primer in places.
This view, close to the forward section of the surviving aft section of USS JUNEAU, shows the bent armor belt and areas of the old pattern on this side is visible.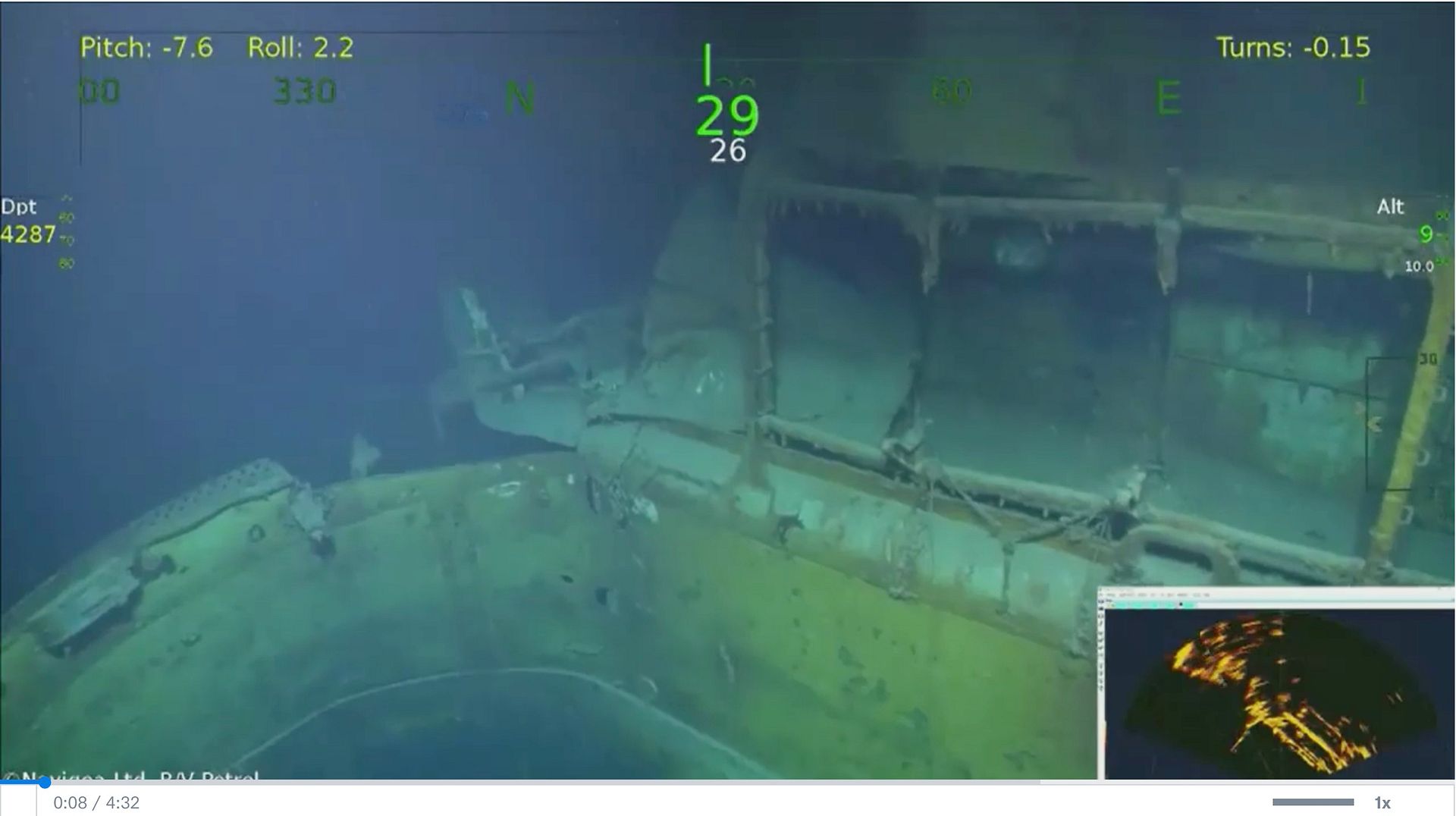 Note these two views of the starboard side wing twin 5-in mount, look at the color difference between the deck and side of the hull.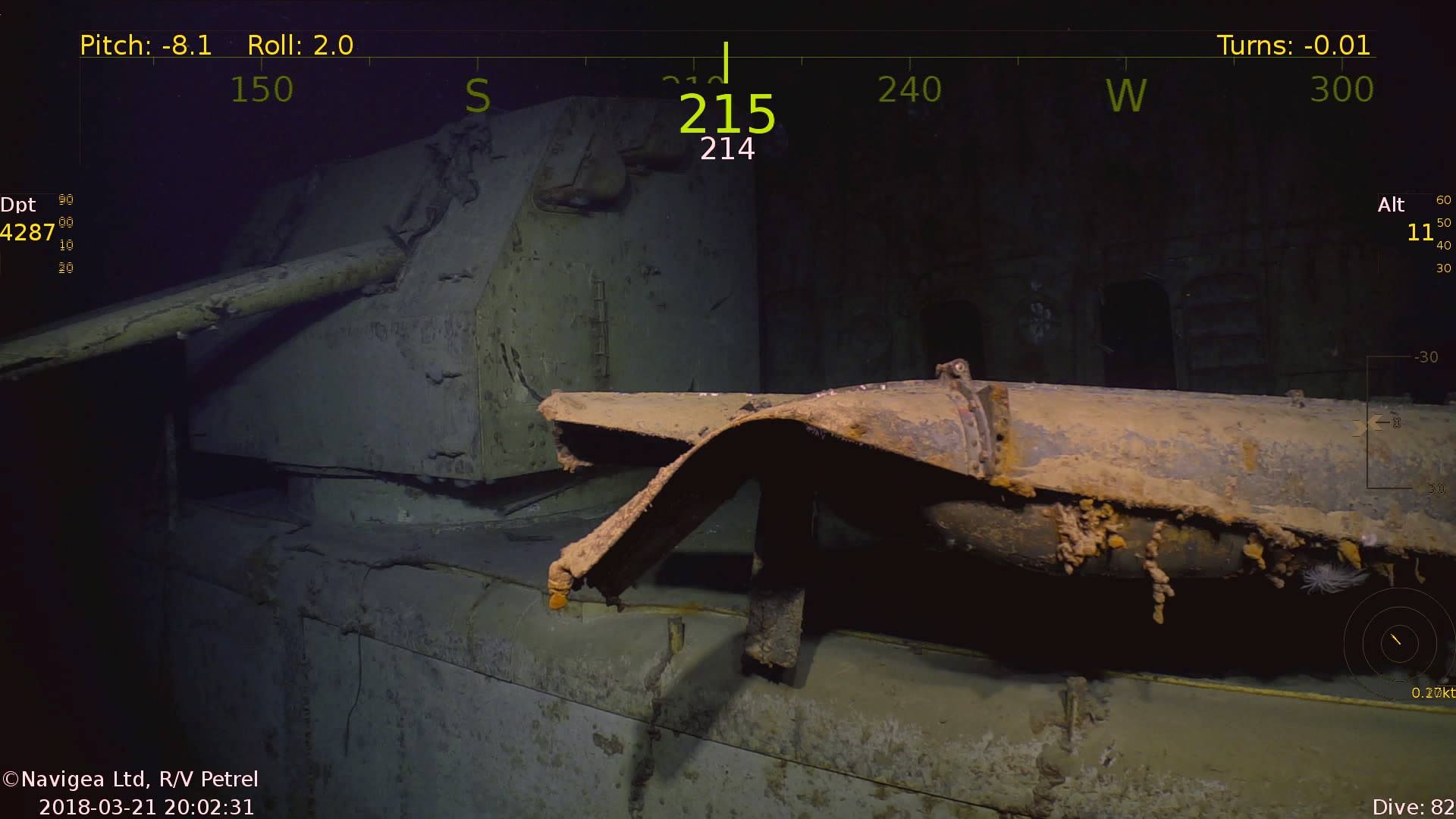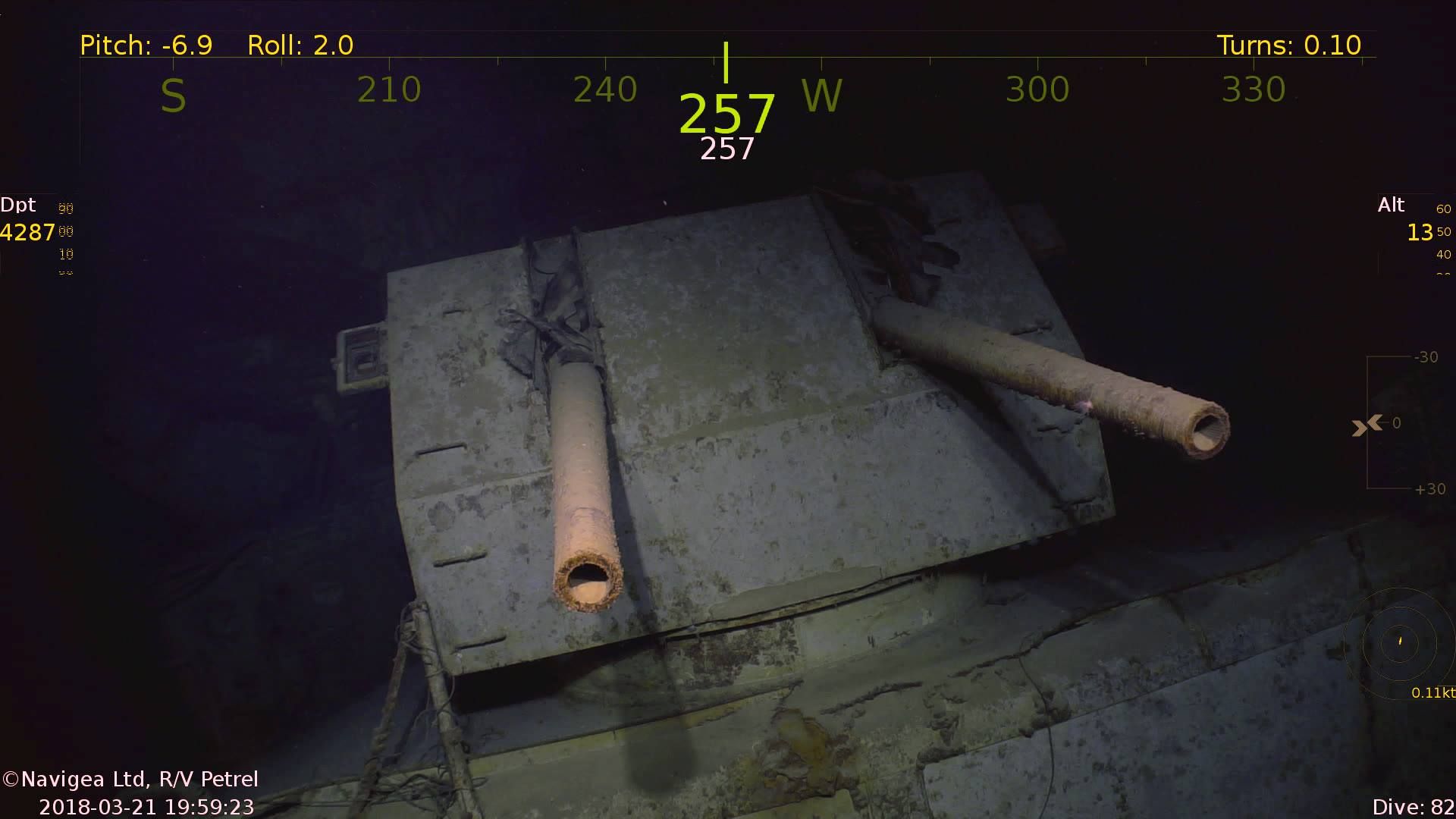 Previous Message

Hi;

What does Montbatten pink look like? These considerations will probably not answer your dilemma, but may throw some light on the issue. Pun intended. If you go to the Navsource photographic series of the USS Juneau, you can see at least four, perhaps five, different color schemes worn during her short career. At launch on October 25, 1941 she was painted light gray. By March of 1942 she had a dapple pattern on all vertical surfaces. By June, the hull had a false wave disruptive pattern, but the upper works were still mottled. By mid September she had what appears to be a gray scheme . Then it gets interesting. Captain Swenson was interested in trying out the Montbatten pink scheme. USS Juneau put in to Espiritu Santo, New Hebrides on September 16 1942. It is possible, but not conclusive, that, the Montbatten pink scheme could have been applied at Tongatubu at that time. One of the problems with photographing ships is light source. Montbatten pink color chips seen inside under artificial light appear to be medium gray, with brownish hues, and a slight touch of pale rose. If you take a Montbatten pink color chip outside in bright sunlight, the chip looks about sixty percent lighter. If you take the same chip out in the late afternoon, it appears the same color as indoors. Just before sunset it looks dark gray. It is easy to see this effect in the Navsource pictures. Paint in southern Pacific areas was not very durable and weathered very quickly. If the scheme had been applied in September, by November it would have been badly beaten up and appear very washed out in bright sunlight. In Navsource photo 0405229 you can clearly see the effect of light. The after turrets turned to starboard look nearly white, while the forward turrets turned to port are darkish gray. All turrets are the same color. The time is shortly before noon. It is not a matter of the hue of the sample as it is a matter of the reflectance. When it comes to application to a model you have a fairly wide range of acceptable hues. As for this particular confounding color, to favor the lighter shades would be the suggestion.

Regards, rjccjr