To Camouflage Paint experts, I have a puzzle.
Normally we have a paint being used that Grayscale photos can't tell you what "color" they are so we can duplicate. The Mountbatten Paint used by the USN has been a real puzzle for me anyway. The paint chip samples, both for RN and USN display a fairly WIDE RANGE of shades. Which one did the USN use in mid-1942? In a quiet odd way, there is a formula for this paint provided by a Capt. well versed in USN Camo efforts in mid-1941. Capt. Swenson, CO of USS JUNEAU in correspondence was recommending that the PacFlt should consider using the same Mountbatten Pink paint he observed applied to USN destroyers (and maybe USS MEMPHIS) while JUNEAU was in the South Atlantic. Capt Swenson was no novice to USN Camouflage. He had commanded submarines and destroyers, and served a number of years at NRL and knew the NRL Camo "Expert", Lt. Commander Bittinger. When the Pacific Fleet Camo experiments started in mid-1941, Swenson was tasked to gather the data and analyze it. He also, made suggested adjustments to some applied schemes.
Anyway here is the letter with the formula he got from someone in the USN (NRL?) or one of the ships that had the paint applied.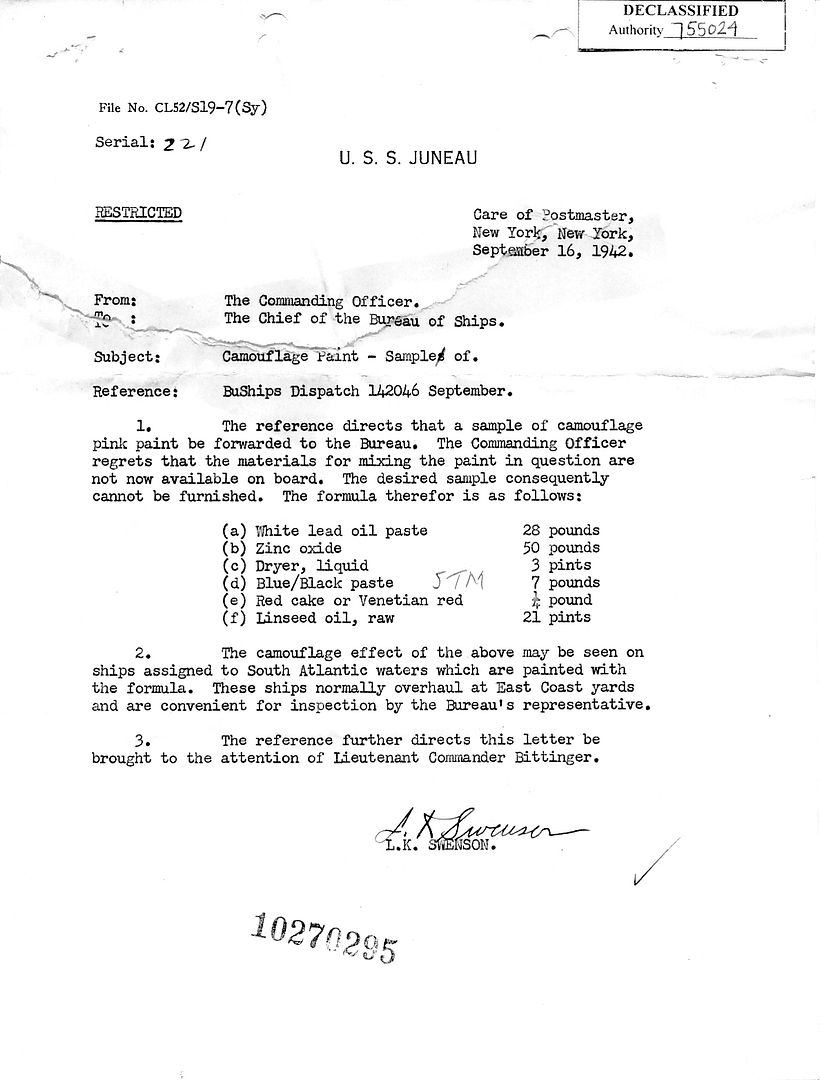 I have a 1/700 resin model of USS DAVIS (DD-395) that I have modified to her appearance in mid-1942 while she was painted in Mountbatten Pink. The USN painted several ships that served in the South Atlantic with Mountbatten Pink. Some ships are documented, others are inferred from photos as being painted with this paint, with at least some of the ships so painted at Charleston Navy Yard. The destroyers that accompanied USS JUNEAU to Recife during July 1942, were at various times included these units;
USS SOMERS (DD-381)
USS DAVIS (DD-395)
USS JOUETT (DD-396)
The images below show units of the USN "Leaders" assigned to the South Atlantic Fleet, that show what their "Mountbatten Pink" looks like in Grayscale B&W photography. Includes views of USS DAVIS and JOUETT (note that it appears they painted the decks and horizontal surfaces with Mountbatten Pink as well).
My problem is which paint or color to use? The above formula shows that the amount of "Blue/Black paste" as being 5 TM units hand written on by the letter. This would point to about a 5H shade with additional "RED Cake" added, IF and only IF the rest of the ingredients are equal to the White Base used to make the 5-H/5-O/5-N family of paints. I'm assuming that the paint would be a "contrast" shade between 5-H and 5-O Anyone with knowledge of the paint formulas and the various shades of Mountbatten Pink, able to say what shade should be used on my model??