On the mid morning of this day 106 years ago HMAS Sydney engaged SMS Emden in a short running battle that lasted for an hour and thirty five minutes in the waters of the Indian Ocean's Cocos Islands. Emden was destroyed.
Australia's very young navy had been blooded and achieved a world renowned victory bringing with it its own traditions.
[img]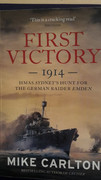 [/img]
Carlton's 2014 465 page book covers the birth of the RAN and its first battle in New Britain (Neupommern, Deustch Neu-Neuguinea), the German Asiatic fleet with its base at Tsintao and its 1914 cross Pacific sortie and final detruction at Falkland. Coronel is also described, what a horrible fate for Cradock's sailors!
Emden's three month cruise in the opposite direction is focussed upon of course in much detail, Carlton's bibliography is extensive and is well researched.
It's easy to read, interesting and well worth it.
The 'Spectator' says: "...cracking read", and so it is.
Highly recommended!