The Danish frigate
Thetis
visited last year Kiel - she was at the time flagship of the NATO mine countermeasure unit SNMCMG1 during the exercise BALTOPS 2019:
Thetis in Kiel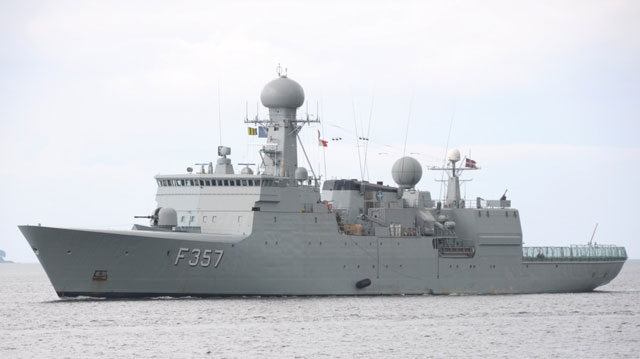 Thetis
has a frigate hull number, but is classified as "inspektionsskib" (offshore patrol ship). Danmark has no coast guard, the navy is also used for policing Danish waters. The Thetis class are the largest ships of the patrol force, these four ships plus three smaller ships of the Knud Rasmussen class, patrol the waters around Greenland and the Faeroe Islands. They have an icebreaking capability.
The Thetis class had originally also space for four Stanflex modules and could be armed with Sea Sparrow (later ESSM) and Harpoon launchers, i.e. armed as a frigate. 2014-19 the four ships were converted: they got a larger hangar for the MH-60R Seahawk, which replaced the Lynx, plus a new radar (on the shorted foremast). After the conversion, I think that there is only space left for two Stanflex modules (on the photos there are containers at these positions).
Thetis
herself is used often to support the mine hunters and can deploy various drones for mine detection and hunting - which can be seen on the photos.