I don't know that I can positively ID all of the ships in this image. At NARA I came across several batches of aerial views taken of the Pearl Harbor anchorage and the navy yard in two different Record Groups. There was a sizable grouping of images dated 13 October 1941, of which this image ISN'T one of them. There are other photos dating in October 1941 also, and none match the ships arrangement seen here.
Many of the photos in 80-G have inaccurate dates. Sometimes off by just a day or a few days. Other times by weeks or even months. So it is hard to tell when this "16 October 1941" image was taken or for that matter if the 13 October 1941 photos are accurately dated. A lot of photos are dated as to WHEN they were received or processed into prints by whoever was cataloging them.
The attached image shows roughly this same area at an oblique angle. Because of other photos taken at the same time on 13 October 1941, the cruiser to the left in the yard is USS INDIANAPOLIS, which isn't at this berth in the dated 16 October 1941 image. Neither is the OMAHA class cruiser across from her. However, the two DM or DMS Flush-Deckers that were berthed in front of the OMAHA class cruiser are still there. There are two destroyers in Drydock #1, but no cruiser as in the 13 October 1941 image below. It is unlikely that they would have docked two destroyers, then float those destroyers to get a cruiser in and then re-flood it.
From the USS DEWEY deck logs, USS NORTHAMPTON, DEWEY, and WORDEN entered Drydock #1 on 7 October 1941 and were exited from on 15 October 1941. So, the image dated "16 October 1941" would date from before these three were dry-docked (7 October) or after she departed the navy yard for berthing at destroyer anchorage X-13 (27 October).
What is interesting in relation to the "13 October 1941" image and the DEWEY deck logs, it could well be that the destroyers and the cruiser seen in Drydock #1, are these three ships, making this photo as being taken between 7 and 15 October 1941.
To solve what date this photo was taken, would require going through quite a few records (deck logs and yard reports) that are only available at NARA.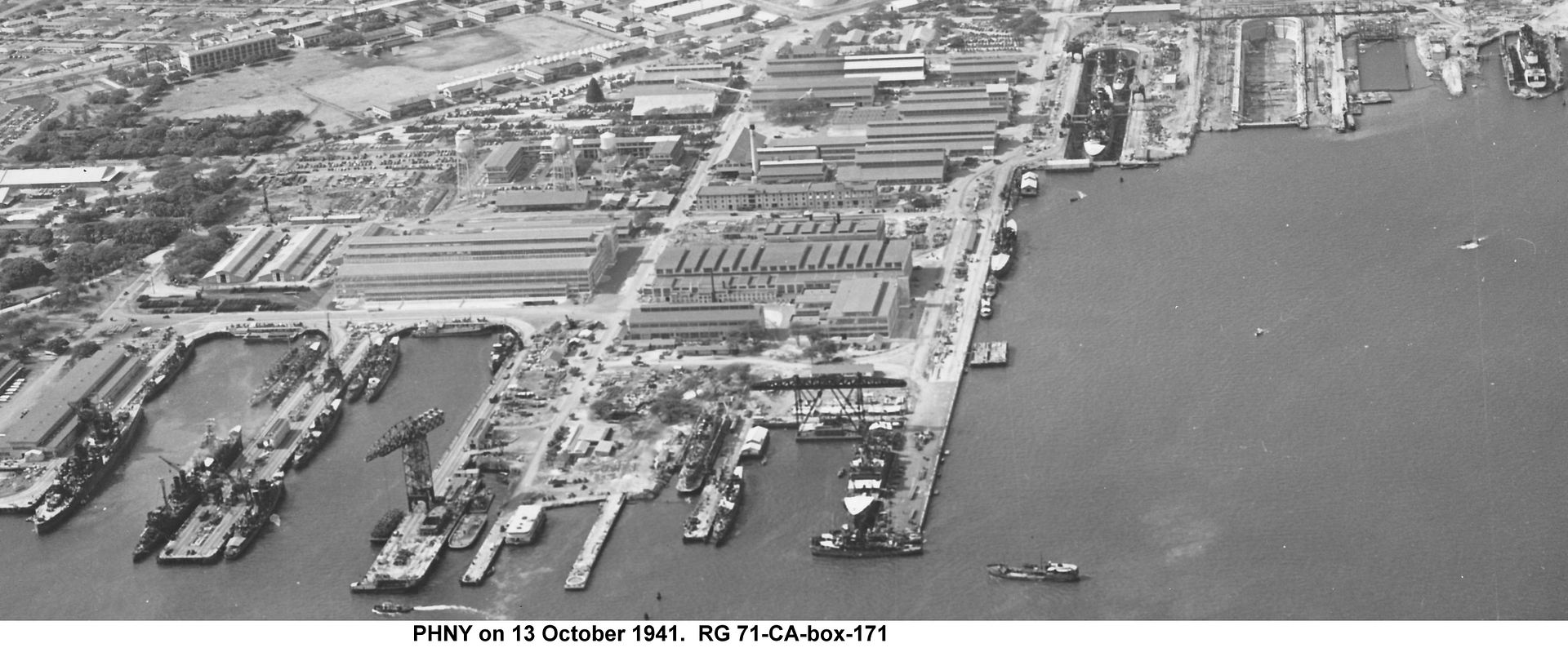 Previous Message
Rick,
Awhile back you helped me determine that this pic was taken between Oct 15-20 1941. It shows USS Henley, USS Worden, and USS Dewey at berth B-16 in the Navy yard at Pearl.
https://catalog.archives.gov/id/24697013
I have another puzzle for you if you are up for the challenge.
I came across this aerial shot of the navy yard dated Oct. 16, 1941. Clearly by the info above with Dewey's deck logs that the date on this pic is wrong.
Berth B-16 is directly across from the Penn/Nev class BB at berth B-12 and shows only one destroyer there.
I would love to figure out the actual date of this pic and determine which BB that is at berth B-12. Pennsylvania's deck logs tell me she was not at this berth in Oct.
Lots more info here to consider with 2 Brooklyn class, 2 Omaha class (Detroit has been eliminated) and a Colorado class BB also in the pic.
I'm hoping that that BB turns out to be Arizona.
Jeff