Hello APACHE Classmates' and Alumni,




With much sorrow, I'm very sorry to report that one of our Willowbrook JHS Friends; also my Son's Father & my Ex-Husband: Reginald Lee McCoy-Hall has passed away. My son Reginald along with the Bldg. Management discovered his Dad on the floor at the Senior Bldg. where he lived early Saturday morning on February 9, 2019. His Dad's body was already cold so Reggie may have expired late Friday night. We won't know until the autopsy comes back.


Reggie was a Class of 1975 Graduate (from another High School) due to their family moving away after they graduated from Willowbrook Junior High School. Reggie & his identical twin Richard along with their brother Robert (Bobby) from Willowbrook J.H.S. always considered themselves as a part of our Centennial High School Apache Family and as you know they joined in on our Class & School websites.
Reggie had (7) other siblings (Robert "Bobby" McCoy, his twin Richard McCoy-Hall;, Evelyn McCoy, LaRhonda McCoy, Glynnis McCoy, Teairra McCoy, and Delrick "D.V." McCoy).
Reggie left behind (6) children (his namesake our son Reginald Lee Hall II), Tiana Hall, Constance Hall, Lauren Hall, Ryan Hall, and William Hall.
Reggie had (1) child (from our marriage 1982 - 1992) & (5) from his 2nd marriage to Karen & none from his 3rd marriage to Latanya.
In Elementary School & J.H.S. Reggie & his twin brother Richard went by the last name McCoy (after his Stepfather); but later he went by his birth Dad's name of Hall.
Photo of Reginald McCoy-Hall in the Willowbrook Jr. High School "1972" Yearbook

"R.I.P. Reggie"


Reggie & Phoebe at a Family Wedding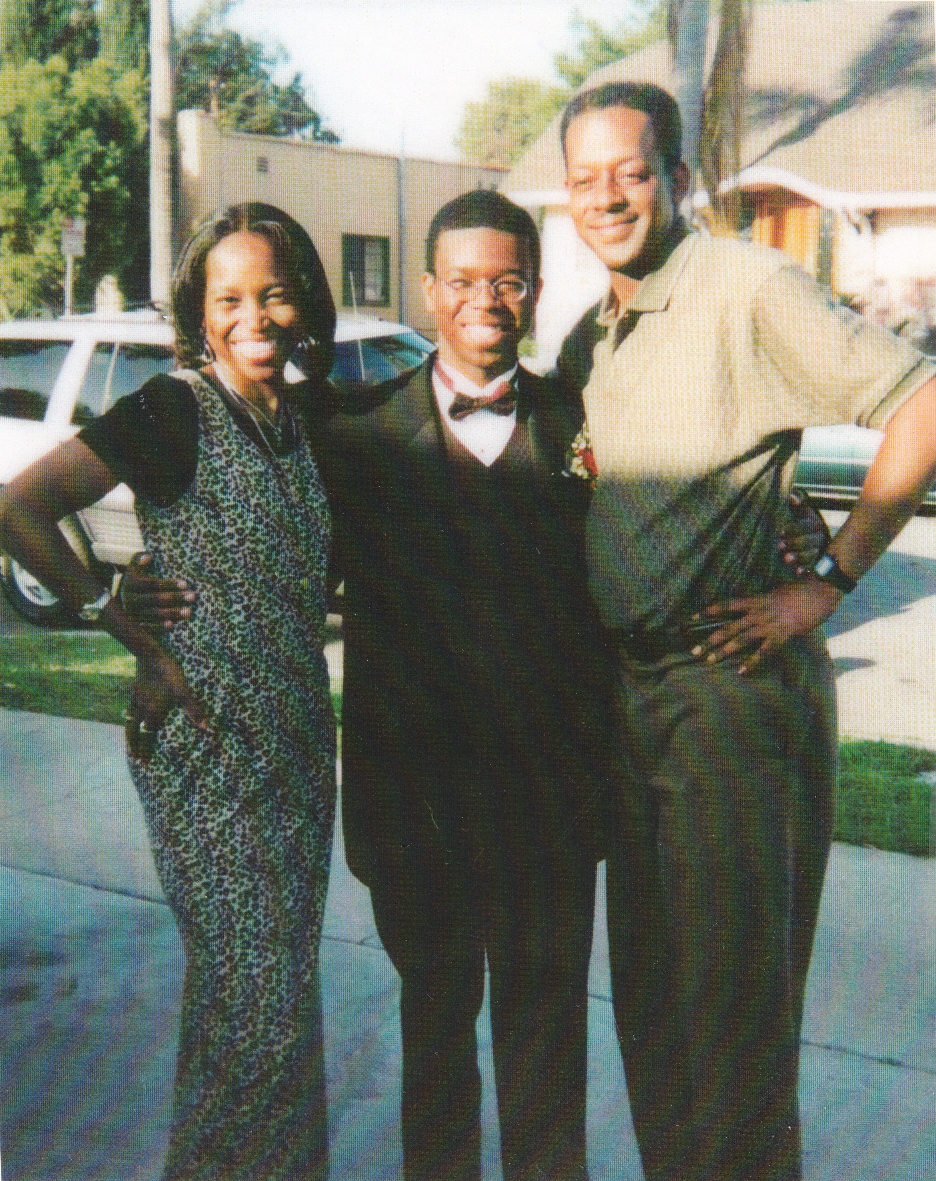 (Mom) Phoebe Macon-Hall, (Son) Reginald Lee Hall II, (Dad) Reginald Lee McCoy-Hall
From Elementary School to Jr. High School, to High School -The Class of 1975 Family: Natanya Nelson-Blakely, Reginald "Reggie" McCoy-Hall, Phoebe Macon-Hall, Wayne Ware, last year at our Grandbaby's 1st Birthday Party (Saturday, October 20, 2018)



To The McCoy and Hall Family:

Please know that our Alumni prayers and condolences go out to you at this very difficult, devastating and sorrowful time. Please lean on God and let him bring your family comfort and peace; the peace that passes all understanding. When a loss comes out of nowhere and is unexpected somehow it seems as if the grief and the shock is the worst to bear; but please know that God does not make any mistakes and that He has everyone of us who are grieving this loss in the palms of His hands.

God bless the McCoy and Hall Family!!




"God is our refuge and strength, always ready to help in times of trouble".

(Psalm 46:1)



"Blessed are those who mourn, for they shall be comforted".

(Matthew 5:4)




Classmates and Alumni: Please keep the McCoy and Hall families in your prayers. Thanks!!



-------------------------------------------------

PRAYER



Lord, we come lifting up the McCoy and Hall Family to You in prayer. Lord, we're asking for your comforting touch during this time of pain and sorrow. Lord, we ask that you would surround them with your quiet, loving and gentle peace; Your peace that passes all understanding. Lord, I know that You are wrapping your arms around them right now. Lord let them know that you are always in control and that they may not understand the why but you always understand and know. Lord, I ask that you give the Family strength; the kind of strength that only You can provide…for you are the one who will help them put one foot in front of the other to move through the days and nights ahead. Lord, I ask that you help the Family through their grief as the days pass by; help them to rest their minds and bodies and continue to live on even when they do not feel that they can. Lord, let them know that Your healing is mighty and that You will carry them when they are unable to stand. Lord, let them know that You are the constant in their lives when all else changes. Thank you, Lord, for already being an anchor and a rock for this Family. Lord, let them know that you will hold onto them not only and not just during these next trying days but always. Lord, we give You all the victory, all the glory, all the honor, and all the praise right now and forever in the Sweet and Precious Name of Jesus.

Amen

-------------------------------------------------

Love and Blessings, Phoebe




***P.S.***
Thank you so much to those who have heard about Reggie's passing and called and those who have sent sympathy/condolence cards to my Son, Erin & I. We (our Family) are so sorry about my Son's Dad & my Ex-Husband's passing last Saturday Feb. 9th (which was one day before my Son & His Bride Erin's Wedding). And then to hit you all who attended the wedding with more news that my Son's new Wife Erin's Mom passed the very next day after the wedding on Monday morning.
So Saturday there was (Death) the Groom's Dad/Father Reginald "Reggie" (Age 61), Sunday was (The Wedding of my Son Reginald II & Erin), and Monday there was (Death) the Brides Mom/Mother Denene (Age 61).
We also found out yesterday morning that Reggie's twin brother Richard is now in the ICU (Intensive Care Unit) at the V.A. Hospital who got sick due to all of the stress of his other half, his twin brother's passing. Please keep Reggie's twin Richard in prayer.
But we still praise God because through it all God is so...... good, God is always faithful, and God is still on the throne.
Special thanks to my Classmates and friends for your love and support during this absolutely crazy past week.
It was great seeing all of you at my Son & Erin's Wedding. Thanks again to (Godmother) Natanya, Wayne, Myra, Bayette, Dascha & Justin, Cynthia & Cecil, Addie, Renee, and Cynthia.







**********************************************************************************************************


FUNERAL SERVICES

For Reginald Lee McCoy-Hall
Friday, February 22, 2019 (11:00 a.m.)
New Jerusalem Church of God
420 South Santa Fe Ave. (Close to the Santa Fe Post Office)
Compton, CA. 90221
(310)639-1013


INTERMENT
Inglewood Park Cemetery
720 East Florence Avenue
Inglewood, CA. 90301


REPAST
TBA