Sesame Chicken Egg Rolls with Hoisin Sweet and Sour Sauce #MC Skillet Sauce
Prep Time 20 minutes
Cook Time 10 minutes
Servings 4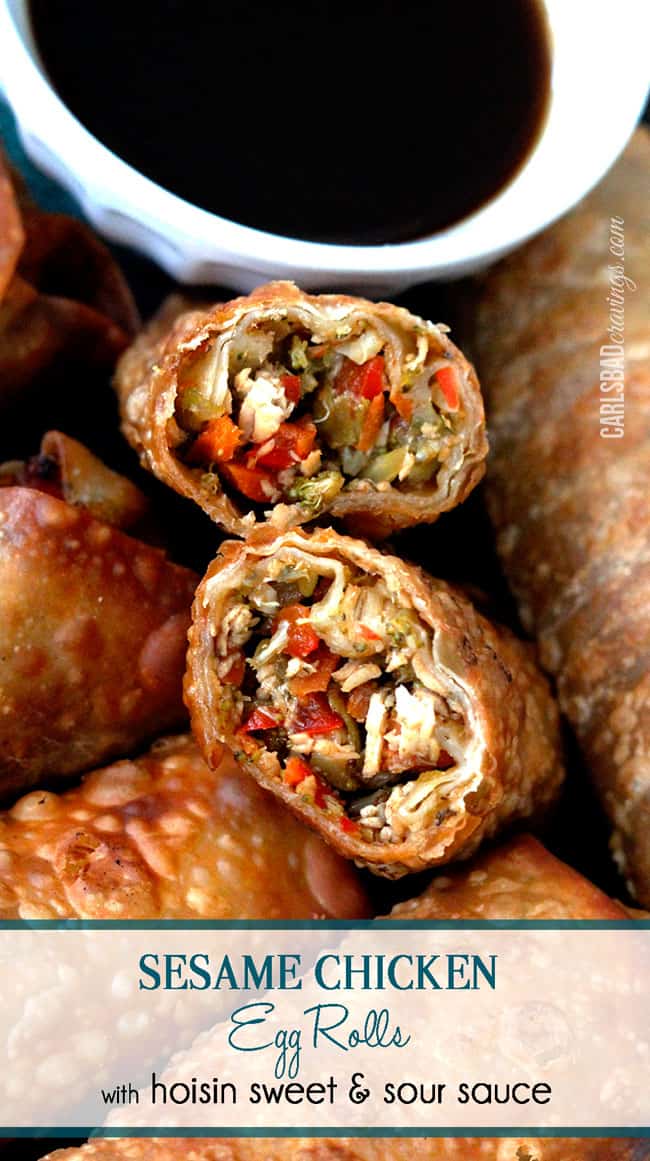 Makes 8 egg rolls
INGREDIENTS
Sesame Chicken Egg Rolls
8 egg roll wrappers
1 lb. boneless skinless chicken breasts, cut into thin strips
1 tablespoon olive oil
1 12 oz pkg. sitr fry vegetables (with snow peas carrots, broccoli, bean sprouts)*
1 red bell pepper, cored and sliced
1 pkg. McCormick Sesame Chicken Stir-Fry Skillet Sauce
2 teaspoons Sriracha/Red chili hot sauce
Salt and pepper to taste
1 quart Vegetable oil
Hoisin Sweet and Sour Sauce
4 tablespoons hoisin sauce
3 tablespoons sugar
3 tablespoons white vinegar
1 teaspoon cornstarch (optional)
INSTRUCTIONS
Whisk together Hoisin Sweet and Sour Sauce ingredients until well combined. Set aside in refrigerator.
In a large skillet, heat 1 tablespoon oil over high heat. Add chicken and cook until browned, but not cooked through, approximately 1-2 minutes. Add vegetables and saute over medium-high heat until vegetables are crisp-tender and chicken is cooked through, approximately 2-3 minutes. Stir in Sesame Sauce and Sriracha and bring to a boil. Reduce heat and simmer 1 minute or until heated through. Season with salt and pepper to taste.Using a slotted spoon (you donít want extra moisture), add chicken/vegetables to your food processor and pulse until finely chopped (about 12 pulses).
Position an egg roll wrapper with one point towards you. Place 2 tablespoons filling in the center. Fold bottom corner over filling then continue to roll up, firmly folding sides toward center over filling as you roll. Moisten top corner with water and press firmly to seal. Repeat with remaining wrappers and filling. (Refer to your egg roll wrapper for a diagram).
Heat oil in a stock pot or deep-fat fryer to 350F degrees or medium high heat. Fry egg rolls, 4 at a time until golden brown, turning egg rolls a few times while frying. Drain on paper towels.
For the Hoisin Sweet and Sour Sauce you can either whisk all of the ingredients together except for the cornstarch for a thin dipping sauce OR you can add all of the sauce ingredients, including the cornstarch, to a small saucepan and simmer until thickened.
RECIPE NOTES
*Slice carrots and cut broccoli into bite size pieces if still whole.
**Hoisin Sauce can be found in all grocery stores in the Asian section. All Hoisin Sauce is NOT created equal. Many brands contain too much 5 Spice. I highly recommend Lee Kum Kee Brand (this is NOT an affiliate link, just my personal preference).