Beef & Tomato Macaroni Soup
Beef & Tomato Macaroni Soup - a hearty soup full of hamburger, tomatoes, macaroni, and more! Worcestershire sauce combined with brown sugar makes for a perfectly sweet and savory flavor that is irresistible!!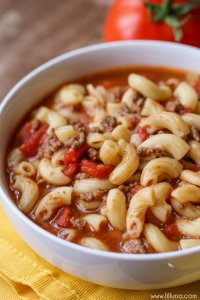 Author: Lil' Luna
Recipe type: Soup
Serves: 12
Ingredients
•1 pound ground beef
•2 tsp onion powder*
•3 tsp minced garlic
•4 - 14.5 oz cans beef broth
•2 - 28 ounce cans Chopped Tomatoes
•˝ cup ketchup
•2 TB Worcestershire sauce
•2 TB brown sugar
•1 tsp Italian seasoning
•2 cups dry macaroni
•garlic salt and garlic pepper, as desired
•Cheese (if desired)
Instructions1.In a large stock pot, add ground beef, garlic and onion powder - cook until beef is no longer pink. Drain the grease.
2.Add broth, cans of chopped tomatoes, Worcestershire, brown sugar (optional), ketchup and Italian seasoning. Bring to a boil and simmer for 8-10 minutes
3.Add the dry macaroni and let cook for 15 minutes. Top with cheddar cheese, if desired and ENJOY!
*Instead of onion powder, dice onions (1/2 to 3/4 C) and 2 to 3 stalks of celery and sauté them with the beef.