Crispy Baked Chicken Wings
Prep: 10 mins|
Cook: 30 mins|
Total: 40 mins|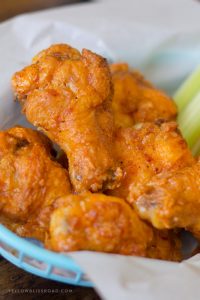 Chicken wings are dipped in flour and spices, then baked until their skin is nice and crispy. Coat them with some homemade buffalo sauce and your family will devour these Crispy Baked Chicken Wings as quickly as mine did. They are perfect for game day parties, too!
Ingredients
•3 pounds chicken wings or drumettes
•1/2 cup flour
•1 teaspoon salt
•2 teaspoon chili powder
•1 teaspoon garlic powder
•1/2 teaspoon pepper
•2 tablespoon baking powder
•Bottled Cayenne Hot Sauce (like Frank's Red Hot)
•Butter (not margarine)
Instructions
1.Preheat oven to 450 degrees.
2.Rinse chicken wings and trim any excess skin. Do not remove the skin or you will lose the crispiness. Pat chicken dry.
3.In a large bowl, whisk together flour and seasonings. Add chicken and coat with the flour mixture.
4.Prepare a large cookie sheet by covering with foil and spraying with cooking spray.
5.Arrange chicken on the cookie sheet, at least an inch apart.
6.Bake for 30-35 minutes, turning once after about 20 minutes.
7.While the chicken is cooking, make the sauce. Add about a 1/2 cup of the bottled Cayenne hot sauce and a stick of butter to a small saucepan. Heat on low and stir until butter is melted and sauce begins to bubble. Taste. If the sauce needs more heat go ahead and add some in batches, or add a few dashes of Tabasco.
8.Transfer baked chicken wings into a large bowl. Pour the sauce over the crispy baked chicken wings and toss to coat.
9.Serve with celery and carrot sticks and a side of ranch or blue cheese dressing for dipping.