https://www.bostonglobe.com/arts/movies/2018/05/31/the-man-who-speaks-film-noir-mission/Z7XiC7GFCokJL06Q7xzY6K/story.html
His "film noir leads to the hard stuff" nonsense notwithstanding (to refute that, one needs only to seriously look beyond American-centric "cinephilia" and the simplistic, laughable idea claimed by some that Godard, a fan of American movies, was the primary reason "arthouse" cinema came into being), Eddie takes his best shot--as quoted in the above linked article about next weekend's NC Boston--at trying to spin the facts about his protracted reluctance to show films like FORCE OF EVIL and TRY AND GET ME.
It's revealing that he wants to rewrite the past eighteen months to make it seem that it's
the audience
that didn't want him to show these films. This is oddly Trumpian in its addled bravado, since Eddie's written words in the NC SF #16 festival program show us
exactly where he was at
this past January—which was more than "twenty steps from greatness" vis-à-vis progressive proselytizing.
Paraphrasing those words, Eddie essentially said this about "social outcry" noir in January: "I know I should show these films, particularly at this point in time, but look! I've already done it and nobody cares. Therefore I'm avoiding the matter by paying lip service to it while preaching to the choir that wants to be entertained. And I have a spiffy motto for them:
barroom not classroom
."
Of course, only a portion of the above rings true--Eddie a slave to his audience? (Now, the "barroom not classroom" schtick--
that
was dead on.) But it was a convenient smokescreen for not screening "social outcry" noir--or at least it was four months ago.
Now that's (apparently) changed. And, yes, that's A Good Thing. But this seeming need to recast his initial reluctance and sweep it under the rug is definitely
Not
A Good Thing. One gets the sinking feeling that this is all posturing for effect.
So while we should all be pleased that Eddie is getting back to screening John Garfield and Abe Polonsky and not just tossing THE PROWLER out there over and over again as a sop to those of us who revere noir's social consciousness, it's clear that regardless of what happens in the mid-term elections, 2019 should and must be a year to reflect at length upon these films. The best starting point for doing so would be
to feature the films of Garfield
that Eddie has been so curiously reluctant to screen over the past decade.
(It would also be A Good Thing if he were to create a Noir City Milwaukee, to help with those pesky, petulant millennials in Wisconsin. More dramatic still: a
Noir City Pennsyltucky
, held at the Rowland Theatre in Philipsburg, PA, with a Saturday "double double" bill—apologies to In'n'Out Burger—that lays it on the line:
NOIR CITY PENNSYLTUCKY
Saturday October 20
IT'S YOUR CHOICE...
Matinee—CROSSFIRE and THE WHIP HAND
Evening—FORCE OF EVIL and I MARRIED A COMMUNIST
Hell, I'd even travel to Philipsburg to see that…)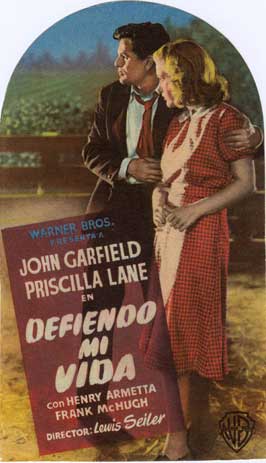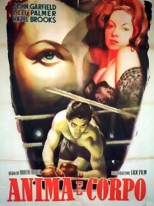 Here's the bottom line: in order to remove any lingering doubt about his commitment to the "social outcry" aspect of noir, Eddie needs to show
a lot more Garfield
to his fans in 2019, beginning in SF. He should come out swinging with THE TURNING POINT and SHIELD FOR MURDER on Opening Night—two great but tonally different takes on personal corruption (imagine Garfield in the Holden role in the former and in the O'Brien role in the latter)--and then, on Saturday afternoon, launch a true Garfield tribute sprinkled across NC SF #17 with several of his "B's" that never get shown (THEY MADE ME A CRIMINAL, DUST BE MY DESTINY). Then he should finally dust off THE FALLEN SPARROW for his SF audience, along with NOBODY LIVES FOREVER (not seen since NC #4), BODY AND SOUL (
never in SF
), FORCE OF EVIL (
not since NC #3
), THE BREAKING POINT (not since NC #10), HE RAN ALL THE WAY (not since NC #8) and—what the hell—WE WERE STRANGERS (if only to show a big Castro audience how well Jennifer Jones wields a machine gun).
Actually, a closing night double bill of WE WERE STRANGERS and THE POSTMAN ALWAYS RINGS TWICE would be brilliantly bizarre. It would also allow Eddie to explicitly acknowledge and link together the two disparate sides of noir that need to
actively co-exist
in his festivals.
Following through in this fashion from the position/posture/pose taken in the
Globe
article would be incontrovertible confirmation that Eddie really believes in educating people about the Blacklist and about the various flavors of social problem films in general and "social outcry" noir in particular.