As a follow-up to DARK SIDE OF THE DREAM and a preview of the portion of the upcoming NC LA series that touches upon films with a more explicit level of sociopolitical content, I'm reprinting an essay from one-time NC contributor Ed Burma (sadly, RIP) which appeared in late 2010. Reading it now is a reminder of a writing perspective that was an uncomfortable fit for NC--though I haven't gone back to look, I would not be surprised if the version of this essay that appeared in those pages was toned down a bit in the transition from editor-in-chief to publisher.

It also appears to have hit a bulls-eye in terms of the forces at work in the USA over the past thirty-odd years, and looks rather prescient in outlining how controversy can be "stage-managed."

Finally, though, it shows who was the first individual to write anything extended about a fine film that is at long last being made available to the general public...the best of the Kefauver Commitee-inspired noirs, Paramount's THE TURNING POINT (1952). With crucial elements rediscovered, this film has finally gotten a 2K restoration and we should expect a DVD in the near future.

Whenever you get a chance to see it in its full glory, please remember that Ed Burma wrote about it first...
THE OTHER WITCHHUNT
"Syndicate Noir" and the Art of the Stolen Agenda
by Edward Burma
Special to the Sentinel
Those who study politics from the viewpoint of strategy may know all too well how often tactics used for progressive agendas are "turned around" in later incarnations by the forces of reaction. Civil rights, war policy, abortion/women's rights, economic entitlements, the entire financial "system" itself—it has happened in each of these instances, and it only seems to widen the divisions between the two sides.
The history of film noir is well-known for such a progression—or regression, depending on one's viewpoint. The socially-conscious noir auteurs were pretty much given the "tar and feather" treatment by HUAC because they wanted to use noir as a platform for dissent (a term that reactionary forces like to quell by demonizing it as "communist": today, the ugly word is "socialist").
But there was another component to this political donnybrook as it relates to noir that tends to be overlooked. That is the growth and mutation of the "syndicate noir" over the course of the post-WWII "noir era." There is a kind of parallel witchhunt that plays itself out through this sub-cycle, only with different results and different consequences.
"Syndicate noir" survived the Blacklist purge, but in doing so became the tool of a tabloid-driven Hollywood that fed off the use of sensationalist headlines and fear-mongering. The films in the early part of the sub-cycle are mostly aligned with "social protest" noir and warn of a systemic corruption that involves gangsters and law enforcement officials. The films in the late part of the sub-cycle have ramped up the hysteria about "syndicate crime" and treat it in ways that are similar to invading aliens, creatures from black lagoons, "pod people," and the like.
In early "syndicate noir" the rationalized "total crime operation" is a loaded metaphor for capitalism. Abraham Polonsky is the most prominent exponent of this in
Force of Evil (1948
), building a Shakespherian story of brotherly contretemps into a model of how the anonymous world of "crime-capitalism" is destroying society from within. (It's not too surprising to discover that Polonsky wasn't allowed to direct another film for more than twenty years.)
Alongside Polonsky's work, however, are a series of films that depict an organized criminal underworld with similar (though noticeably muted) critiques. Though
I Walk Alone (1948)
subordinates a portion of this theme to a love story, the message is mostly the same: the age of the entrepreneur is over, all hail the syndicate. While brother is not pitted against brother, we have an even more galling circumstance where one brother (Wendell Corey) must reluctantly explain "the facts of life" to the other (Burt Lancaster).
I Walk Alone
pulls its punches with respect to the "syndicate" by permitting the wronged party to gain revenge, but at the film's conclusion there has really been nothing done to address the nature of corporate crime.
Time after time in these pale variants of Polonsky's film, the "syndicate" element of the story is more sizzle than steak in the ensuing action. People are always overstepping their bounds (the Greeks had a word for it: hubris) and upsetting the highly ritualized pyramid that the syndicate represents—but when the events move in this direction, revenge and hatred blunt the dehumanizing element of incorporated crime.
The most interesting films in this subcycle are, naturally enough, the most subversive—and were made by directors who were on the verge of being Blacklisted. Cy Endfield's
The Underworld Story (1950)
gives a bird's-eye view of the extent of corruption between the media and law enforcement, and how the syndicate works almost as a shell game, capable of using misdirection to obscure what it's really doing, allowing a series of colorful, buffoonish "crime bosses" (like the one played in such a masterfully over-the-top manner in
The Underworld Story
by Howard Da Silva) to achieve headlines and notoriety, thus allowing the real business of the organization to remain undetected.
An even more elaborate look at the interconnections of the criminal underworld is provided in Joseph Losey's
M (1951)
, which remakes Fritz Lang's classic in a way that features the organizational structure of the syndicate in their efforts to blunt public outrage and panic over a series of child sex murders. Even more than in similar scenes of criminal conferencing—some other notable ones:
The Damned Don't Cry (1950)
,
711 Ocean Drive (1950)
,
New York Confidential (1955)
—the vertical, "org-chart"-dominated world of syndicate operations is especially vivid here. There's a kind of "parasite-host" analogy that Losey retains from Lang, however—the type of tacit admission of an old world "honor among thieves" code in the criminal element that acknowledged the need to sublimate their actions so as not become too noticeable—that is no longer operating many of the other films. By the mid-50s, all of the crime bosses seem to be conducting their operations under "open secret" kinds of situations.
The "subversive" syndicate film is given a kind of ritual execution by the Blacklist, though we'll take a look at one interesting exception further below, and is replaced by films that seem to be continuing in the same vein, but aren't. The Kefauver Committee on Organized Crime, focusing on labor racketeering and illegal gambling operations, created an ongoing cause celebre in 1950-51 by becoming a kind of traveling circus from city to city, showing how deeply rooted such enterprises had become in the fabric of America. Inheriting the mantle of "moral righteousness" from the noirish "police procedurals" that had cropped up alongside the "noirs of social conscience," these new "syndicate noirs" emphasized fear and loathing as opposed to moral ambiguity, and avoided any suggestion that the criminal underworld had become more or less indistinguishable from respectable society.
More than two dozen films made use of this motif—some explicitly, in the low-budget films that seemed to be following the Kefauver Committee around the country, films such as
The Miami Story (1954)
,
Chicago Syndicate (1955)
,
Inside Detroit (1955)
,
Portland Exposé (1957)
. These films tended to feature a lone avenger whose special abilities or anger (or whatever) somehow made him more effective than the police in infiltrating and undermining vast criminal organizations. Oftentimes these figures turned out to be familiar lead actors from earlier noirs, such as Barry Sullivan or Dennis O'Keefe, guys with enough gravitas to elevate the formulaic material. Leads for these types of films tended toward two extremes: tight-jawed underplaying (O'Keefe) or florid over-emoting, such as Lee J. Cobb in
The Garment Jungle (1957)
.
Others in the cycle were more individualistic. Even though it appears to follow in the "city exposé" formula,
New York Confidential (1955)
is a grim internalization of the "gangster inside the businessman" motif that pre-dated film noir: what does a criminal organization do when its attempts to go legitimate are thwarted? It cuts off as many of its hydra heads as it can and sneaks back into the woodwork, that's what. Getting away from those ritualized "old codes" turns out to be extremely dangerous: it makes people think they're actually human beings!
As always, the most enjoyable of these films are those that stretch the formula and minimize the brainwashing.
Slightly Scarlet (1956)
adds a liberal dose of sex to its otherwise conservative tale of an underworld misalliance. The moral here seems to be that nymphomania trumps monomania any time, and when Arlene Dahl is the nymphomaniac in question, it is hard to argue the point: the syndicate is no match for an hourglass figure!
Mostly, however, the later "syndicate films" trade off some titillation in order to toe the line with an increasingly ham-fisted "law and order" message. Scare-mongering about the increasing peril to the American way of life is the justification for this filmmaking approach, which uses the trappings of noir against its own original precepts.
This entire sub-cycle is located on a slippery slope in terms of what was happening in America and in Hollywood at the time. Rapid changes in technology and the beginnings of social transformations so profound that fifty years later a majority of Americans wonder "what the fuss was all about" with respect to African-Americans attending college or drinking from a particular water fountain were part of an escalating "culture of anxiety" that could be milked for profit. Much of the "syndicate noir" filmography [Editor's note: which can be found in the "Anatomy of Gangster Noir" sidebar] was this type of product, low-budget quickies turned out in hopes of capturing bottled lightning at the box office.
In light of that conclusion, however, it's interesting to discover that there is one film that straddles these two opposed types of "syndicate noir," combining the moral fervor of the socially-conscious film with the cynical topicality of the tabloid films released in the wake of the Kefauver Committee. That film is (appropriately enough) entitled
The Turning Point (1952)
, and it is exactly that—the last instance of a film with its heart in the rhetoric underlying the works of Polonsky, Losey and Endfield, and grappling with the issue of whether to flesh out its characters or make them into symbolic instruments of an archetypal story.
The Turning Point
is shot through with questions of loyalty and betrayal: reporter Jerry McKibbon (William Holden) has to decide whether to betray a confidence about the father of crusading prosecutor Johnny Conroy (Edmond O'Brien). He also discovers that Conroy's secretary and girlfriend, Mandy Waycross (Alexis Smith) is falling in love with him. Both Jerry and Johnny are trying to penetrate the corrupt operation of contractor Neil Eichelberger (Ed Begley), but their personal entanglements hamper their efforts to bring the oily gangster to justice.
Director William Dieterle, who'd shown little interest in socially conscious filmmaking once he emigrated to America, creates a fascinating little film that has one foot in each camp. Holden, smack in the center of his most productive period as an actor, is quite possibly at his best here as reporter McKibbon, embodying and enriching the cliché that a "cynic is just a disappointed idealist." While some criticism suggests that the triangle element is unnecessary ballast, it seems clear that Dieterle was careful to emphasize this element in an attempt to shield both himself and screenwriter Warren Duff from the scrutiny of HUAC. It didn't work: Begley exudes such a surfeit of double-dealing sleaze in his role as Eichelberger that too many of the Red Baiters saw it as a last salvo against capitalism. Dieterle had to return to Europe in order to find regular work, and Duff had no Hollywood credits from 1955-65.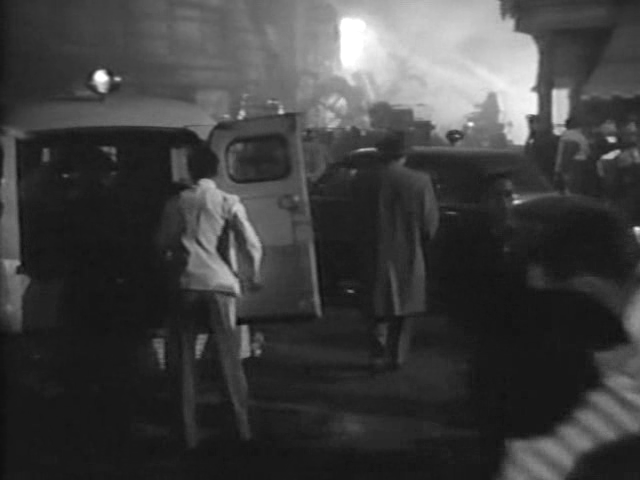 Director William Dieterle and DP Lionel Lindon didn't stint on the atmospherics in THE TURNING POINT
And so "looking for the boogey man" in the guise of Cuban mobsters, corrupt union leaders, corporate raiders, even Long Island crime bosses whose life story seems to eerily parallel that of a medieval Scottish villain-king (!), was what became the order of the day. Even in
New York Confidential
, the real truth—that organized crime and government were at the very least doing some heavy petting—was undercut by the hammy over-reaction of Broderick Crawford, whose criminal code somehow seems too honorable in comparison to elected officials! The truth is probably hoarier still: once the template of "witchhunt" became something that could generate cash flow for its developing media conglomerate, America was fated to relive such scenarios over and over again.