Happy birthday to Don Murray, who turns 87 today. We will be around the country continuing to preview our documentary about Don (UNSUNG HERO) over the next 6-8 weeks; looking for some engagements in flyover country right after Labor Day. Audience response has been simply terrific thus far, and there is real hope for a theatrical release.
DEADLY HERO (1975)
Director: Ivan Nagy
Screenwriters: Don Petersen and George Wislocki
Cinematographer: Andrzej Bartkowiak
Lead actors: Don Murray, Diahn Williams, Treat Williams
Supporting actors: James Earl Jones, George S. Irving, Lilia Skala, Dick Anthony Williams, Conchata Ferrell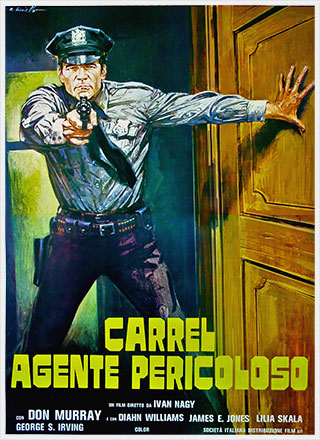 Ed Lacy (Don Murray) is a NYC policeman who is a ticking time bomb. Demoted back to beat cop after transgressions during his tenure as a detective, he's reacting badly to the Mean Streets (this is mid-70s NYC, not the gentrified Manhattan of today that he's fored to prowl). He's ready for a right-wing closeup, and it's going to zig-zag its way into his life all too soon…
Answering an abduction call with his young partner Billings (Treat Williams), he disarms a militant black would-be kidnapper (James Earl Jones) who's hatched a wacky plan to blackmail the politician father of a ravishing socialite (Diahn Williams, who would soon retire from acting and transform herself into a society lawyer).
Not quite content with this outcome, Lacy then shoots and kills the kidnapper in cold blood—a crime that might just be ripped from the headlines around the USA over the past several years. The socialite, traumatized by what she's seen, initially signs off that the killing was justified, and Lacy becomes an instant hero, courted by a Nixon-like mayoral candidate (George S. Irving, in full "Tricky" mode…) as a symbol of the "law and order" he's planning to bring back to the Mean Streets.
But the socialite is sickened by this turn of events, reconsiders what she witnessed, and reverses her testimony. Lacy is dropped like a hot potato by the pol, and finds that he's likely to get tossed from the force due to the evidence already in his personnel file.
What follows is Lacy's dark night of the soul—failed persuasion, followed by coercion and stalking, which escalates into the realm of the hit man (ineptly bungled) and, finally, a desperate, hair-brained rubout attempt by Lacy himself that plays out with predictable results.
Murray gives a chilling performance, but the film's ending strains credulity (something about a cello…) and it was just a bit ahead of the efflorescence of the Mean Streets mythos that came into full flowering the next year and thus was lost in the shuffle. For Don, his career had metastasized into a place where whatever direction he moved in an attempt to redefine himself seemed to bounce off the public, who seemingly wanted him to remain the "earnest young man" they'd first taken to their hearts in the 50s despite the fact that everything else had changed in the interim, including all of the other actors who'd made their debuts at the same time Don first rose to prominence. Talk about a "noir situation"…