PORT OF HELL 1954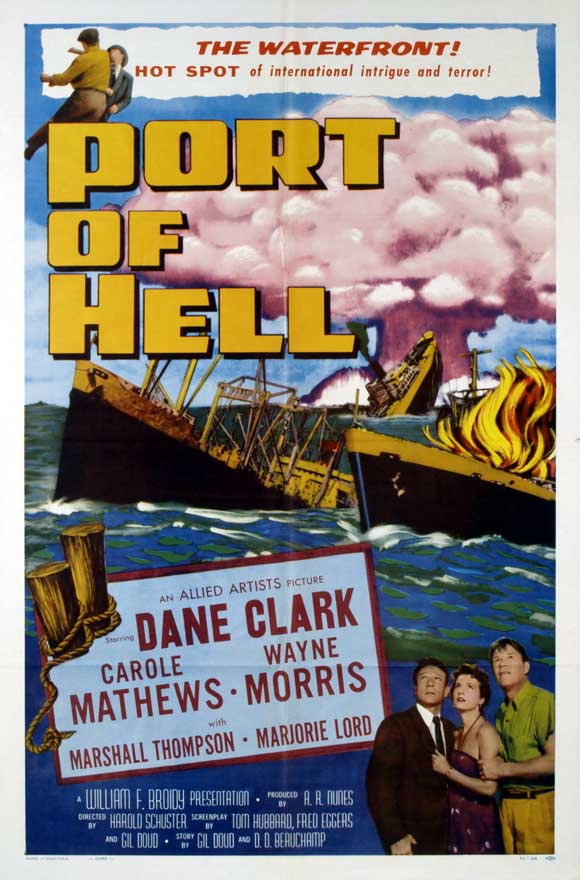 This one is a low budget production made by the folks at Allied Artists. It stars Dane Clark, Marshall Thompson, Wayne Morris, Carole Mathews, Marjorie Lord and Otto Waldis. While a bit lightweight on the noir front, it does fit in with other Red Scare noir like, SECURITY RISK, I WAS A COMMUNIST FOR THE FBI, THE WHIPHAND, THE MANCHURIAN CANDIDATE and THE WOMAN ON PIER 13.
The story is about a Harbor Warden at the San Pedro seaport, Dane Clark. Clark is a stickler for regulations, be they traffic, id checks or smoking in a no smoking area. He quickly becomes most unpopular with the men and women working the docks. Two of these people are tug boat master, Wayne Morris, and his sister, Carole Mathews.
Clark's number one in running the harbour is Marshall Thompson, who had served with Clark during WW2. Thompson was injured after the war and is now in a wheelchair. His wife is played by Marjorie Lord.
The film follows Clark as he makes daily tours of the harbour, fixing problems, firing bad employees and generally making enemies. He is also falling for Miss Mathews. Mathews is peeved with Clark for tossing her brother, Wayne Morris, in jail for breaking one of the harbour regulations.
A man approaches Thompson and tells him that he needs to speak with his boss, Clark. Thompson though is out for dinner with his wife, Lord, and tells the man to call at the office the next day. The man wants to report some strange goings on aboard a ship he worked on.
The man is found face down in the water the next day. Now both Thompson and Clark wonder what the man had wanted to say. They tighten up security around the harbour etc. There is a ship in the harbour from an eastern bloc port where there had been a cholera outbreak. The ship and crew are put in quarantine for 24 hours.
The ship Captain, Otto Waldis, is not the least bit happy with the quarantine idea. He is collared buying a ticket out of town shortly afterwards. He is grabbed up and delivered to Clark's office. The man, Waldis, is very nervous about something and makes a break for it. He is decked by Clark and given a bit of third degree.
Waldis folds like a house of cards and cries that he needs to get away from the harbour. It seems that a certain un-named Red country has planted an atomic bomb on-board. It is set to go off sometime in the next 24 hours. The detention will happen when a radio signal is sent from another ship located off shore. Needless to say this is the ship the dead man had been talking about.
Rather than call in the Police or Navy, and cause a big panic, Clark goes to tugboat man, Morris. He asks Morris to help tow the ship out to sea. Hopefully they can get far enough away to limit casualties ashore. Morris agrees, and with several other men, including Thompson, they tow the ship out. At a distance of 30 plus miles, they throw the tow and speed back to port. A short time later, the bomb goes off, but it is far enough away from land to avoid any problems.
The film is entertaining, but could have used a stronger hand in the director's chair. The helmsman, Harold D. Schuster, started out as an editor in the silent era before becoming a director in the late 30's. He never made it out of B films, though he did manage a couple of decent efforts. These include the aforementioned SECURITY RISK, as well as LOOPHOLE and MY FRIEND FLICKA.
Marjorie Lord was the mother of actress, Anne Archer. Wayne Morris was an up and comer for Warner Brothers when WW2 came along. He became a decorated Navy pilot flying in the Pacific. His career however never regained any steam upon his return from service. He ended up in a whole string of bottom end features like this one.