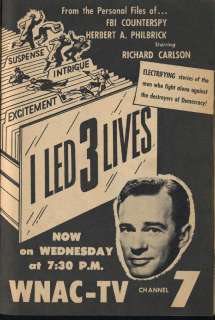 I LED THREE LIVES – 1953 "The Spy"
This is episode 8 of the 3 year and 115 episode run of the Red Scare series, I LED THREE LIVES. This 1953 to 1956 series is based on the exploits of, Herbert A. Philbrick. Philbrick spent 9 years undercover for the FBI keeping tabs on the Communist party. Richard Carlson plays the title role.
In this episode, Carlson is called in by the local NKVD agent for a talk. The agent, Mort Mills, assigns him to do a report on a fellow party member. The member, Robert Clarke is being considered for a new role and the party wanted him vetted.
Carlson makes friends with the man and sounds him out on his politics etc over some bowling at the local alley. He finds out that Clarke is less than pleased with the party leadership in Moscow.
Carlson contacts his FBI handler, Richard Bryan for instructions. Bryan tells him to play it straight with the NKVD types. Give them a by the word report on Clarke.
Carlson hooks up with Mills and several other Slavic looking NKVD heavies, Roxanne Arlen and Irwin Achkenazy. He hands in his report and asks what will happen to Clarke. "From your report, it looks like an "accident" will soon be happening to him." Responds Mills.
Carlson is dismissed and leaves as Clarke brought in by the heavies. Soon after he leaves, Carlson is grabbed up by FBI man, Bryan. He wants him to listen to a tape recording. It seems they have bugged Mills rooms. On the tape, Carlson hears Clarke tell Mills that Carlson has passed the test. Carlson reported everything he said to him. It was Carlson who was being tested!
This low budget fare is actually quite good, with the noir style narration by Carlson keeping the pace moving at a quick pace.
The director was veteran television man, Eddie Davis. Davis also did the 1969 D.O.A. remake, COLOR ME DEAD. (b/w)