Night Freight - 1955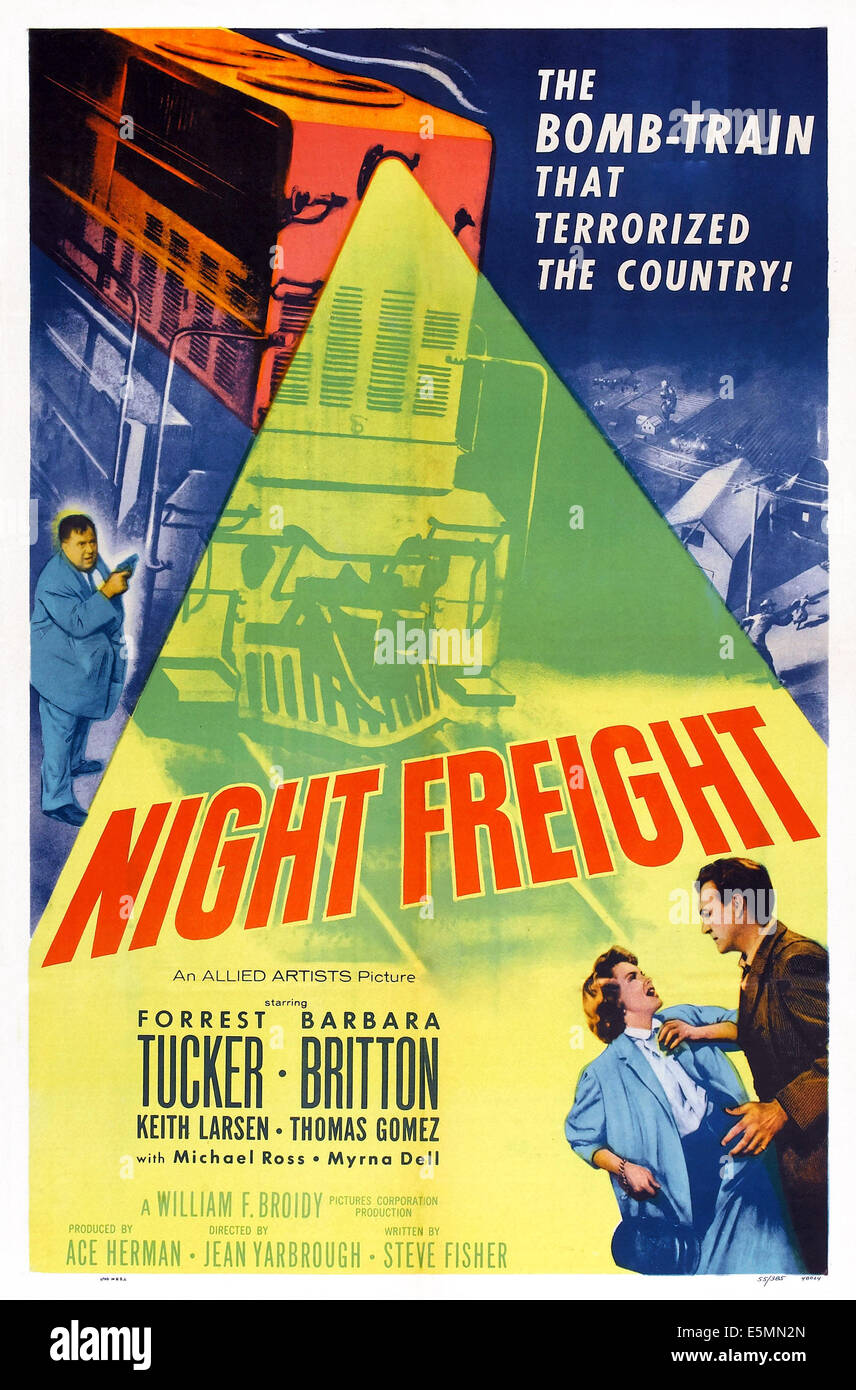 This one is a low budget noir with some real potential.
Forrest Tucker is the boss of a small railway who is in conflict with the local trucking mob. Thomas Gomez, the mob boss, does not like the fact that Tucker's railway is cutting into his profits. Gomez is really annoyed with Tucker over his plan to transport loaded trailers by rail 200 miles to the big city. This would cut into Gomez's monopoly with the local produce growers. Gomez intends to do all he can do to sabotage the railway.
Gomez even hires Tucker's brother, Keith Larsen, who is at odds with his brother over a girl. Barbara Britton plays the cocktail waitress who comes between Tucker and Larsen. She had been stepping out with young Larson before changing ponies and taking on Tucker as her new mount.
Larson takes the event hard, and takes to the bottle big time. Larsen, half corked all the time, is pumped by his new boss, Gomez, for information on how best to slow down Tucker's delivery schedules. There are soon rail blockages, false alarms and the odd beating handed out in an effort to get his point across. These cause Tucker's investors to second guess Tucker's scheme.
Britton, seeing the effect the bad blood is having between the brothers, pays Larsen a call. She tries to sober up Larsen and explain to him how Gomez is using him. Larsen however still sees Britton as the cause of all his problems. Nothing seems to have gone right for Larson since he got back from the Korean War.
Gomez now goes too far and plants explosives somewhere on a goods train. Larsen sees the error of his ways and has a rather heated discussion with Mister Gomez. This leads to weapons being drawn, and Gomez being dispatched in the following gun-battle. Larsen however does not know exactly where on the train the time bomb is planted. He decides to take a breakneck train ride out of town in-order to get the explosives away before they detonate.
With more of a budget, and an extra 7-10 mins to flesh out the story, this could have been a top flight low renter. It still is a decent time-waster. The cast is actually quite good in the time given. Thomas Gomez was made to play these lowlife slime balls, and he delivers in spades in this one.
Veteran pulp writer, Steve Fisher, does the story and screenplay for this one. The one time Oscar nominated (Destination Tokyo)Fisher, made a career out of pumping out quick low rent potboilers and the like for film and television. Fisher wrote the story or screenplay for noir such as, I WAKE UP SCREAMING, LADY IN THE LAKE, JOHNNY ANGEL, ROADBLOCK, THE HUNTED, I WOULDN'T BE IN YOUR SHOES, CITY THAT NEVER SLEEPS, VICKI and HELL'S HALF ACRE.
The film was directed long time b director, Jean Yarbrough. Yarbrough did pump out several better low rent crime/noir films earlier in his career, such as, INSIDE JOB, FOOTSTEPS IN THE NIGHT, THE BRUTE MAN and SHED NO TEARS.
The look of the film is better than one would expect for a bottom b programmer. Some nice scenes are cranked out by veteran b film and television lens-man, Willam A Sickner. Sickner's work includes the noir, LOOPHOLE, FINGER MAN and CRY VENGEANCE