Hello All!
Mike Harris and I had the pleasure of joining a few other like minded individuals last weekend for some Quail hunting and sporting clays activities at Drake Landing in Fuquay Varina, NC.
For those who've never been there, Drake landing is your one stop shop!
I plan on submitting an article for the Journal when I get a chance, so I'll not elaborate too much now on the weekend, but I will extend a gracious "Thank you" to a few of our Parker friends who invited Mike & I on this trip when we were all together at the Fall Southern in Georgetown last year. For those who might not know Mike and I, we're the guys front and center in the blue pull-over wind breakers with the strategically presented Yeti cups bearing the LCSCA logos. (I'm the much younger guy on the left!)
From left to right behind us are Parker shooters Mills Morrison and Jimmy Hall, then Fox shooter Mike Smith, then finally Parker shooters Buddy Marson & David Dwyer. Jimmy Hall is actually a life member of both the Parker & LC Smith organizations.
Mills has posted some great pictures over on the Parker site, and hopefully I'll get to pirate a few of them for my journal article.
I'm pretty sure that we all shot subgauge guns while actually on the quail. My 28" 20 gauge choked IC and light mod was real good medicine on quail, and Mike shot his historically significant 20 gauge two barrel set that will be well represented in the article.
A great weekend with great folks. Hopefully Mike & I made the team.....
A couple of teaser pictures will hopefully show up with this post! I never have really figured out the picture posting thing!
[img]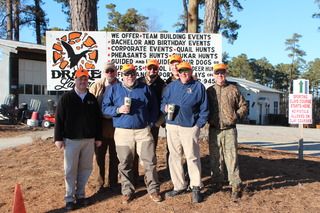 [/img][img]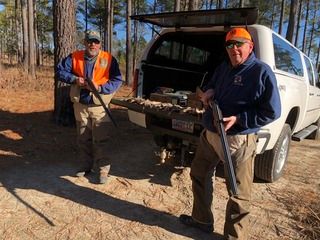 [/img]