Well, I just had a good laugh. I was reading the recent posts on the "Tokyo Music Fest" thread and I was thinking about posting a new thread about our Japanese fans. So I come back to the message board page and you guys are already into it. I can't keep up!
Well, here's what I have to say about this subject. First, of all, to expand on Mark's explanation of the Bros4's popularity in Japan,several fans have told me that in addition to the use of our music as a tool to learn English (we sang with very precise diction), many of the songs in our repertoire were reminiscent of traditional Japanese music. Songs like "Greenfields", "Green Leaves of Summer" and "Seven Daffodils" were all in minor keys, as are a bulk of traditional Japanese songs. I think that was one of the main "hooks" we capitalized on to win the Japanese market.
On the subject of Japanese fans - they are the best, most loyal, enthusiastic fans we've encountered anywhere. And I should add that The Kingston Trio has some pretty staunch fans in Japan as well. I remember leaving a club we'd played in Tokyo one night being escorted to the parking garage by an entourage of gleeful (somewhat sake-influenced) guys singing "Dis ritter right of mine-I'm gonna ret it shine..." They were just thrilled to be in our company, as we were thrilled to be in theirs.
This past Christmas Meri and I received a nice little package of Christmas ornaments from some fans that have kept in touch with us all these years. They asked how they could purchase my CD of banjo music, "From Rags To Rhythms" and I happily sent them a copy as a gift. Mark, if you happen to encounter Hideko and Kouki Kamimura on your upcoming tour, please ask if they got my CD and thank them for their friendship.
[img]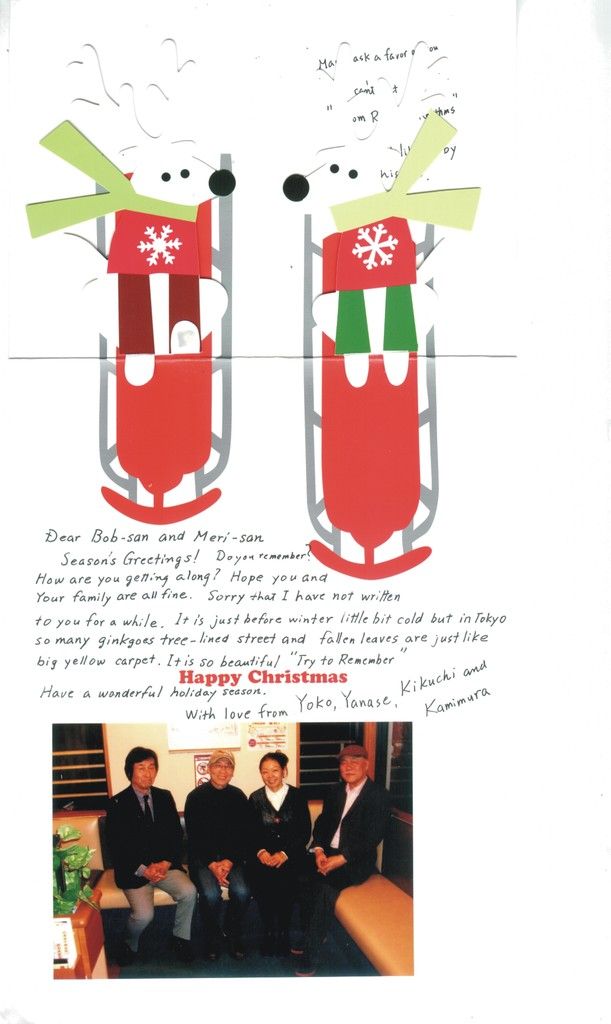 [/img]