I realize that you had made changes to the antenna and that looks good, within what can be done with 3-D printing. I doubt that 3-D printing can ever get as fine a mesh on the reflector as PE can.
But, the directors you have paired with the Mk 4 antenna shows the extension boxes on the back associated with the Mk 12/22 pair of radars.
Here are two images of the back of the Square-Back Mk 37 director with the Mk 4 radar antenna installed. Also, note the worker standing behind the antenna and note the relative size of the antenna. The first image shows a very early version of the Mk 4 antenna. The second image shows a later version Mk 4 antenna in 1943.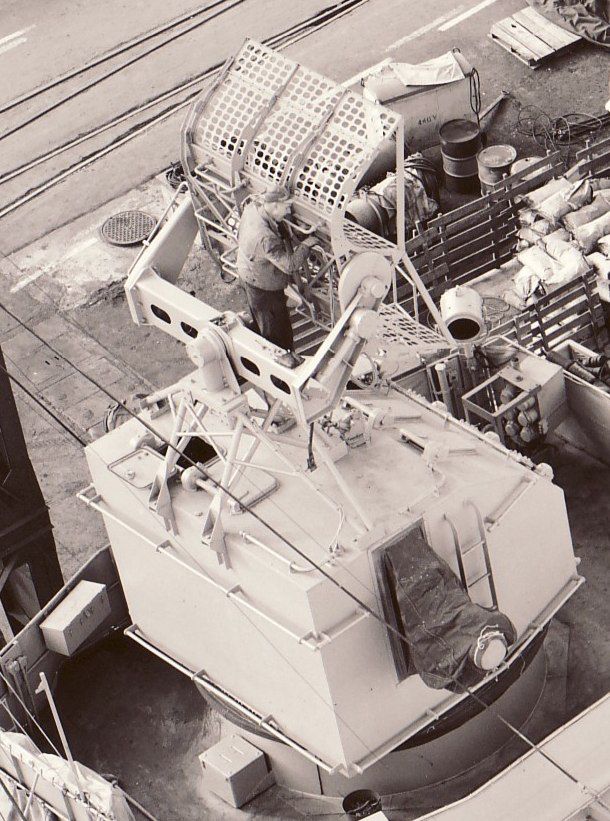 The image below shows the back view of a Square-Back Mk 37 Director with the Mk 12/22 pair of antennas installed. The extension boxes can be seen.
Previous Message

Hello Rick,
Thank you for your very informative comments about the differences between various Mk 37 director antennas.
In a message posted some weeks ago, you already mentioned that the Mk 4 and Mk 12/22 were different, so we made corrections to the antennas of the kits produced by Black Cat Models.
I will post very soon photos of the two antennas types, as I do not remember if I have sent to Steve the set with the Mk 12/22 antennas.
Meow !!
Ben