One thing I noticed on an NGS map of the harbor was that a Spanish cruiser was moored close by the Maine that night. It may have been the target.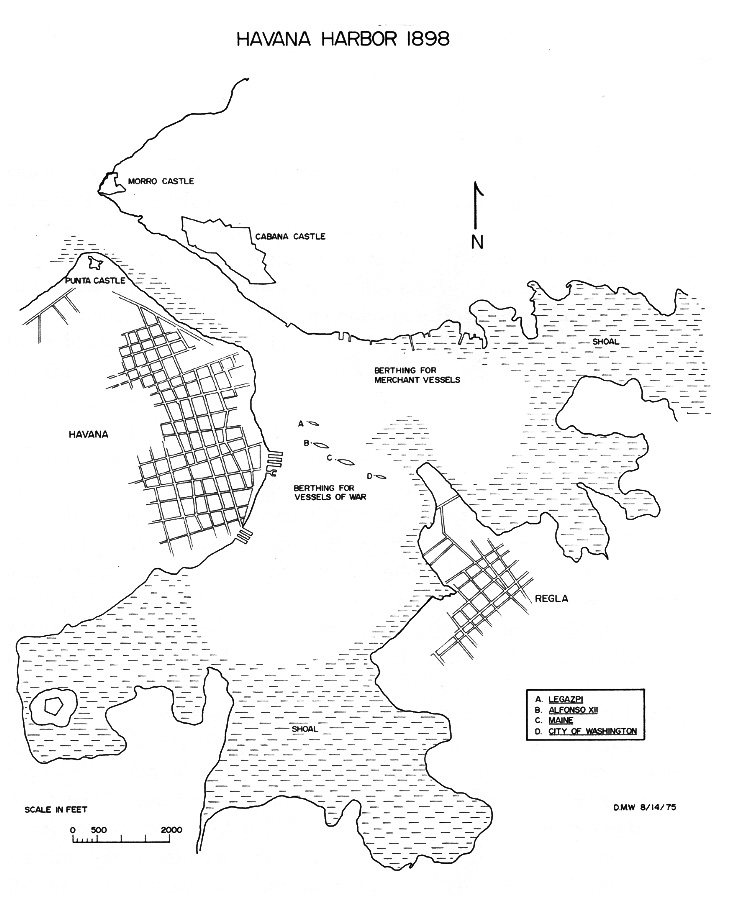 There's also a theory that Spanish colonial extremists may have set the mine to punish the US for tilting towards the Cuban insurrectionists.
But almost no one says that the Spanish government set a mine.
--Previous Message--
: I thought that three. However, I recently
: started working on the ISW U.S.S. Maine and
: did a fair bit of internet surfing on
: anything connected to the Maine. It seems
: the jury is still out on the cause of the
: explosion; there are circumstances which
: point to the wreck happening as a result of
: a mine and other circumstances point to poor
: munitions storage. It's one instance where
: forensic science does not lead to a definite
: conclusion.
:
: Innerestin'
:
: W.D.B.
:
: --Previous Message--
: I thought of that, too, but he specified
: 'at-home.'
:
: --Previous Message--
:
: Wasn't that eventually decided to be a
: spontaneous magazine cook-off?
:
:
: --Previous Message--
: I found the messages about the loss of
: HMS Barham most interesting and informative.
: A side-branch opened up - the RN lost HMS
: DASHER, in harbour, a mis-match between USN
: and F A A proceedurs for handling aviation
: fuel on board. Obviously nasty and
: un-forgiving stuff
:
: I J N lost the MUTSU in harbour. If I
: wasn't knee-deep in visiting grandkids and
: their parents, I would research what I have
: forgotten about the causes of her loss. My
: dim brain vaguely remembers a Grand Fleet
: battleship cooking off in harbour .... and
: any other at-home, in harbour losses ? I do
: exclude enemy-action inside and above the
: home base, so we don't need to recall the
: Infamy of Pearl, or the valiant attacks by
: Italians on QE and Valiant, or Royal Navy
: assaults on TIRPITZ ...
:
: Ah, nappy duty is sounding .
:
:
:
:
:
:
:
: