A couple of points.
1). The ARB's being used as Spec Ops craft don't have to follow Tech Orders for ARB delivered for a different mission. The Spec Ops would be operating mostly in night ops, which points to camo using darker colors for their craft. Who operated these vessels, the USN or USA or RN???
2). I don't doubt that your friend came up with an "equivalent" Gray to this Grayscale image. But, that is NOT a translation to what REAL shade the boat was painted. The "shade" of gray still can represent a wide range of unknown shades of color. This image was taken with an unknown B&W film type (likely either Orthochromatic or Panchromatic) which had different spectral responses to colors in the scene the camera was looking at. What kind of camera was used is unknown, the settings of the camera is unknown, what filters were used on the camera is unknown. How the print was processed on what kind of paper is unknown. Then some 70 years later I came along and scanned this photo in GRAYSCALE with a digital scanner.
No one can tell what a color was used on a ship based solely on a B&W photo. Other factors must be known such as what the policy of applying camo was during the time period the photo was taken in the location the ship was at. The forces in the Med, particularly the Special Forces, were not bound by what the USN Atlantic and Pacific Fleets (or for that matter the 4th Fleet in the South Atlantic) directed their ships to be painted. I have looked at several 1,000's of original B&W (and even a few color) photos and have noted a wide range on "GRAYSCALE" to known camo paint colors. As an example, Navy Blue 5-N can appear as very light or very dark in a B&W photo.
Here are three examples of how 5-N looked in grayscale B&W photos. USS IOWA was painted in Ms 22 using 5-N on the lower band and 5-H above that. 5-N paint was known to fade badly, but not this bad. USS HUDSON only four months after commissioning was brand-new when this photo was taken. Note comparison with the ship in the background. USS De HAVEN was sunk only a few days after this photo was taken. Actually De HAVEN's photo appears to have been a still frame from a movie. I have images of Ms 21 painted ships every where in grayscale between these extremes.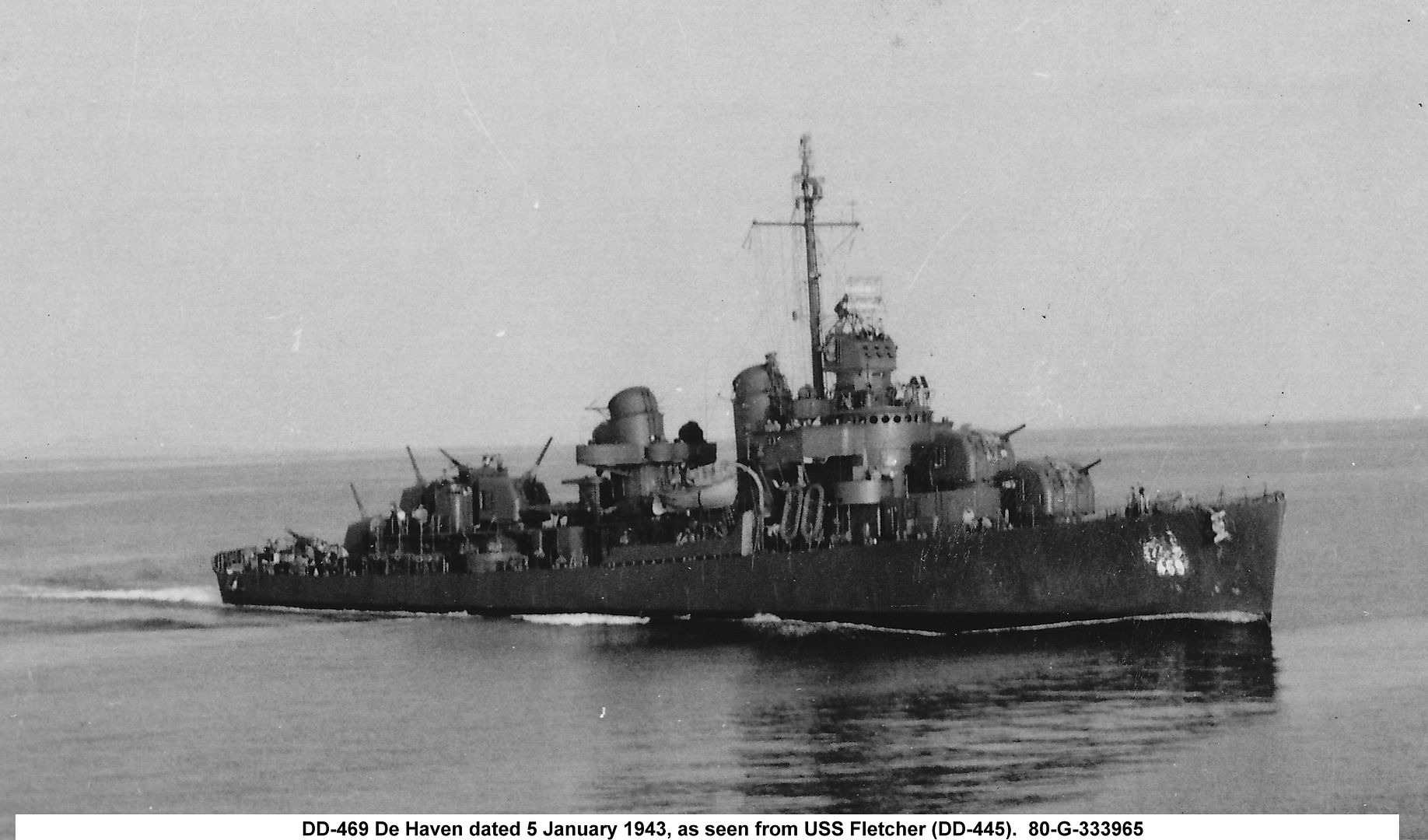 The only thing you can do to decide on how to paint your model, is base it on your best research from those who have studied the subject ARB craft in the MED. If no one knows what camo color they painted these vessels, take your best guess.
--Previous Message--
: Hi Dr. Ross,
:
: I apologize ... I just remember you saying
: that were tech orders for crashboats being
: blue and that you were not going to second
: guess them ... after I asked you if ARB-22
: could be in a gray.
:
: I didn't mean to mis-quote you, sir.
:
: I just extrapolated that since the 63-foot
: ARBs(Aerial Rescue Boats)would have been
: included in the 42', 63' and 85' tech
: orders, that they'd be blue as well,correct?
:
: I mean, isn't Crashboat a slang term for the
: ARBs?
:
: But, still. A lady who is a professor for
: graphics arts looked at that photo and said
: it was PaPantone cool gray 8. So, is she
: right? Are you right? Or, could it be a
: color from the RN, Dr. Ross?
:
: I just want to get my model right, sir?
:
: Tim
:
: PS: I don't know if you'd be interested,
: sir. But, over vacation at the Cape for the
: previous two weeks, I found out what
: happened to the ex-104-foot crashboat known
: as the KATERI TEK. In the late-1970s, she
: was broken up in Woods Hole, MA.
:
:
:
: --Previous Message--
: What I stated some time ago was that, while
: looking through a number of Tech Orders for
: USAAF crashboats (42', 63', 85'), I
: discovered that they specified 5-S and 20-B
: for paint. I thought it was interesting
: that the USAAF had standardized on USN
: paints and that all of the manuals were
: dated mid-1945, long after the USN had
: apparently discontinued using 5-S. The
: manual for the USN 63' boats did not specify
: any colors.
:
: Al Ross