Sigh. Rerun. For reference see this whole discussion ...
http://members.boardhost.com/Warship/msg/1500028478.html
...
My discussion about the specific USS INDIANA image off Japan on 14 July 1945 is here ...
http://members.boardhost.com/Warship/msg/1500664297.html
...
USS INDIANA was painted into Ms 22 in December 1944 at PSNY, two or three months before the Neutral Gray HAZE GRAY paint was available. She went to the war zone off Japan and didn't return stateside until after the war. There is no evidence that USS INDIANA was completely repainted in the forward areas with the new paints.
Here is the same USS INDIANA (BB-58) image that the old NHHC website had on-line and was scanned from a color print made from the original 4x5 transparency about 25 years ago. All the posted versions of this image appear to come from this same photo, either from the old scan made by Chuck Haberlein at NHHC or the newer scan of the same photo by NHHC and posted on-line since 2012, now aged an additional 15 years since Chuck scanned the photo.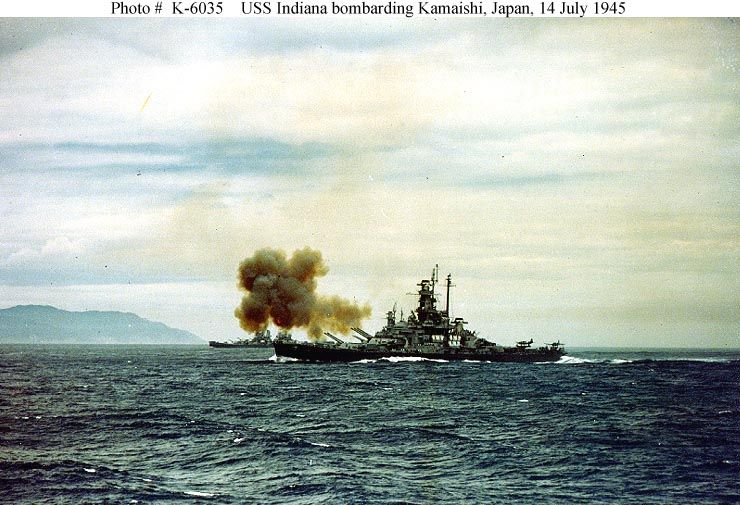 On a recent trip to NARA I was able to get a scan of the original 4x5 color transparency in the collection at NARA, College Park, MD. This scan was cropped down to just USS INDIANA and the ships in the background. Note how overcast the weather is. Much of USS INDIANA is in shadow and details are limited.
Compare this image to the old NHHC image above and the image that Mr Potter linked from Wiki. Notice the color difference? Notice how BLUE USS INDIANA and the ocean and the sky are compared to the other versions of this image??
--Previous Message--
: Which year are you replicating?
:
: Consult Snyder-Short chips with caution. A
: chip of blue-tinted (therefore not neutral)
: postwar haze gray is on the Snyder-Short USN
: set 2 cards by the label "#27 Haze Gray
: 5-H". Randy Short confirms that. No
: Snyder-Short chip matches late-war #27
: neutral haze gray. You can use your own
: eyes: How to use your own eyes to verify
: colors for models and in photos . A
: limitation of this verification method is
: that Pantone chips represent few off-black
: shades.
:
: A 1/350 model (see the link above) wearing a
: paint that fits #27 neutral haze gray
: matches the upper gray of USN battleships
: and cruisers in Camouflage Measure 22:
: USS Indiana (BB 58) bombarding Kamaishi 14
: July 1945 . USS Alabama too wore
: Camouflage Measure 22 during late WW2.
: