From DANFS;
Alaska departed Philadelphia on 12 November 1944 for the Caribbean, in company with Thomas E. Fraser (DM-24), and, after two weeks of standardization trials out of Guantanamo Bay, Cuba, sailed for the Pacific on 2 December. She completed her transit of the Panama Canal on 4 December, and reached San Diego on the 12th. Thereafter, the new large cruiser trained in shore bombardment and anti-aircraft firing off San Diego before an availability at Hunter's Point, near San Francisco.

On 8 January 1945, Alaska sailed for Hawaii, and reached Pearl Harbor on the 13th, where, on the 27th, Capt. Kenneth M.Noble relieved Capt. Fischler, who had achieved flag rank. Over the ensuing days, Alaska conducted further training before getting underway as a unit of Task Group (TG) 12.2, weighing anchor for the western Pacific on 29 January. She reached Ulithi, the fleet anchorage in the Caroline Islands, on 6 February, and there joined TG 58.5, a task group in the famed Task Force (TF) 58, the fast carrier task force.
If the date is correct, this photo of USS ALASKA (CB-1) was taken on the day she arrived at Pearl Harbor. You figure out which colors of paints were used, but since the Neutrals were not generally available until January-Fefbruary 1945 and old stocks needed to be used up first, I vote for the 5N and 5H original.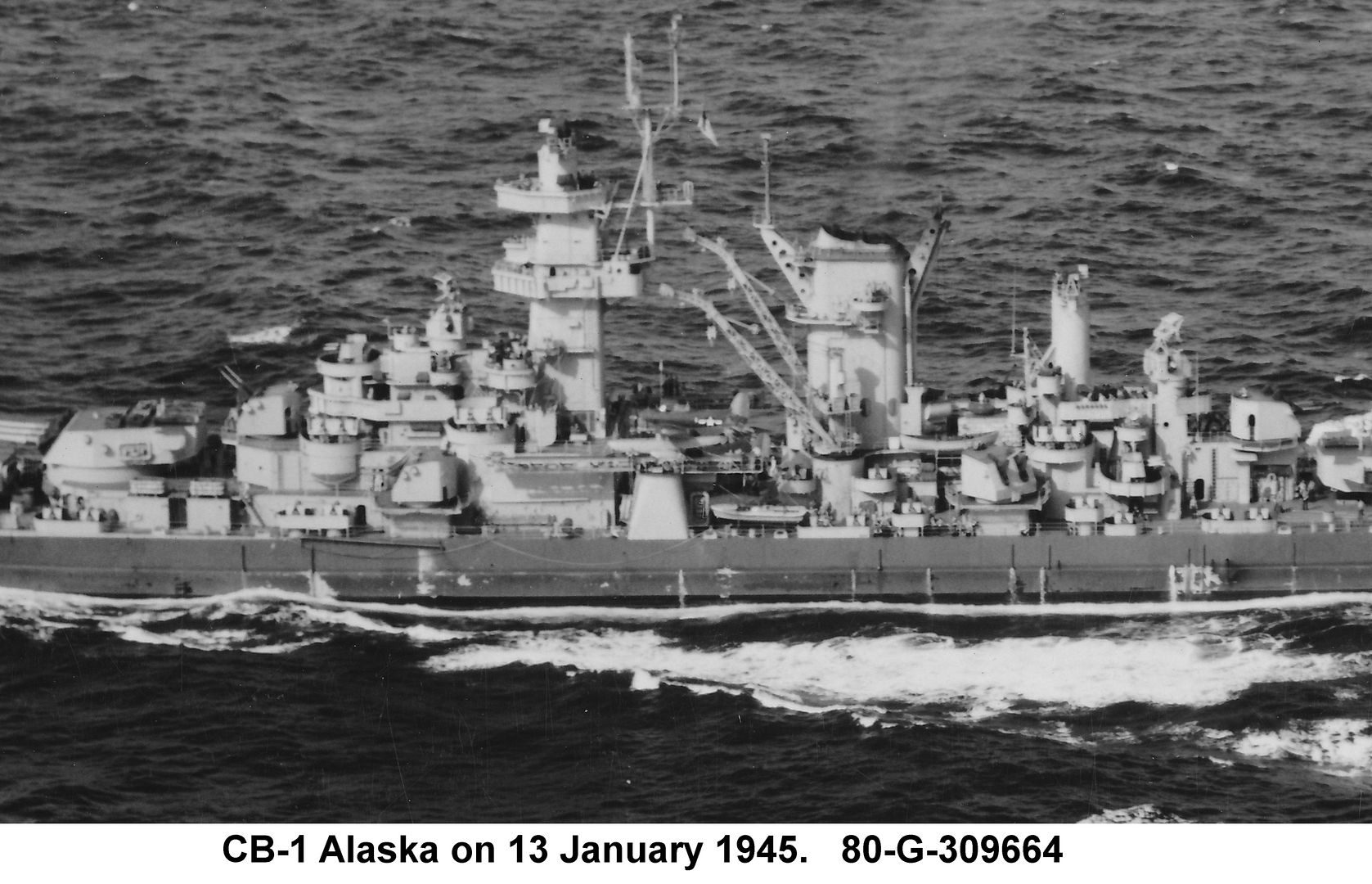 As a comparison between "known" Ms 22 with 5N and 5H and units "likely" painted in the neutral color.
Here is a photo of USS SAUFLEY (DD-465) on 24 September 1942.
Here are photos of two FLETCHERS in August 1945 after Neutrals were most likely in MINY paint stocks.
I purposefully selected images in more or less full sun. Trying to tell the differences between 5H (original) and 5H (neutral) from B&W photography at the time is nearly impossible. Color images are not much better depending on the quality of the original transparency and how many generations removed from the original the image is. Also note that all of the destroyers were freshly painted and USS ALASKA was only about a couple of weeks from having been repainted. Note now beat up ALASKA's hull paint is getting beat up already.
--Previous Message--
: --Previous Message--
: When exactly did they switch?
:
: It's a murky question with no blanket
: answers. A warning went out in late
: November 1944 stating that a new neutral
: paint was going to be created but to use up
: stocks of the old paints first. At the
: beginning of January 1945, we read that
: Mare Island Navy Yard has switched to
: manufacturing the new neutral paints (exact
: date not yet known) but that the civilian
: paint manufacturing companies had not yet.
:
: Alaska had an availability shortly after at
: Hunters Point, which is across the bay from
: Mare Island, but we don't know where Hunters
: Point got their paint from at this point,
: nor how much stock they had on hand of the
: old paints.
:
: Michael Potter will try and tell you she was
: for sure painted in neutral paints, but his
: methodology does not stand up to scrutiny.
: