These are RON29 boats in the Med. They have Thayer Blue vertical surfaces and Deck Blue (20-B)horizontal surfaces.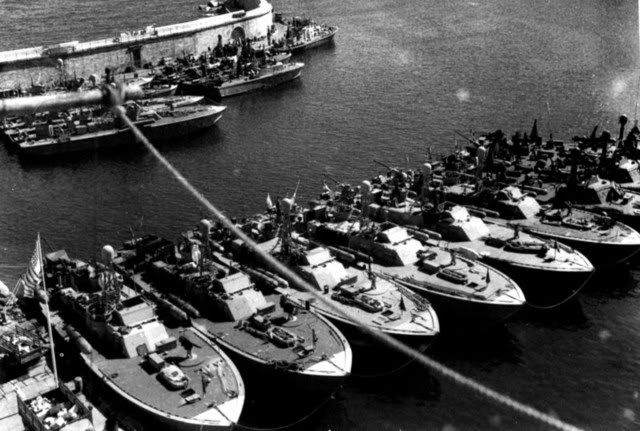 The rafts are darker than the hull, but not quite the same shade as the decks. Here's a cropped shot: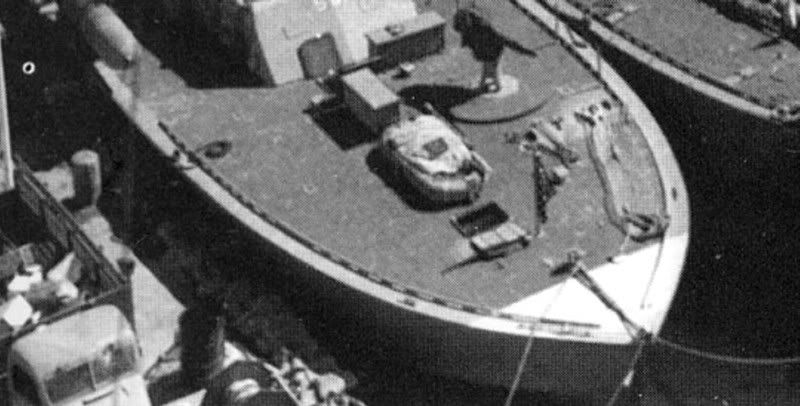 --Previous Message--
: Here is a shot of RON23 being commissioned.
: These boats are in Measure 31/5P. The deck
: colors are Deck Green (20-G) [dark color]
: and either Ocean Green (5-O) or MTB Green
: [lighter color] The vertical colors would
: have been Navy Green (5-N) and either Ocean
: or MTB Green. Note that there at least two
: different colored rafts and neither matches
: the shade of the hull colors nor the colors
: on which they sit. In this case, the rafts
: were probably shades of green, but could
: have been gray.
: Now, these are Higgins boats and are
: destined for the Pacific, but the same
: variability applied to ELCOs, as well.
: Typically, ELCOs in the Atlantic were Haze
: Gray/Deck Blue; Med - Thayer Blue/Deck Blue;
: Panama (usually only for shakedown)one of
: the darker grays or greens; Pacific
: (generally) variations of green.
:
: --Previous Message--
: What color would the life rafts on the
: Revell
: PT boats be? Would the boats stateside be
: different? Pacific? Mediterranean? Panama
: Canal zone? I have lots of photos in my
: books, none in color, unlrss someone knows
: of a web site tjat i have missed? Thank you
:
:
: