On August 5, 2017 the South Carolina Barbeque Association convened in Columbia, SC for the annual Meeting. This meeting usually includes training events for Marshals, Table Captains, and Judges. This year President Lake High set another tone for the meeting and that being communications and a theme of understanding between the cook teams and the judges. Pitmasters Tim Handy (J Tís BBQ), Joe Hilliard (Bold Branch BBQ Boys) and Brian Teague (Up In Smoke) acted as moderators. These Pitmasters are also Cook Team representatives to the SCBA Board of Directors. These Pitmasters presented questions to the judges from emails received from teams unable to attend as well as opening up the floor to the teams who were in attendance as well as the judges. One might think that putting judges and cook teams together in one room would require protective headgear for everyone involved, but this was not the case. In fact this was one of the most productive training sessions that the SCBA has experienced. After the session we all enjoyed a great meal with, of course, good old South Carolina BBQ and smoked Mac and Cheese (one of my favorites) as well as other sides. After lunch Membership Chairman Dawn Verbarg shared a special moment when we all remembered the judges and Pitmasters who had passed on since our last annual meeting. District Marshals Don Adkins, Mike Sexton, and Ken Hilliard spoke on Scoring, Judges Conduct, and Judges sign-up procedures. Co-founder Walter Rolandi also spoke on scoring. The Annual Meeting is always a special event as members who have contributed so much to the Association and their love for South Carolina Barbeque are recognized. President High presented the Founders award to Pitmasters Brian and Sherry Teigue (Up In Smoke) for their constant support of the Association. Pitmaster and charter member of the SCBA Tim Handy was presented the Presidentís award for his leadership in continuing relationships between all members of the SCBA. I think that we all left with a renewed propose to continue proving that South Carolina is the birthplace of Barbeque.
Receiving the Founders Award were: Brian and Sherrie Teigue(Up In Smoke)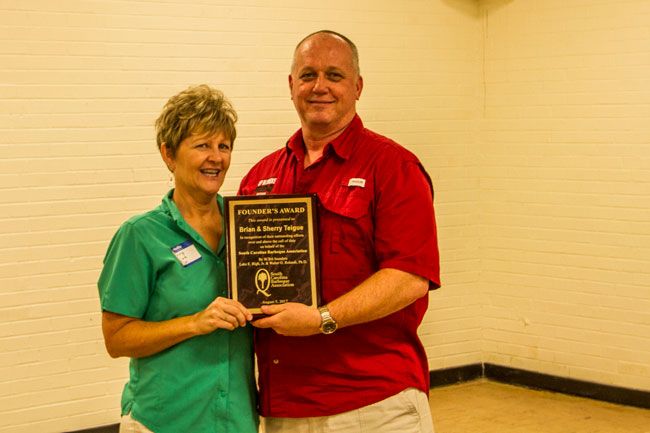 Receiving the Presidents Award was Tim Handy (JT'S BBQ)
Receiving an Ambassadors award was:
Connelly-Anne Ragley.
Also receiving his Ambassadors patch was Gene Benfield.
If you missed the meeting it was a special event.