Day One Hundred and Twenty Eight of A POST A DAY...>>
Posted by Saucy Suwi
on September 10, 2017, 1:02 pm
Feeling like me again...whatever that is? After Sophie coming down with Gastroenteritis on the Monday (28th August) I started to feel ill on Wednesday evening. Within the hour it was full blown (no pun intended ....well maybe a little) As I was being ill upstairs Sophie started back up downstairs (good that I have two toilets) THEN Amy started fortunately only upwards so a bucket was deployed. By then it was heading for 11 o'clock and I thought I needed help so I phoned my parents who only live around the corner. They were both in bed asleep but were with us in minutes, mum walked in and promptly thew up in the downstairs toilet that Sophie who was starting to feel a little better had just vacated! Oh, the joys!!! By 1am I decided a doctor was required as we could not keep anti nausea pills down. In between sick bouts I told the girl on the phone that I needed a doctor for a anti nausea jab. Now if you know me you know I have a MAJOR needle phobia so would not be requesting this lightly. I also informed her that I was one of four sick people requiring help. About an hour later a doctor phone's again through bouts of sickness I explained what I needed while she asked a load of questions. She then informed me she could only treat me as the others had not been listed!!!!! So I phone BACK the 101 mob and explain the details of Sophie, Amy and mum so they can go on the list! I'm telling you answering stupid question so some bod can tick boxes while leaking from both ends is NOT FUN! Stupid questions over the doctor can now be summoned, he arrived about 5:30 with his sidekick (I guess it's not safe for a doctor to wonder the streets at night on his own....sad world) Within 20 minutes I was starting to feel better and mum was well enough to go home.
Thursday and Friday was mostly sleeping just waking to take pills (20 a day) Saturday I was able to get up but still not eating and only just managing half a glass of water. But by the evening I was a little better and mum (now fine) cooked a chicken dinner. I ate a little with hesitance it stayed put so ate a little more, then felt a little under the weather so went back to bed, not getting up again until Sunday lunchtime. Managed Spaghetti on toast.
By Monday I was feeling a little better but still sleeping a lot and popping the odd nausea pill.
Tuesday more rest but feeling a need to do something so spent some time putting in the doors in my hospital diorama.

Ground Floor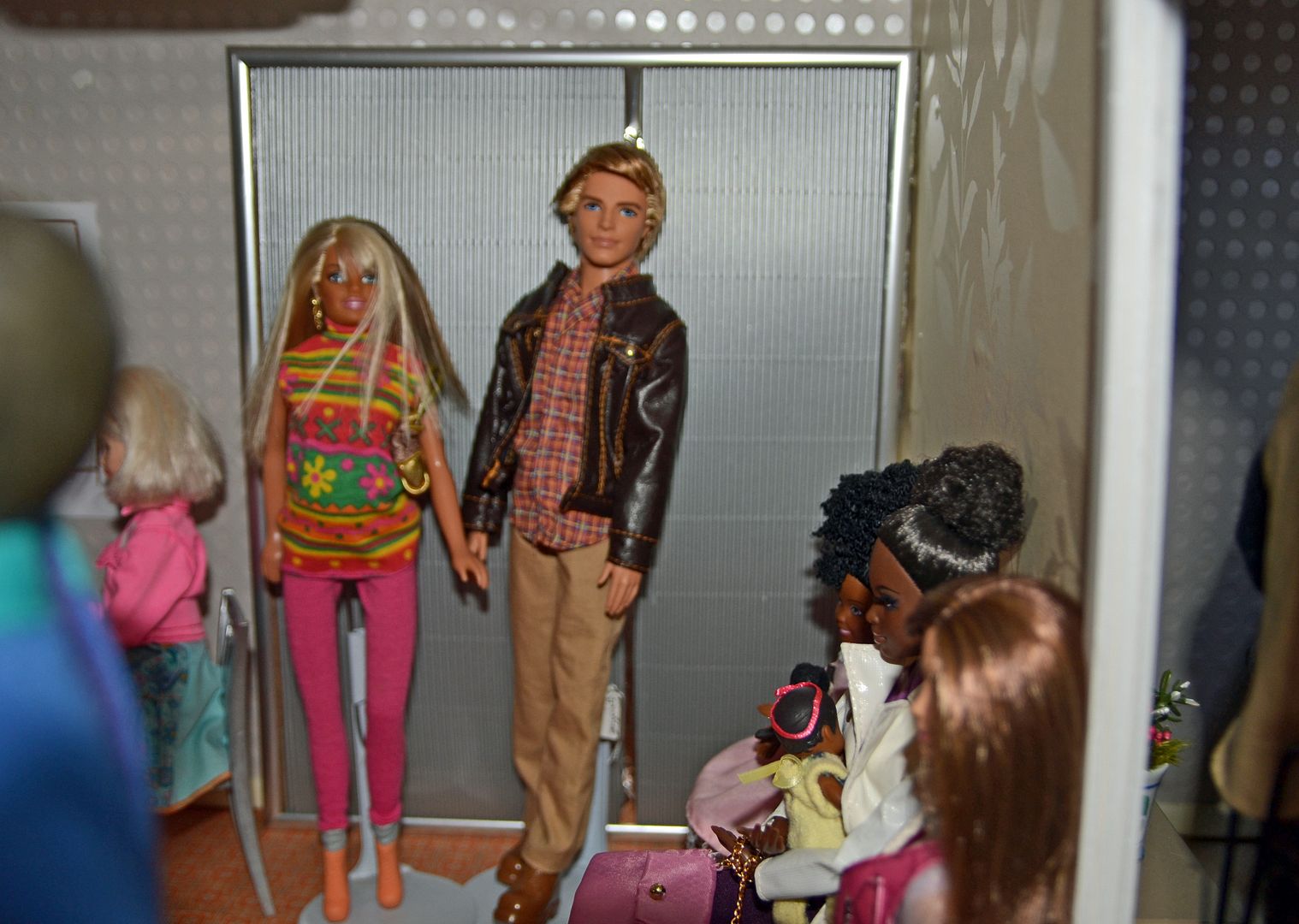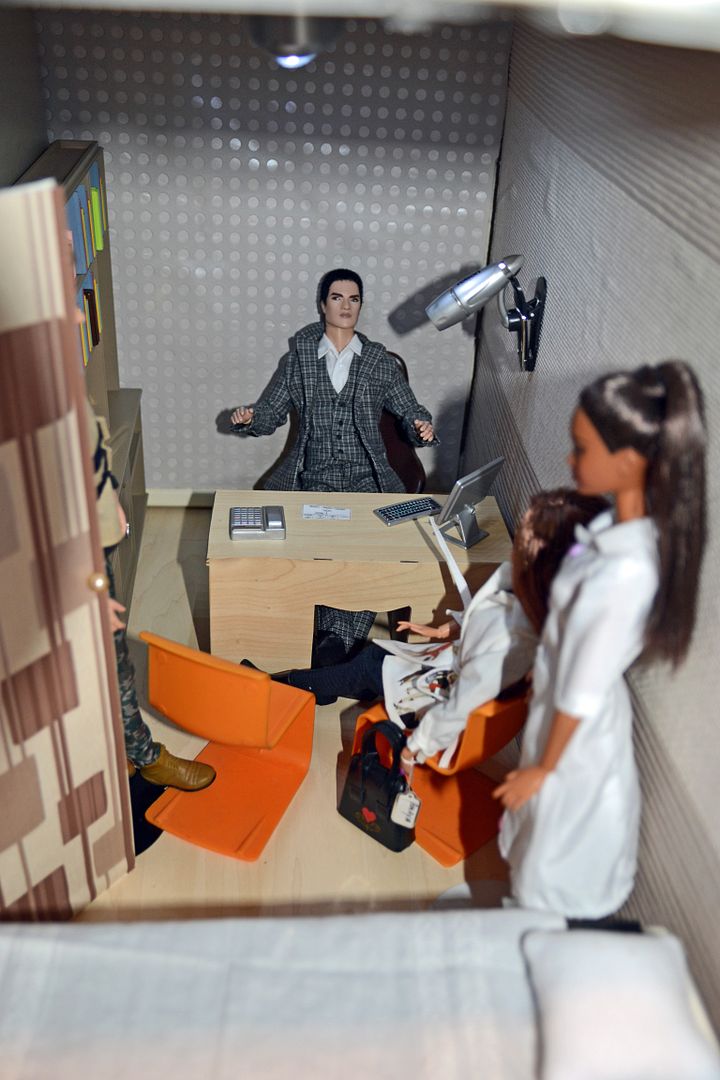 First Floor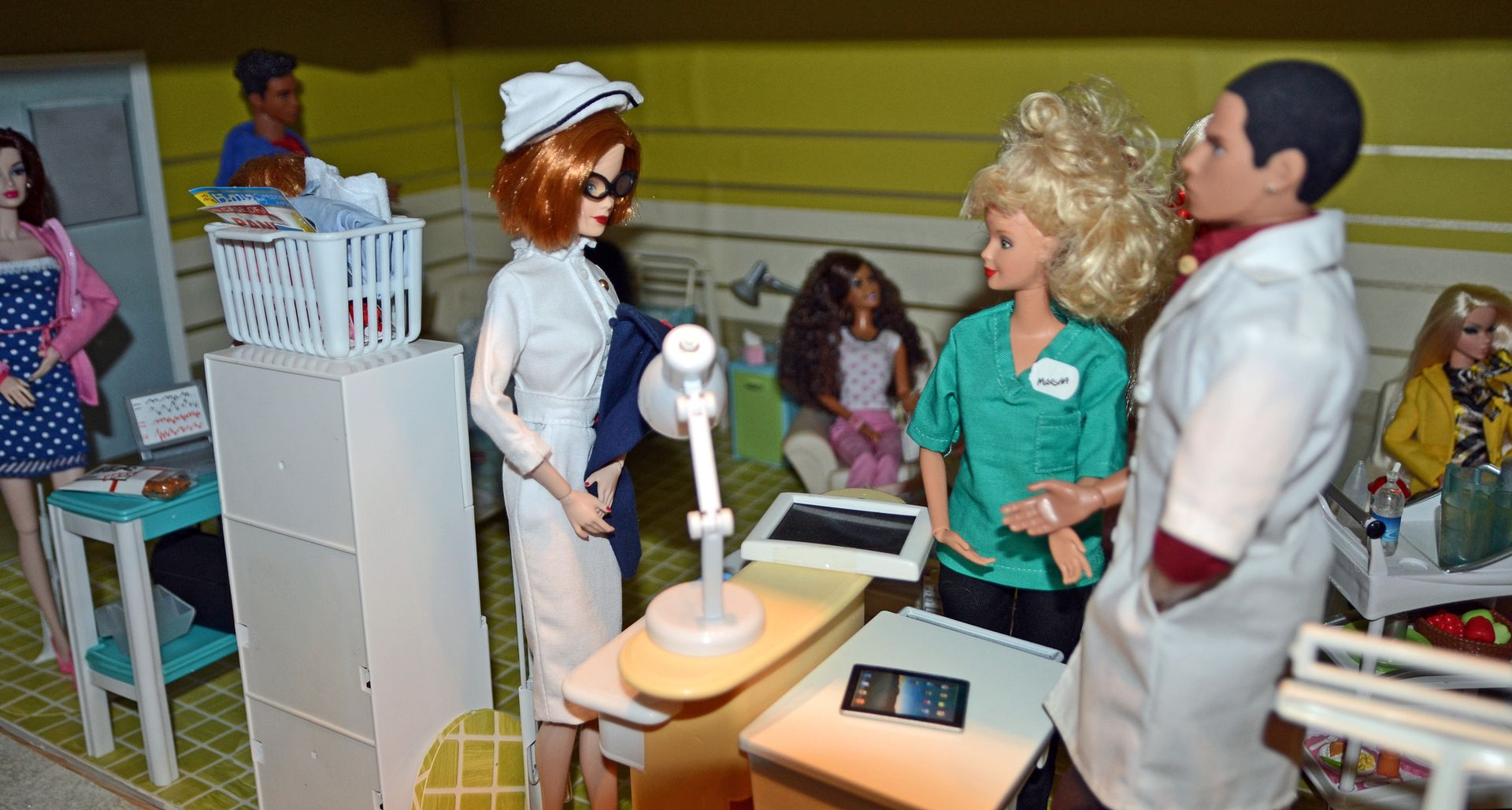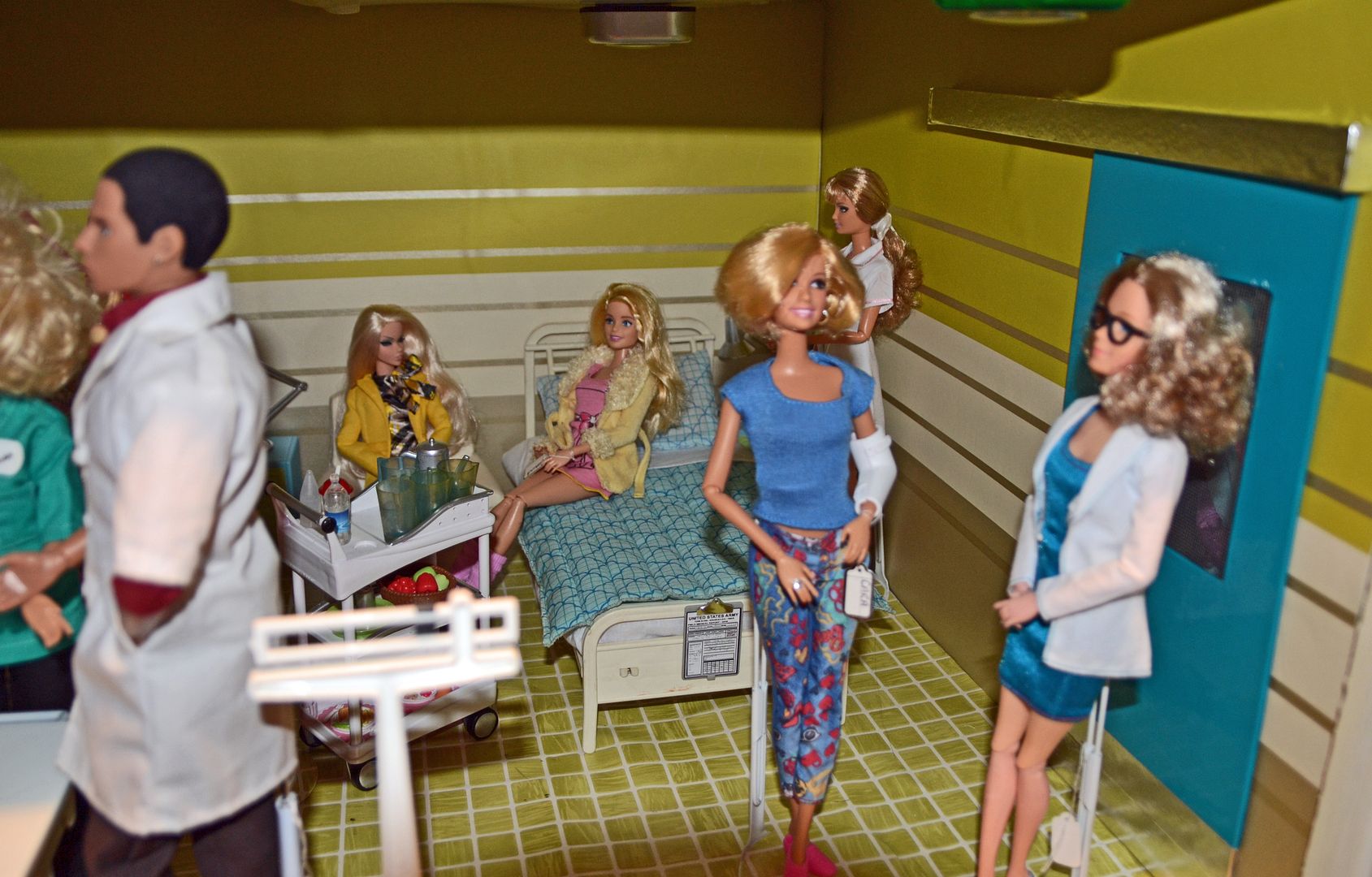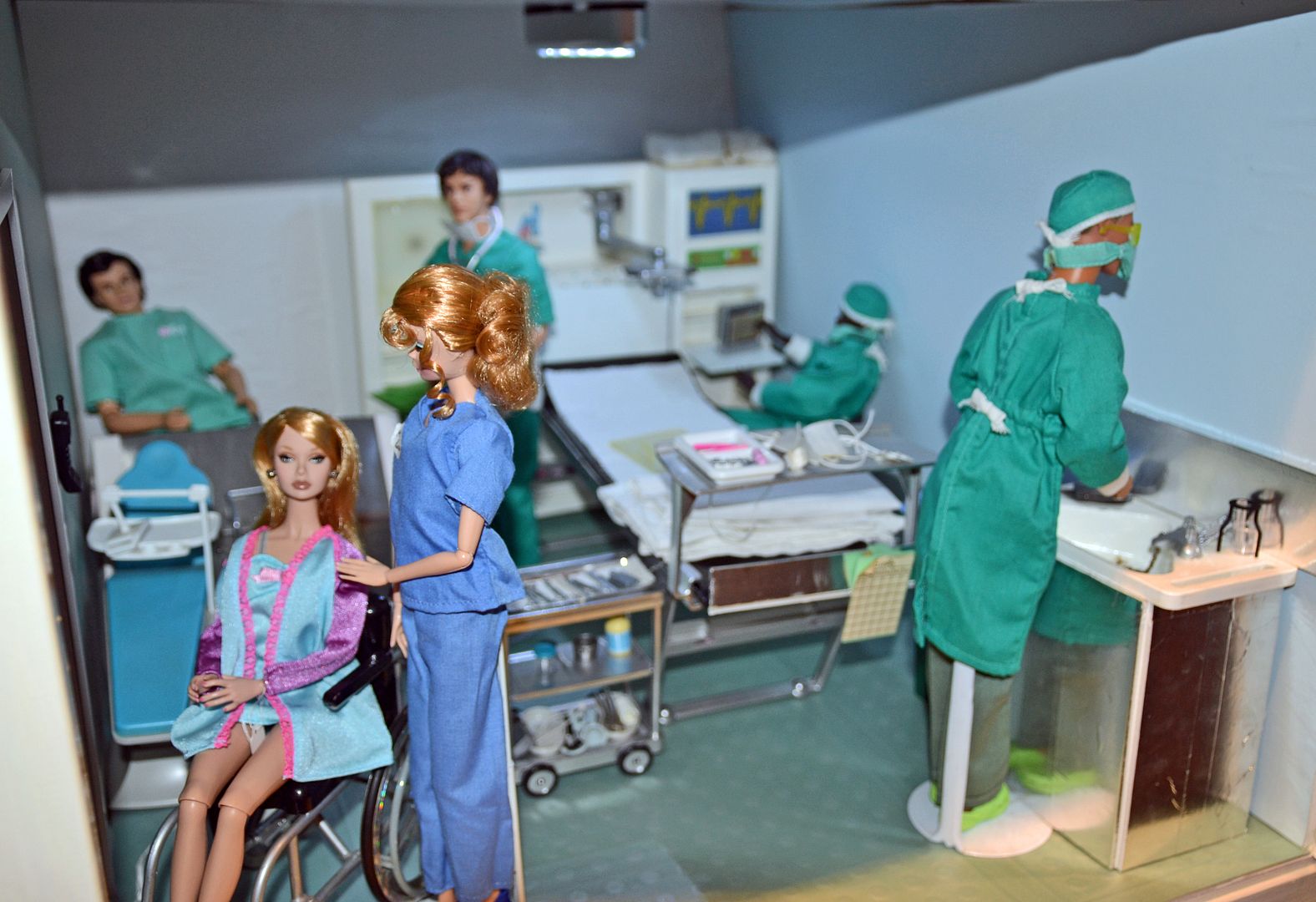 Second Floor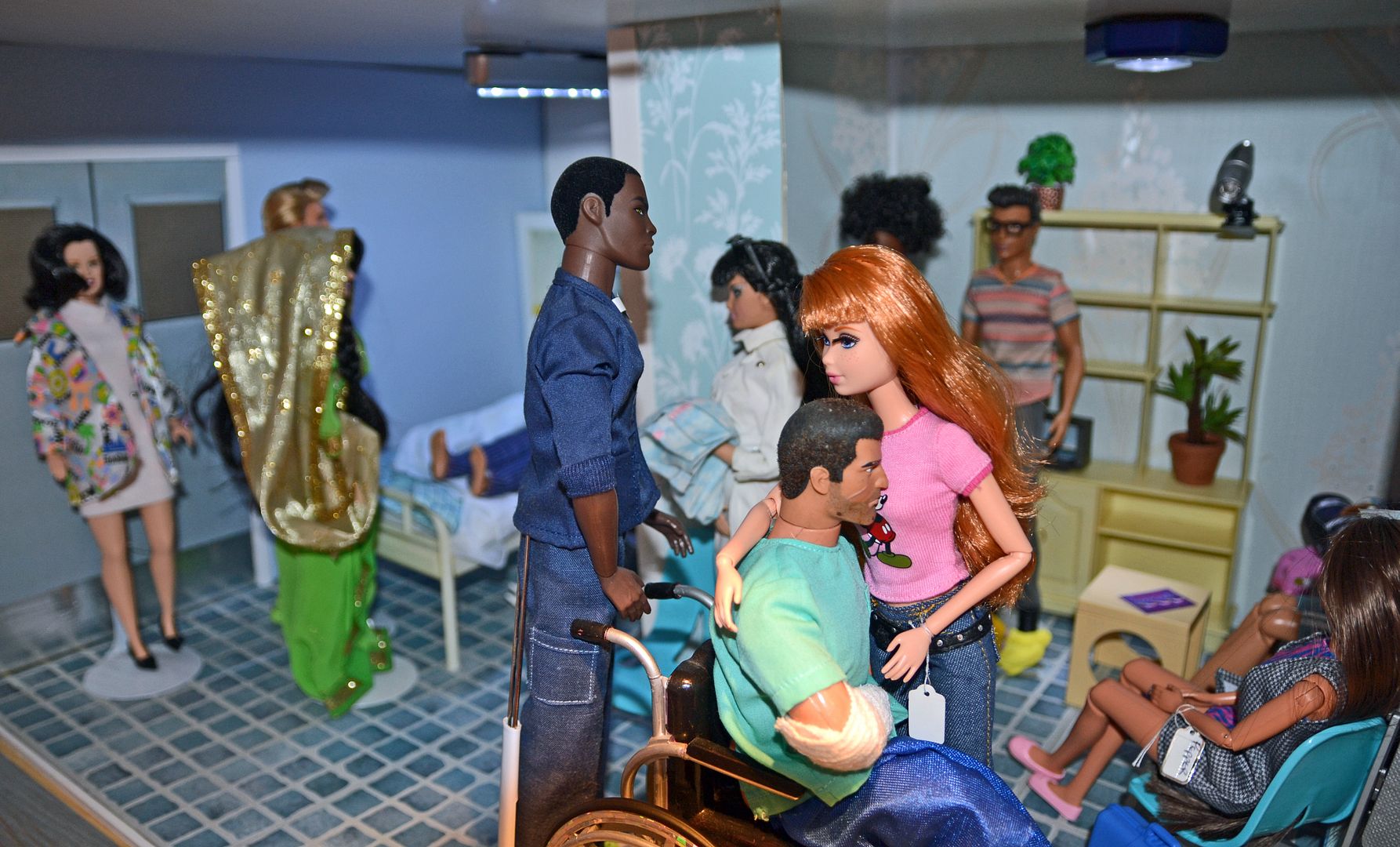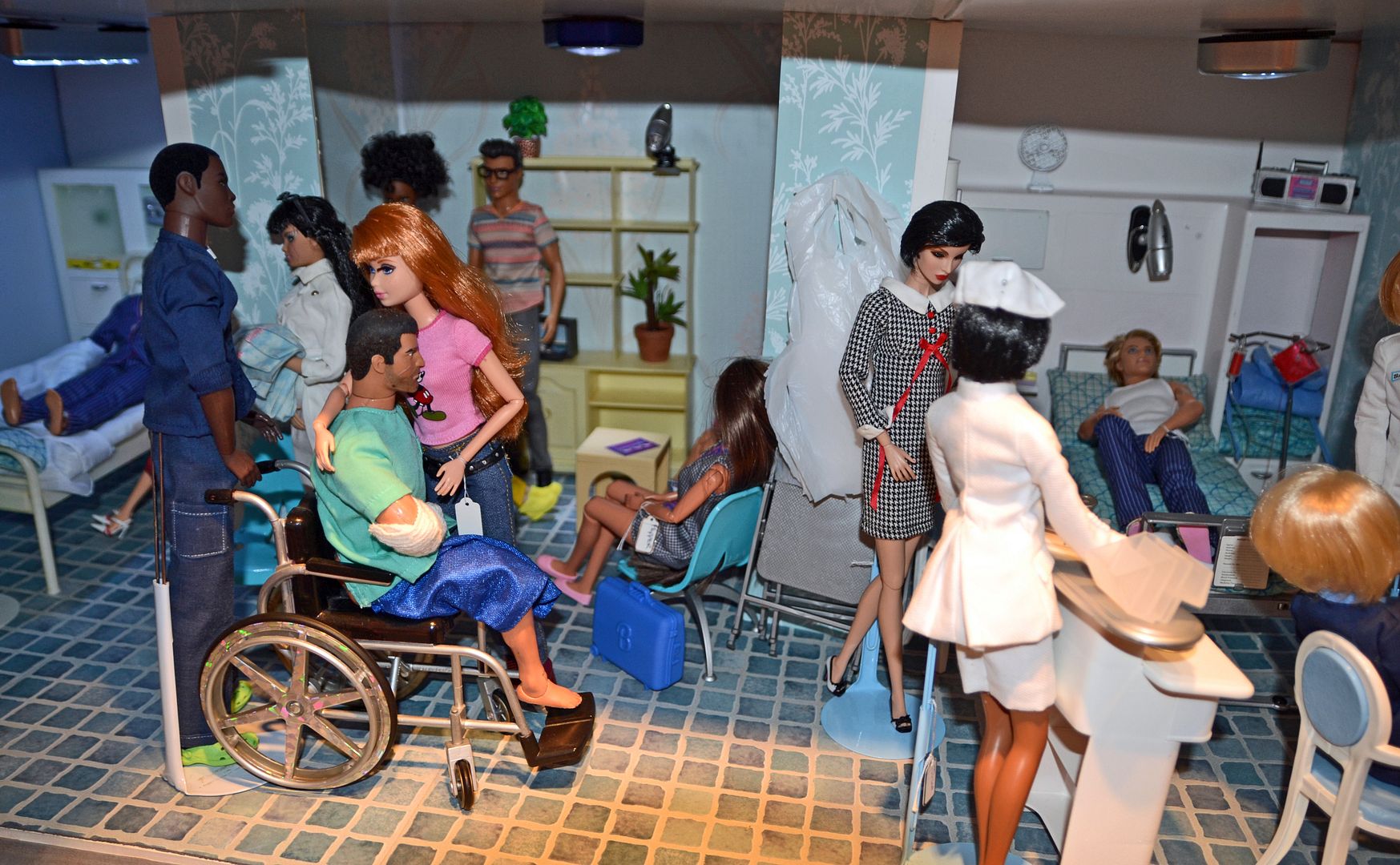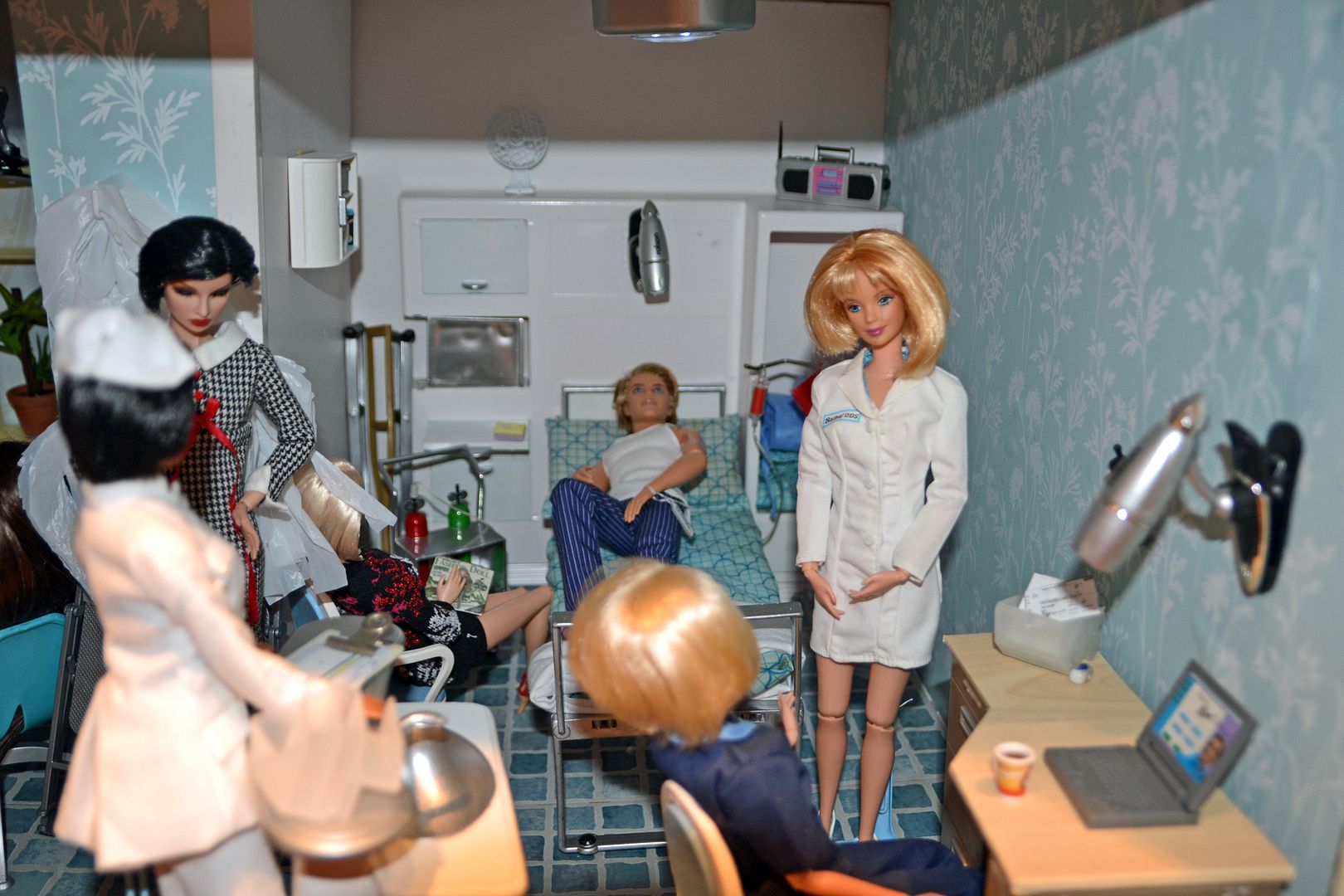 Top Floor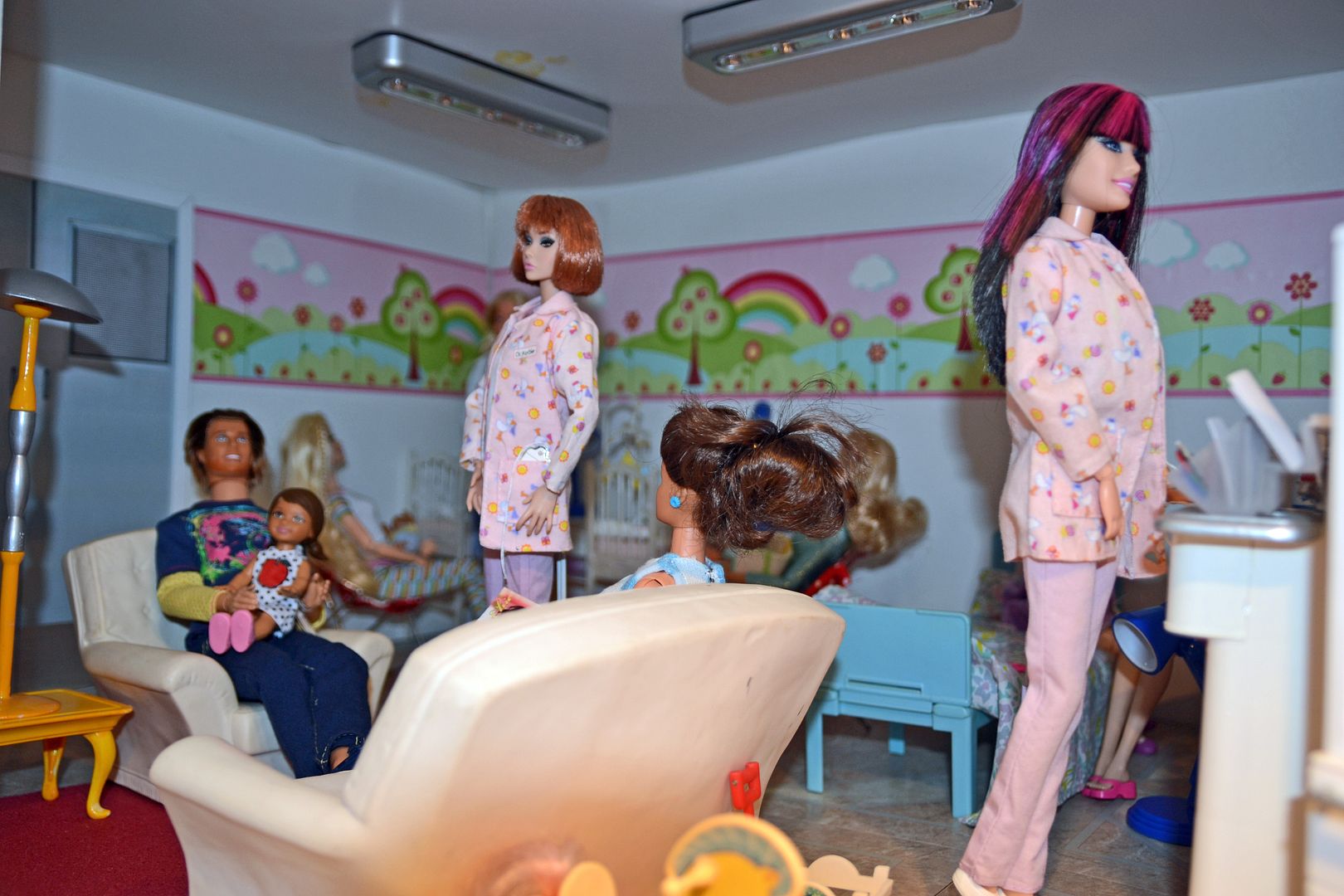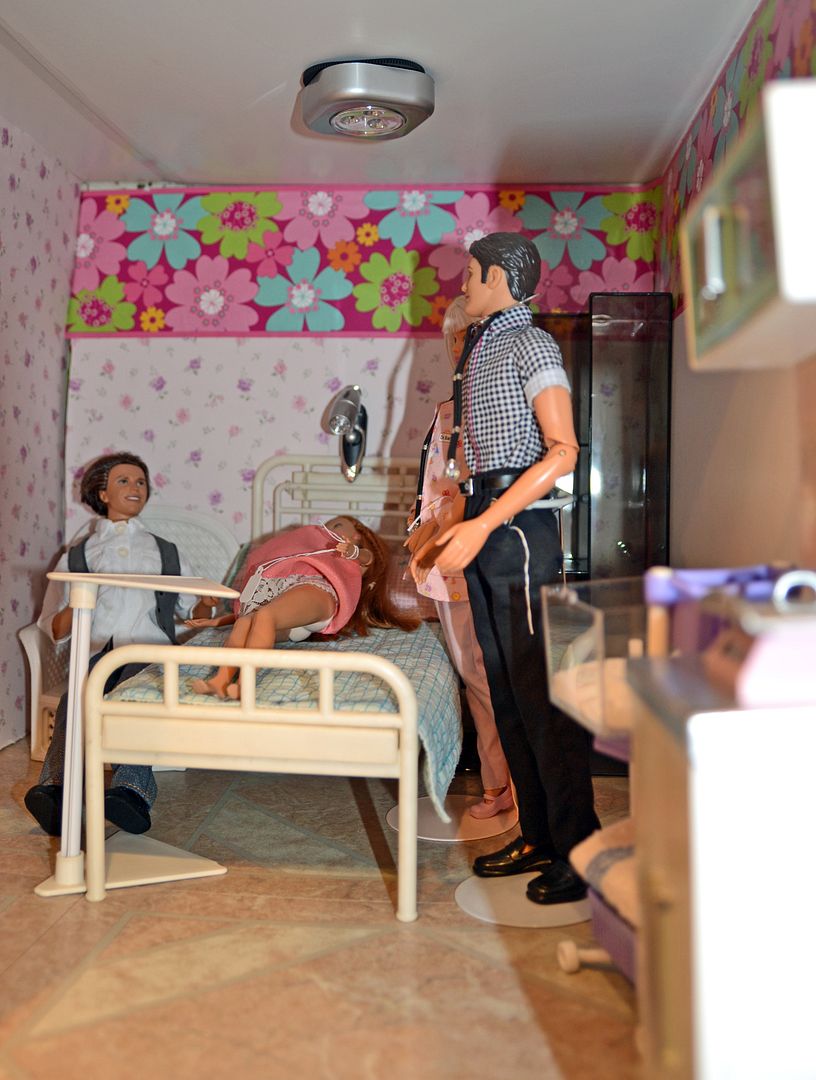 Wednesday Anibelle to the vets for flea drops in the morning. I felt like a little shopping so went to Harlow Hobbycraft and found some trees in the sale. I already have three so now I have five. All but one I will be re-painting spring, summer, autumn and winter. The 5th I will leave white and sprinkle with white glitter for a Christmas look. Next stop Homesence (part of TK Maxx) found a couple of things for my friends baby (the pink banana). Then on to Homebase which was CLOSED! They have been brought out by an Australian company Bunnings and are being re-furbished! BUMS! I wanted some paving for the garden and spray paint for my trees. Now I will have to find another place that sells what I need or think of another style of paving!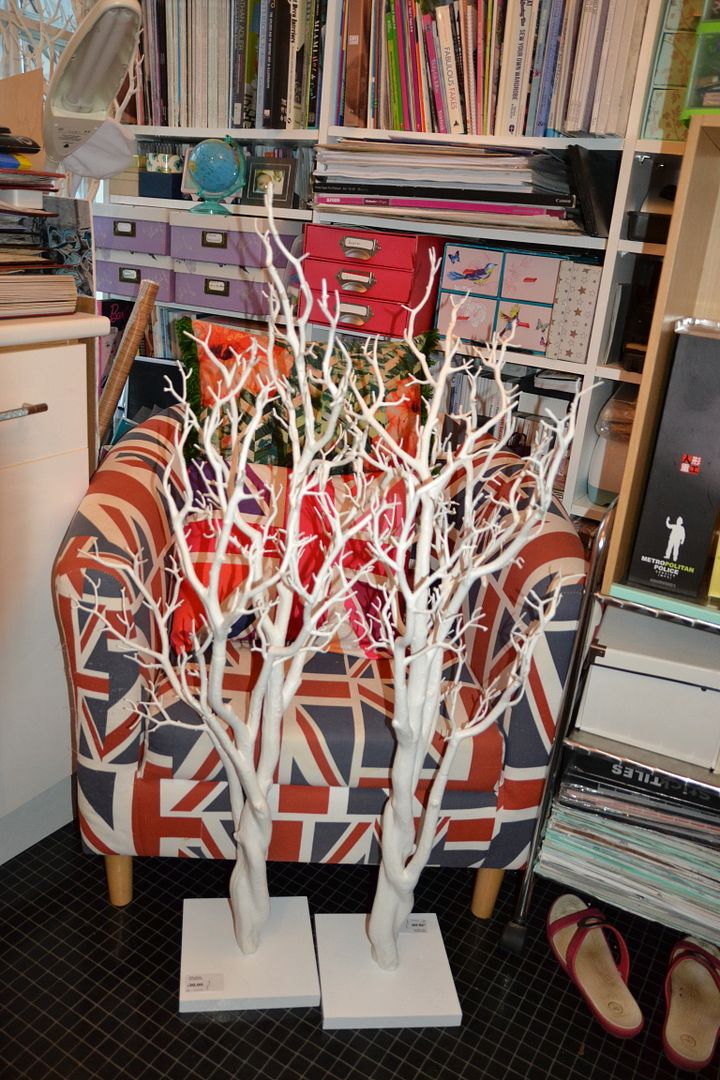 Thursday the girls and I went local shopping Matalan I found a few thing but the queue was out the door so we left them. Next Pets at Home, not much interesting in there so on to Wickes rubbish store I don't know why I bothered never have what I want! So then back home picking up some cakes on the way.... well we needed something to cheer us up! At lunch time I called the cats in. Ike had blood running down his face and was winking at me, sooooo of to the vets AGAIN and yes he had a scratch to his eye! So a pain killer jab and antibiotic eye drops for Ike! *sigh*
Friday I built the Integrity Toys dressing room diorama. I should NEVER be allowed to play with grown up things like a glue gun. Hot glue really hurts! The video made it look so easy, it was but not when you are me! Walls are not straight either f you have not made yours yet I would say when it come to gluing the walls either side of the dressing table make out straight lines and and glue along the lines that way you have less (no) glue mess all straight walls!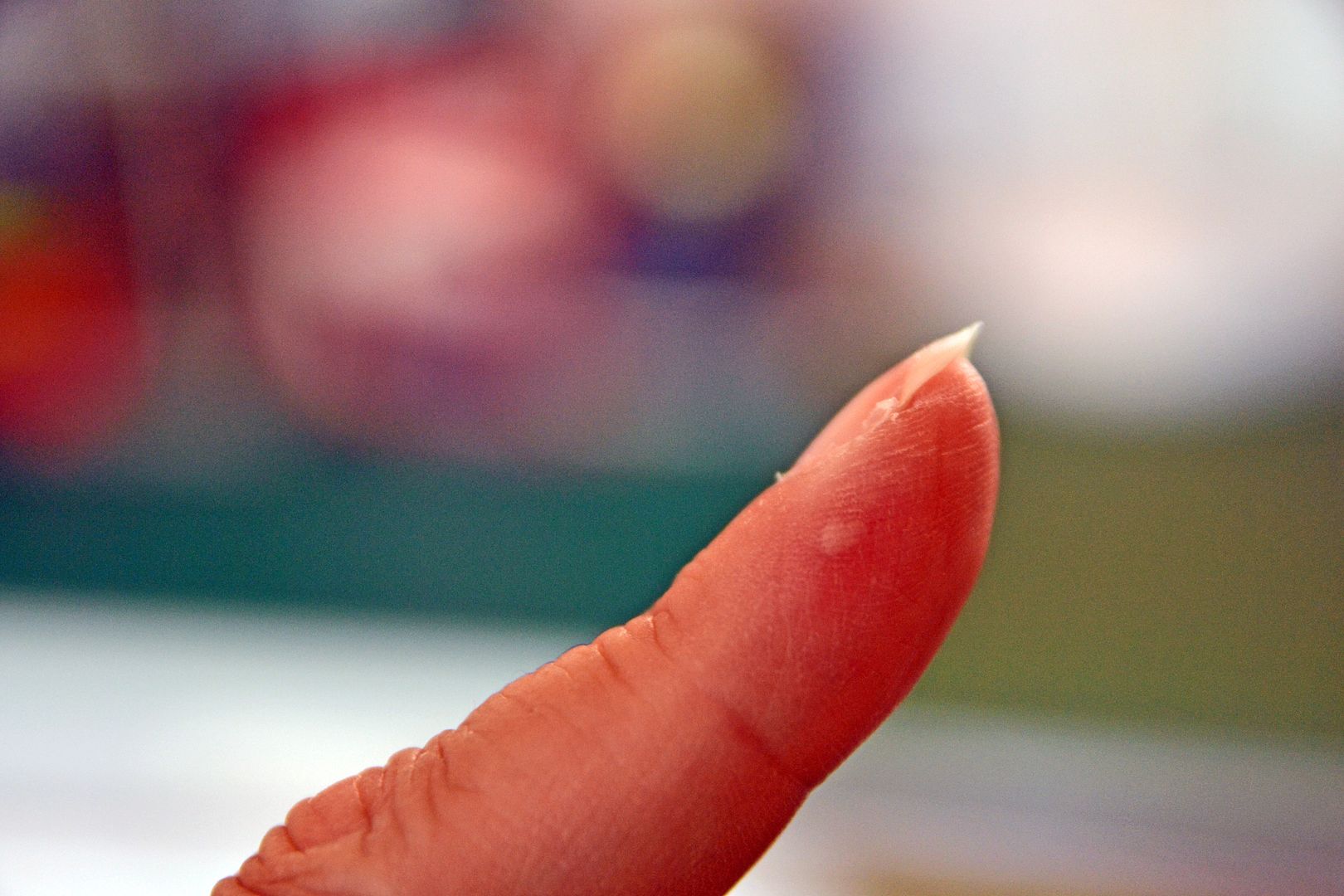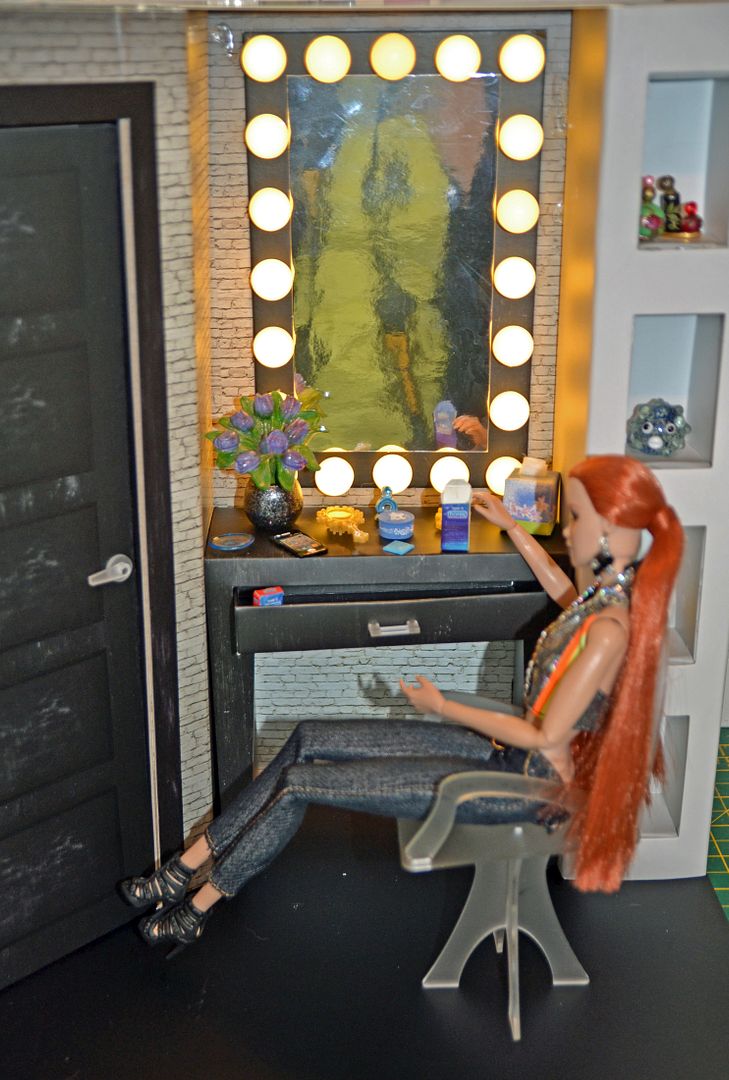 With Jordan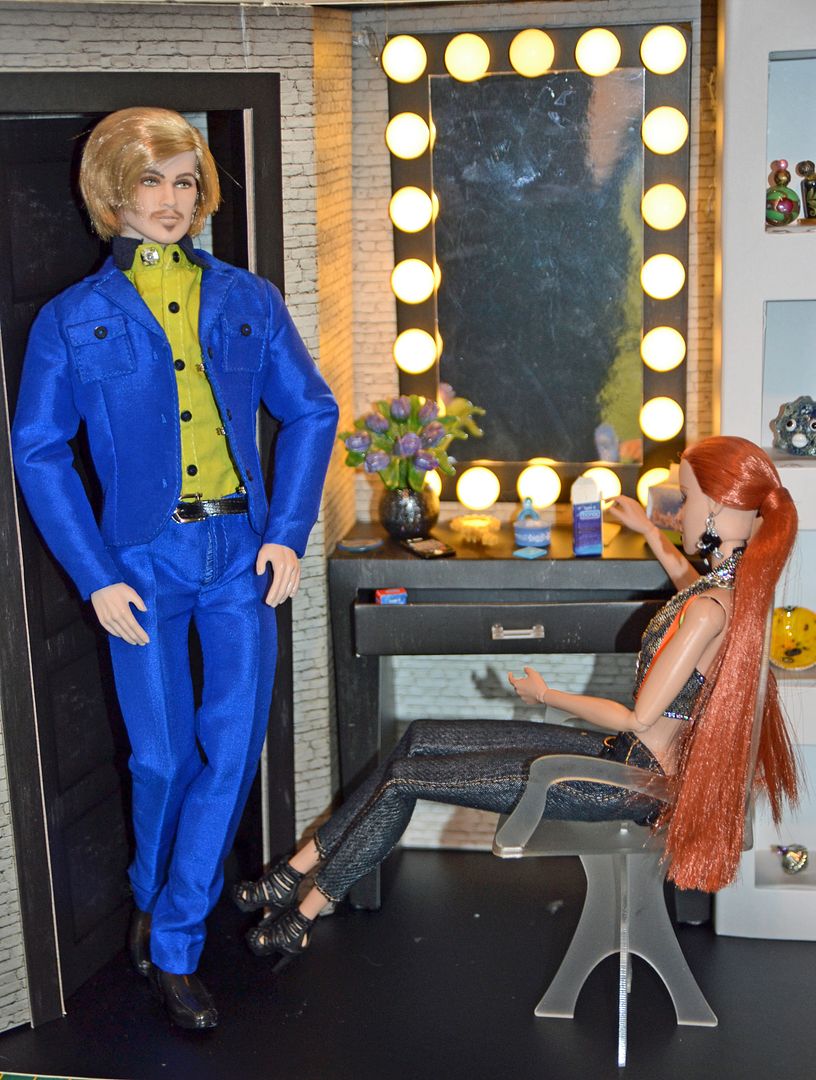 Saturday parents came for the day and dad helped me with some diorama stuff. So now I can fix the walls of the shopping mall.

In-between all this I have been watching hurricane Irma on TV, I have friends all over Florida plus, we are due to holiday in Florida in a few weeks. Just hope everyone is safe and the horrid thing buzzes off into the sea. At least that's what Jose is doing (at the moment) but now they are saying ANOTHER storm is brewing so it's not over yet!
Perri just because...