I thought I would make my Ruruko a pretty dress. I had a scrap of cotton gathered at the top (used to be the top of a petticoat. I wanted to add some ribbon and lace so first I needed to find the box with the ribbon and lace in it...Good fun was not had by all as I worked my way through all my newly boxed 'stuff'. Found it in the end and upon opening it I remembered that I dumped everything in it in a rush it was a tangle of lace, elastic and ribbon plus a mix of beads and who knows what else? TWO HOURS yes, TWO HOURS later I had lost the will to live but all was sorted into their little bags!
Oh, another fun find was sticky hand on handling said box...cats marking I'm guessing? YUCK!!!! So I had to clean all the area with antiseptic wipes. The joys of cats!!!!
I had the day off from the girls as they went to my parents for the day and I did not even have to cook dinner as mum did it. A good job she did as I was on wet wipe duty! And that was about it another day other.
Today started with rain lashing down cats in and out and me surfing the net...not for any good reason just procrastinating so I don't have to start on my sewing machine. It's funny as I know once I start I will enjoy myself, I like sewing and making things?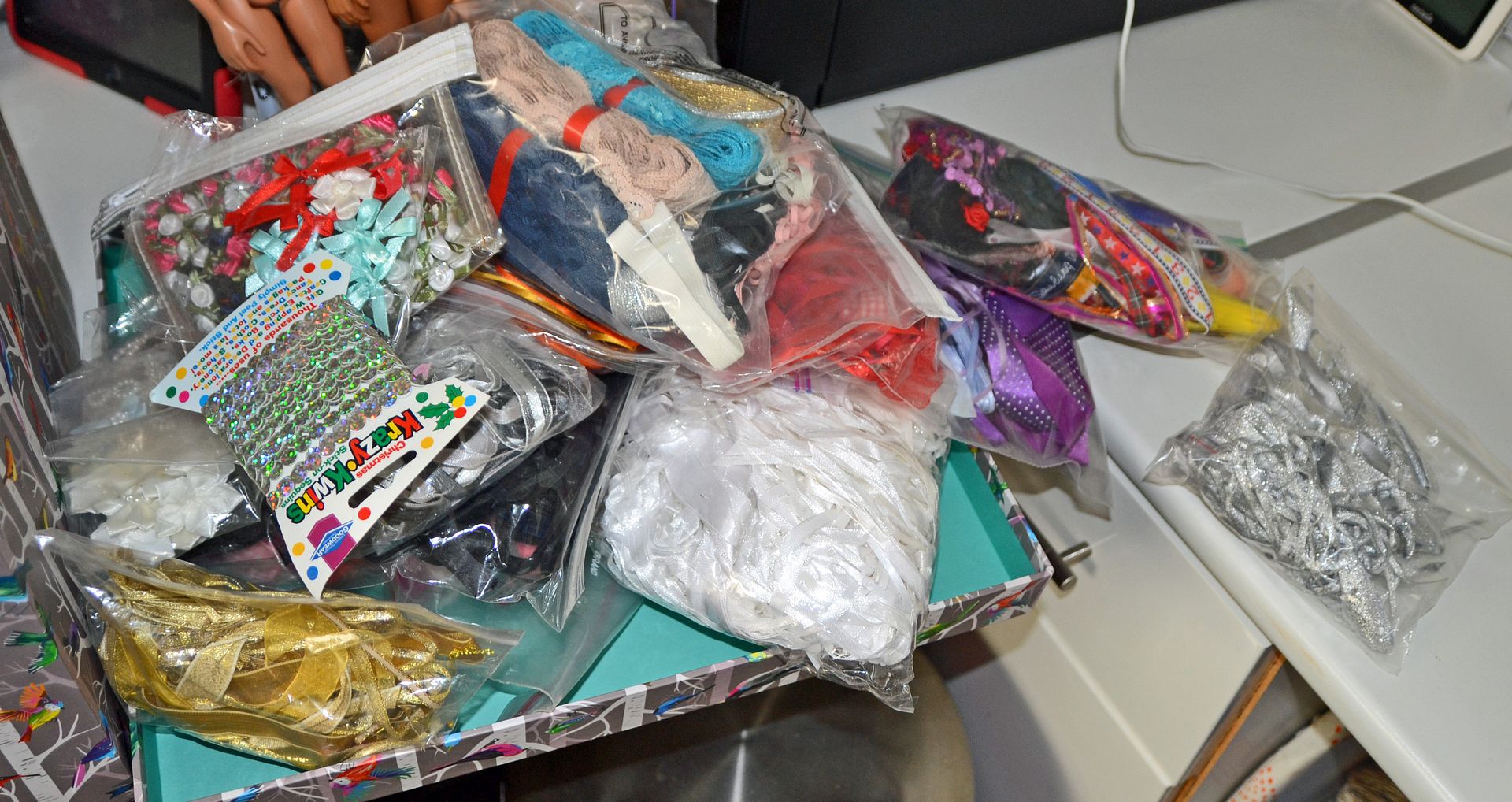 Now ribbon, I'm not into buying it if I can help it (no, I'm not stealing it either) white ribbon I keep from all the Integrity Toys boxes. I also fold most of my tops so I do not need (and find irritating)those little ribbons that hold tops on hangers. Another source of ribbons and fancy bits are Christmas Crackers.I keep them all!
I also need to alter a few things Sophie received for her birthday.
Oh, and I did manage to take up some more time ready the new story by Johanna. Read it, it's brilliant...
Team Husband
Once again I can't be left to do anything on my own and today's helper is Jordan
You can see my ironing mat is on a cutting mat, I was about to remove the cutting mat when my 'helper' arrived. Never do anything involving heat on a cutting mat as the mat will bubble out of shape and will stay like that even when cooled!